I've danced all over the world ("from London to the Bay"), and the San Francisco Bay Area has one of the best lindy hop scenes anywhere. Lots of awesome bands, classes, and venues, and one of the friendliest dance communities you will ever encounter.
This is my own personal, curated list of opportunities to learn and dance lindy hop / swing dancing in the San Francisco Bay Area. Generally, if I don't recommend or go to the event, I won't list it here. For more updated info, check the San Francisco Lindy Hop Facebook group and Lindylist. To suggest additions or corrections to my list, email me at rik-at-rikomatic.com.
Tuesdays
Breakaway is a regular Tuesday night dance in Lake Merritt, Oakland. They have classes and a DJed dance, with the occasional live band. I love the community of dancers that they have created in the East Bay!
Wednesdays
Wednesday Night Hop in Palo Alto is the South Bay's regular lindy hop night. Awesome classes and dancing to DJed music, run by very nice folks.
Cat's Corner features live music and dance classes at the Valencia Room in San Francisco.
Thursdays
9:20 Special is my regular Thursday jam. 9:20 is San Francisco's premiere spot for learning lindy hop and dancing in a beautiful ballroom. Great instructors, awesome for newbies, and a really nice floor to swingout on. At the Russian Center at 2450 Sutter Street, San Francisco.
Fridays
Dancers Den hosts a dance one Friday at month in downtown Oakland. 
Saturdays
The Bootleggers Ball is a monthly live music dance party in the Mission. Always a fun party! They provide the mixer, you BYOB. At 44 Capp Street, San Francisco.
Sundays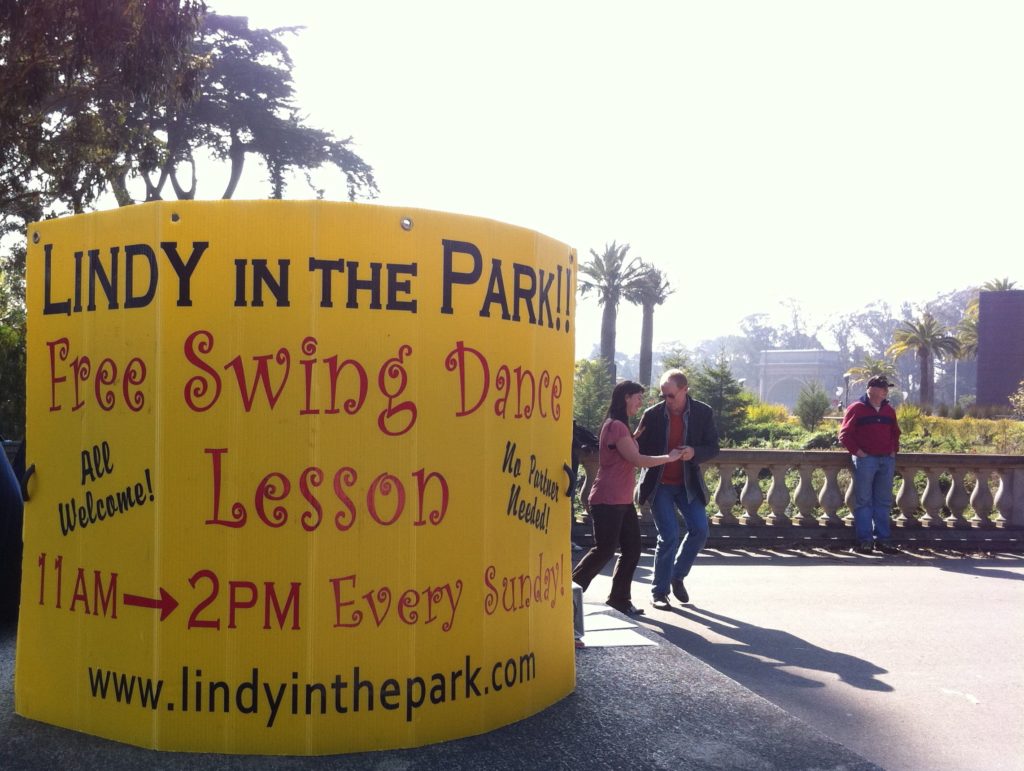 Lindy in the Park is the oldest outdoor swing dance in the country. Free dance lesson and noon, and then dancing until about 2:30pm. Located in Golden Gate Park, near the 8th Avenue and Fulton entrance to the park. Look for the huge crowd of people and listen for the fun swing music!
Find more upcoming lindy hop events in the Facebook group San Francisco Lindy hop.