I have found that having visitors is one of the best ways to get to know your own city.  You get an opportunity to visit places you would not normally visit as a tourist in your own town, and to see familiar places with an outsider's eyes.
My father has been in town for the past week, which was the perfect excuse to go to lots of Brooklyn locales and to introduce him to a city that I am just starting to get to know.
Beginning in my hood Fort Green, on dad's first night here I took him to the funky French bistro Cafe Oskar, which has delicious all-you-can-eat moules frites on Tuesday nights. Later I introduced him to the green market at Fort Green Park, croissants from the Marquet bakery on Fulton St, shopping at the Super Target, and the wonders of the Q train.
Venturing a bit further out, we went to the penultimate Brooklyn diner Junior's for overflowing plates of  meatloaf and chicken parm, followed by heavenly strawberry cheesecake.  What's great about Junior's is that it's justifiable famous but still a local spot for a lot of Brooklynites.  The bar is crammed with locals, the patrons banter with the waiters, kids have birthday parties there, couples canoodle in the booths.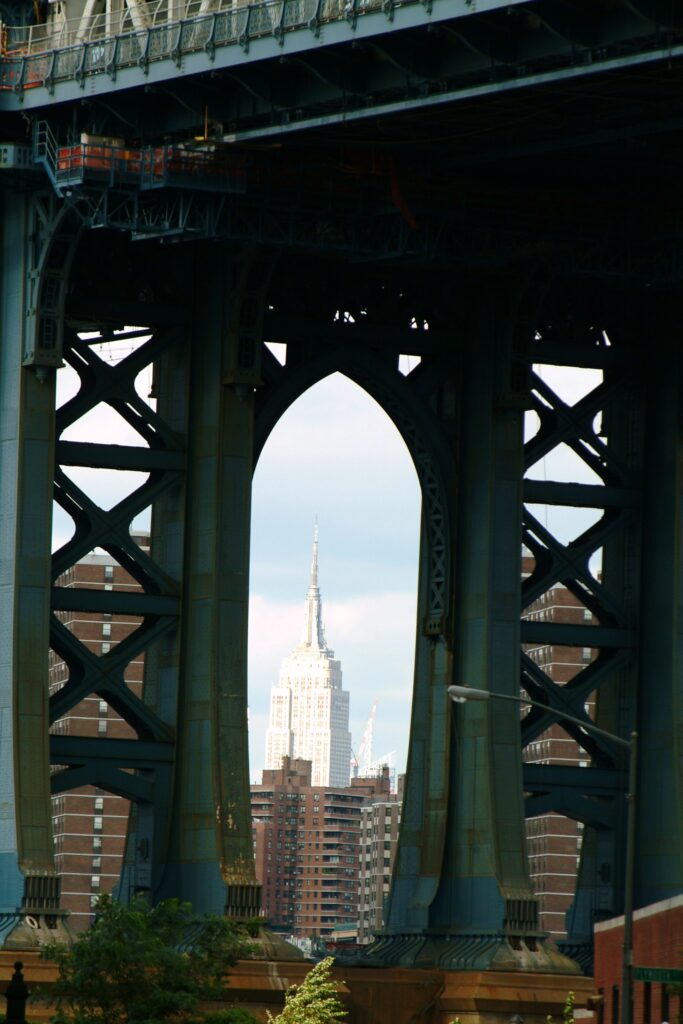 We went on a number of walks around the city, from the hipster heaven of DUMBO to upper-crusty Brooklyn Heights to the urban grit of the Fulton Street Mall. He loved the Botanic Gardens and the classical architecture of the Brooklyn Museum.  And the views of lower Manhattan from the Brooklyn side can't be beat, particularly between the Manhattan and Brooklyn bridges.
On the not-so-fun side, getting around Brooklyn on the subways on the weekend was a real drag with lots of service changes, long waits for trains and confusing transfers up and down many, many flights of steps.  And I miss the convenience of having yellow cabs everywhere like in Manhattan.  I plan on using my bike a lot on the weekends.
Still it was a lot of fun for him, my sister and me to run around Brooklyn like tourists, cameras at the ready, peering in storefronts, and consulting our maps and PDAs every block or two.
We didn't even get to Prospect Park, the Slope, Williamsburg, Carol Gardens, Coney Island, Brighton Beach, or the Transit Museum.  Still so many parts of the city I am eager to get to know.  It's awesome that I live here.