A a huge pastry nerd, a big priority for my trip to Paris last week was to get to experience French pastries, particularly croissants, from the source. I had a huge, impossible list of bakeries to hit up, but alas only got to visit a handful. Anyway, I experienced some amazing viennoiserie, and frankly don't need to eat another croissant for awhile.
Here's the best pastries I ate in Paris.
We started off with a bang, accidentally running into Yann Couvreur bakery, not far from our AirBnB in Belleville. A very fancy patisserie, we hardly knew what to get!
Hanah settled on this ridiculous looking Paris-brest filled with hazelnut creme. It was like twice the size of a normal Paris-brest… and three times the cost. But totally worth it. Very nutty, rich, and not too sweet. Incredible.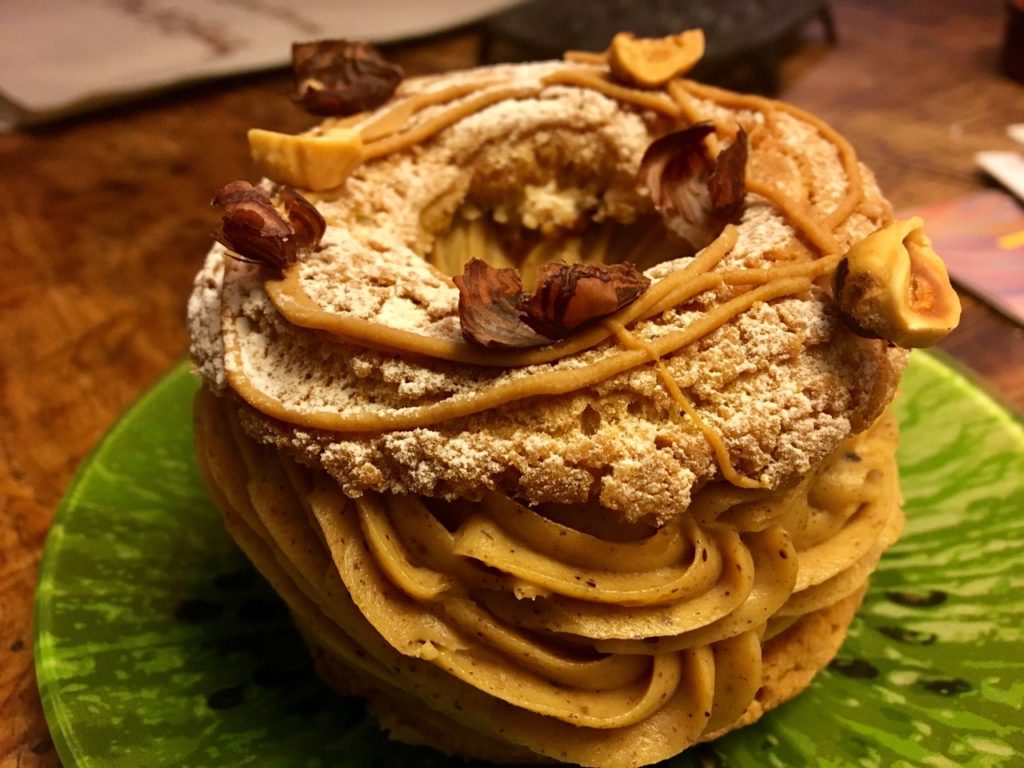 The next morning, I got up stupid early and was famished. Very little was open in the hood except for this one tiny cafe that had fresh croissant, coffee and little else. That's all I needed at 6:30am to get me started for the day.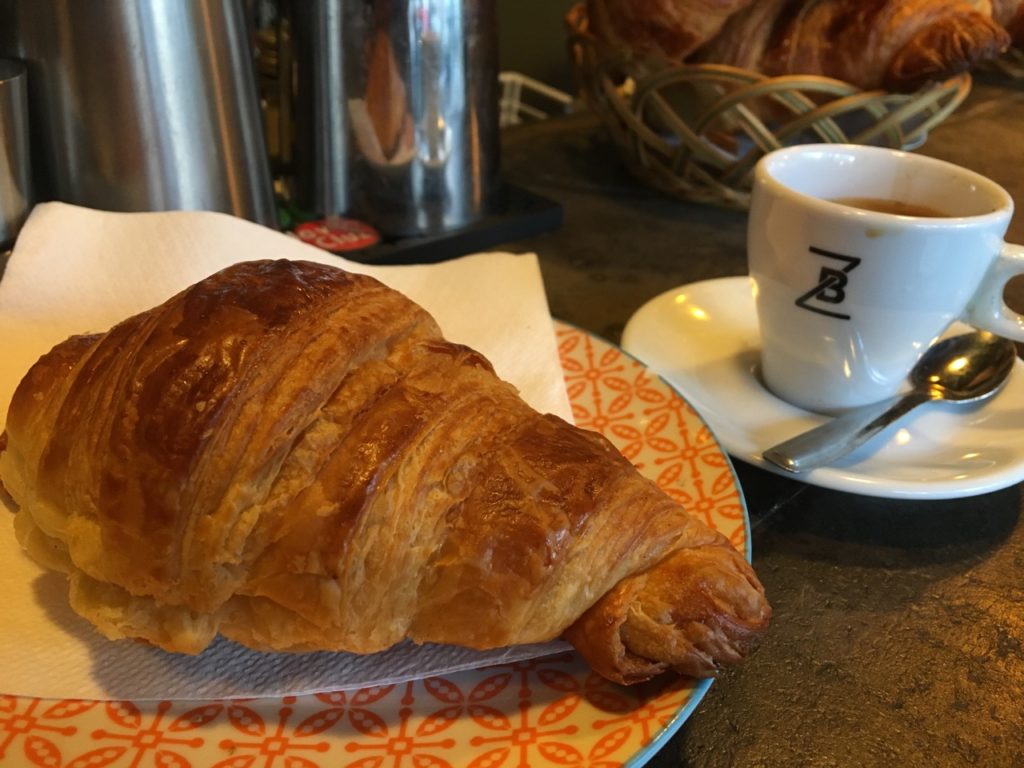 Right next door to our AirBnB is one of the bakeries I was most excited to visit, Le Petit Grain. They had a very small, select set of pastries on offer.
We decided to start off sampling their two kouign amann, a sesame and a cardamom variety. The sesame was wonderfully nutty and crispy. But the cardamom was out of this world. Cardamom is one of my favorite spices, and they hit the right among of spice and sweetness.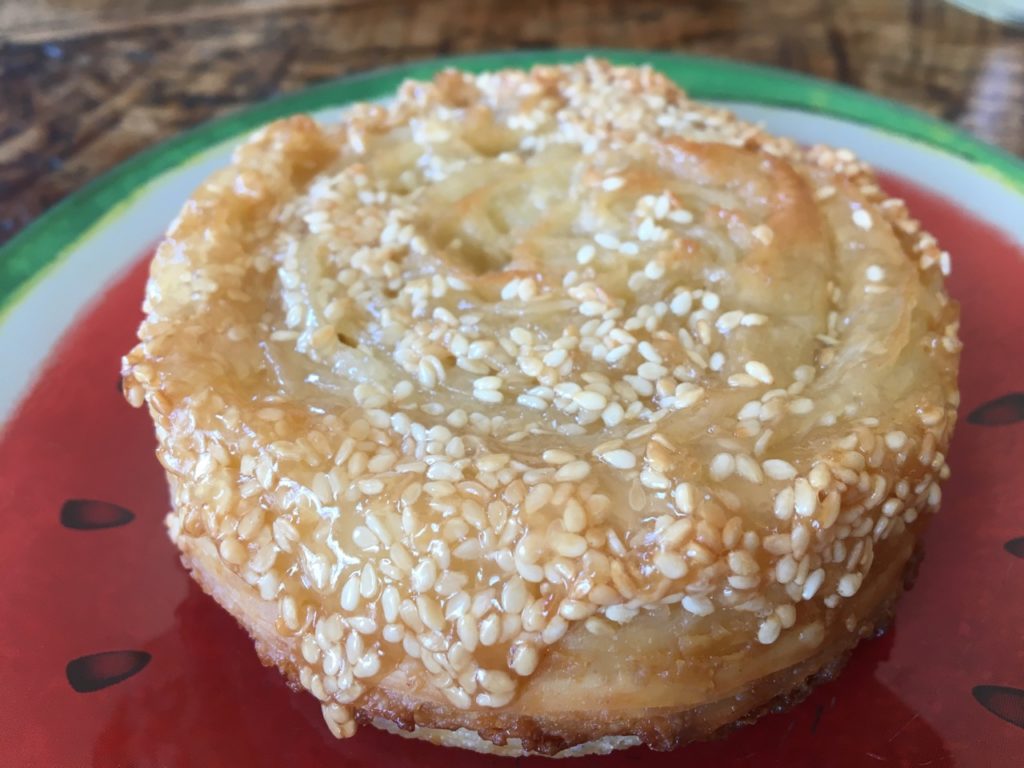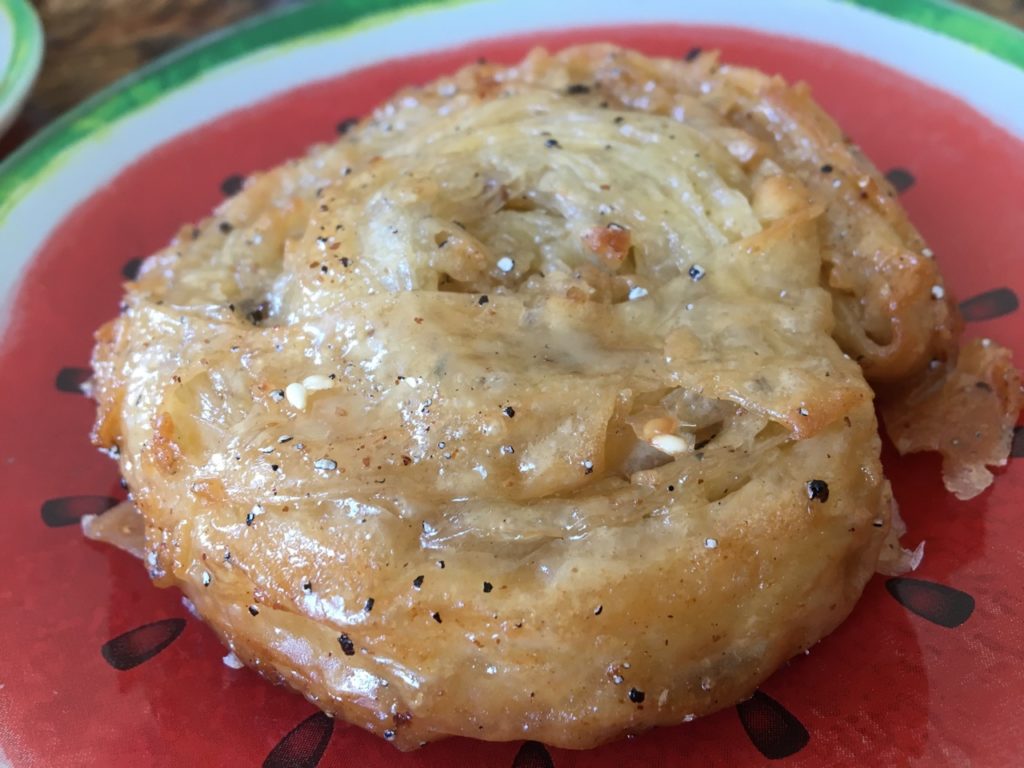 I have to say, I'm growing fond of the hockey puck version of kouign amann, that seem to be the norm here.
Later on, we sampled other pastries from Le Petit Grain, including their coconut-filled chocolate croissant and pistachio-honey croissant. Both were also exceptional.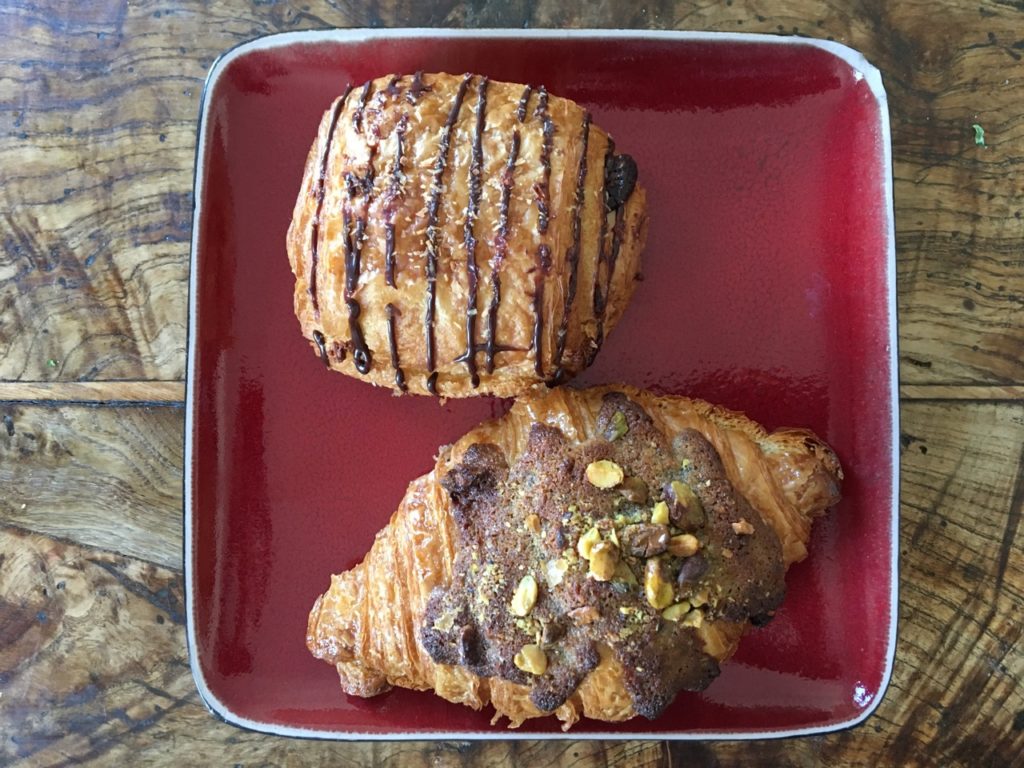 We had to go back to Yann Couvreur for their regular croissant, which they are apparently famous for. I also tried their pistachio roule, which was well made, but not terribly exciting. The plain croissant was exceptional though, one of the best I've ever had.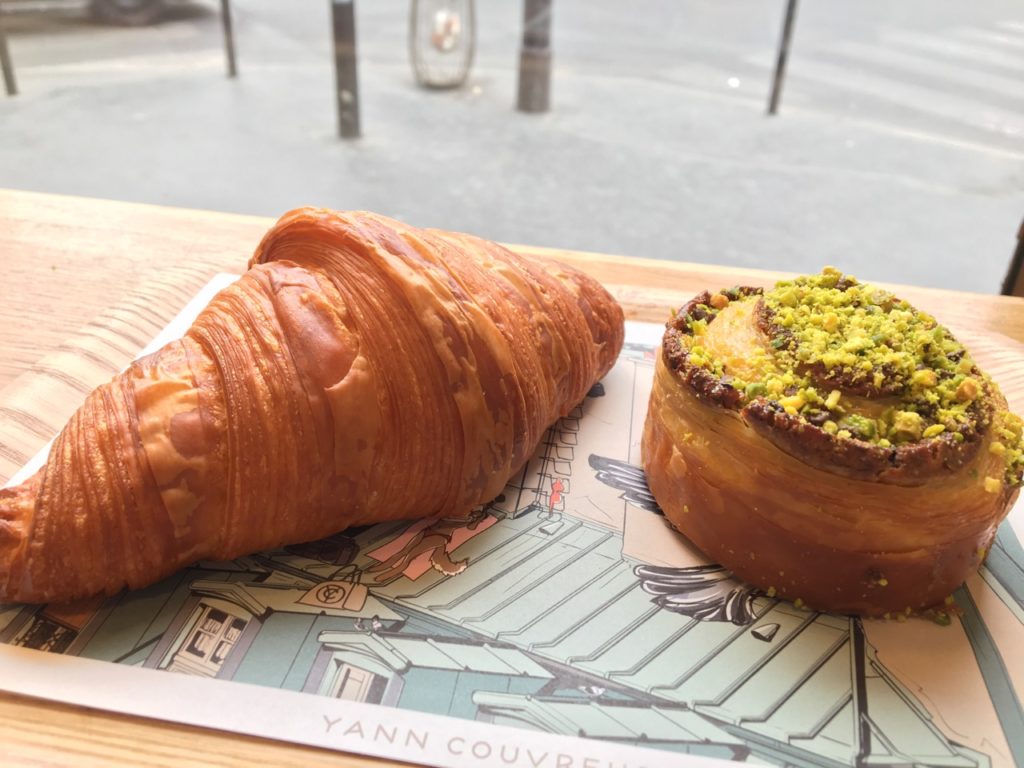 I happened upon A la Flûte Gana bakery, in the Menilmontant neighborhood, which had a long line of customers waiting to get in. That looked promising, so I got a couple of things to try from there.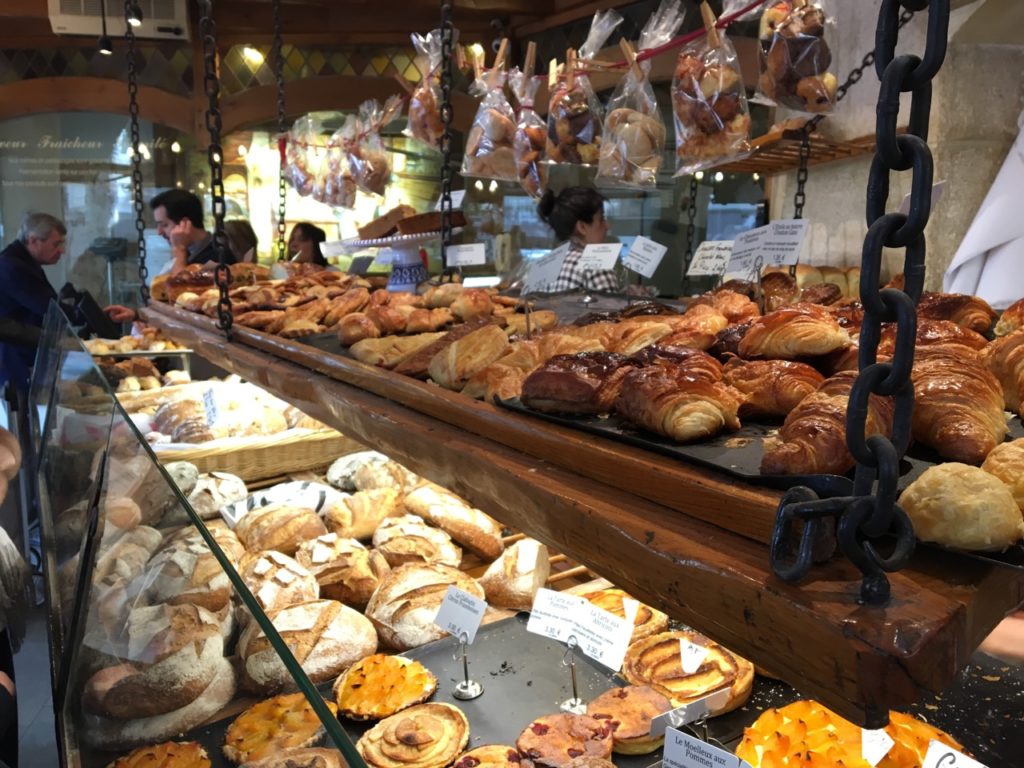 I got a plain kouign amann and a chocolate-almond croissant. The kouign amann was flaky and buttery, but lacked that caramelized sugar coating I expected. The croissant was quite nice and doughy.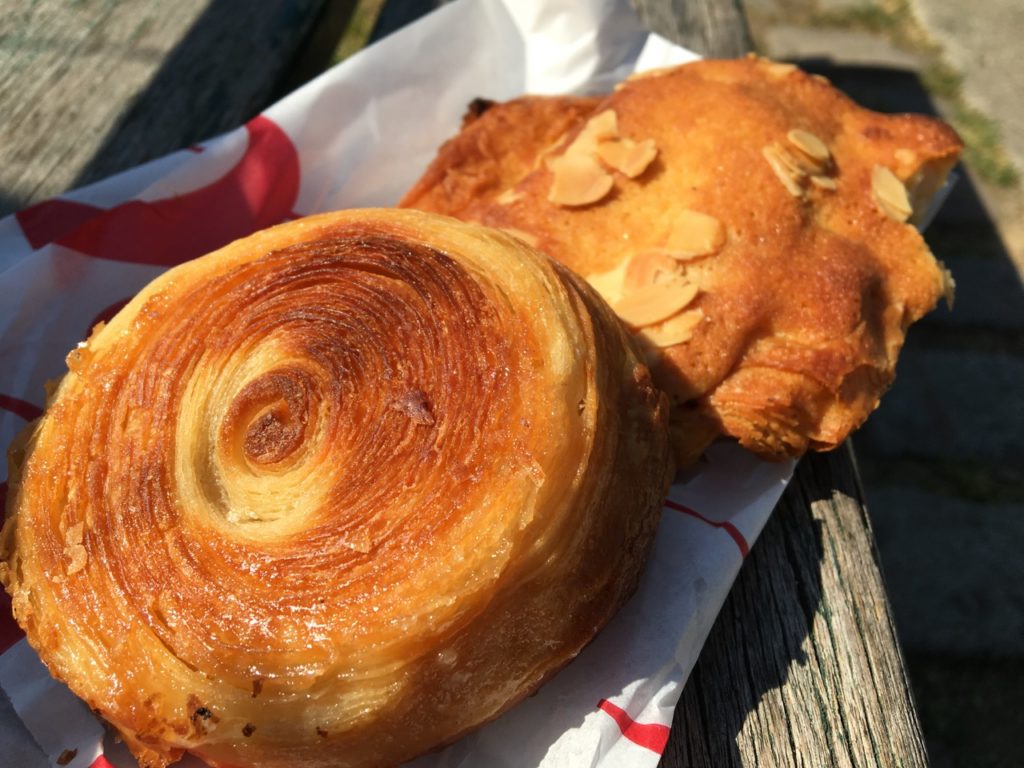 As a sidenote, Paris's pastry scene is much more diverse than what I've shown here. In the neighborhood of Belleville where Hanah and I stayed there were many tempting Middle Eastern and Asian bakeries that we spotted. On our last night there, we indulged in sampling a few Middle Eastern delights, including a walnut baklava, a honey-semolina cake, and a pistachio tart that were all delightful.
On the last day of my trip, I stopped by the equivalent of a Dunkin Donuts in Gare du Nord for a quick coffee and a bite before jumping on the train to the airport. I ordered a croissant and roule au raisin. Both were warm, flaky, and buttery.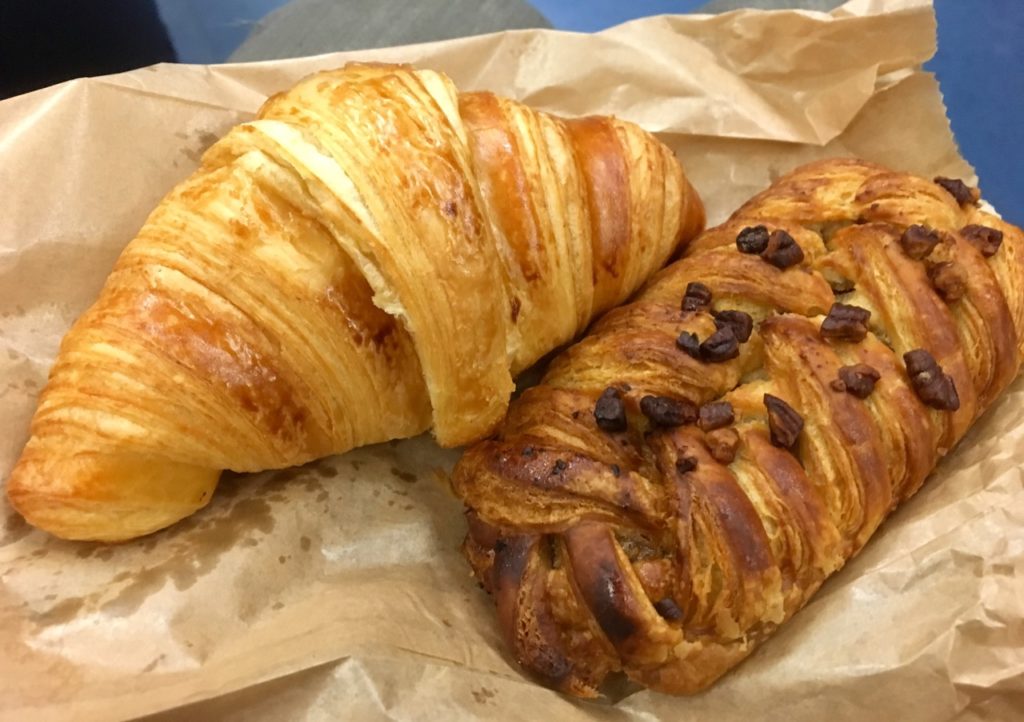 As expected, I was hard pressed to get a sub-standard croissant in all of Paris. I'm so happy that I got the opportunity to visit this mecca to all things buttery, flaky and decadent.