For the last two months I have been following an intermittent fasting diet. I can say that it's definitely one of the easiest diets I've ever followed. Certainly a lot easier than paleo / low carb / keto diets, which I have done in various forms over the past three years.
Specifically, I am following a typical 16:8 fasting schedule during the week. That is, a 16 hour fasting period, and an 8 hour eating allowed period.
When I started it, I was concerned that lasting the full 16 hours was going to be tough. But honestly, most days I fast 17 hours without any real effort.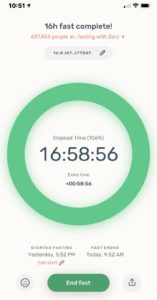 I am particularly liking eating in the early evening, which leaves me free to do other activities later like going to the gym and dancing. Being active helps take my mind off of my appetite.
I just went to my doctor last week for my routine check up. She reports that I'm in very good health, well under the target weight for my age, and no major issues with blood sugar or cholesterol.
That matches up with my general experience of feeling energetic and alert. I have not experienced any headaches or feelings of crankiness from low blood sugar that I feared I would get. Sometimes that last hour of my fast is a little challenging. I just grab a half cup of coffee, get back to work, and the time just passes.
Being able to re-integrate healthy carbs back into my diet has been amazing. I can have roast chicken with brown rice, a burrito, or a poke bowl if I feel like it. Typically I have a low carb meal at least once a day, and then whatever I want for the other meal, within reason. (No pepperoni pizza and a Coke.)
And the best part is if I want to have a small treat like a cookie during my eating period, I can!
On the weekends, I let myself eat basically whatever I want, including junk food and pastries. I indulge mostly on Saturday, a bit on Sunday, and resume my fast on Sunday evening.
This is kind of a game changer. I can see myself doing this for a long time.