There's a lot of dark forces in the world that want you to feel powerless to change anything. And often they are in our own heads. I'm trying to lean more into the things I think that are my strengths — to acknowledge them, build on them, and share them where needed.
This is not an exhaustive list, but it's what comes to mind when I think of my own strengths:
Synthesizing and Sharing Information
Asking Good Questions
Empathy
Enthusiasm
Finding Connections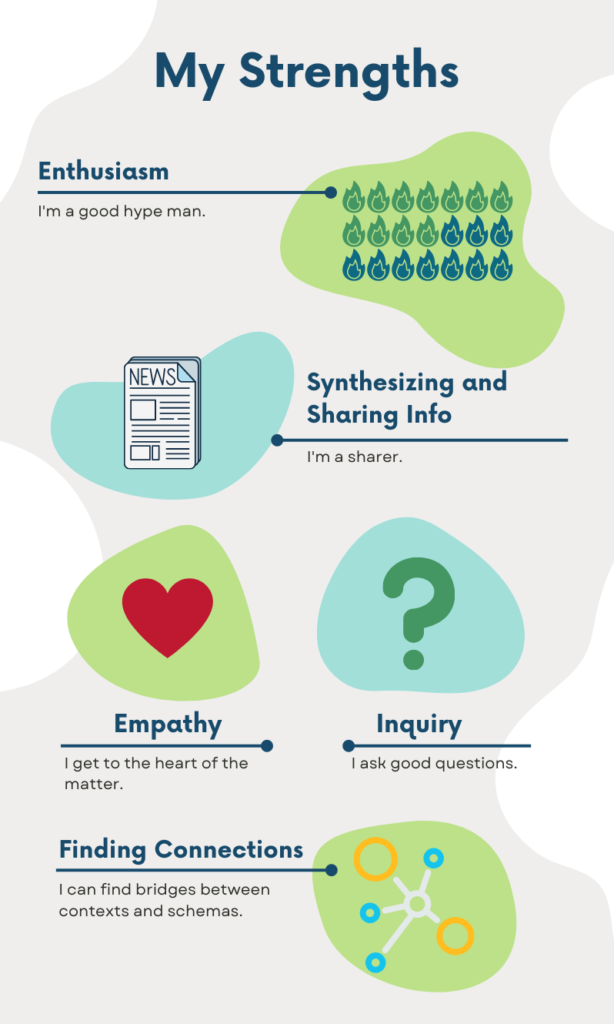 Synthesizing and Sharing Information
I have always had a passion for breaking down detailed information into digestible chunks, teasing out the more relevant points, and then sharing that synthesis with folks who need it. That is essentially what I have done on Yehoodi.com for the past 20 years. And what I was paid to do at WFM, CONGO, TechSoup, and several other jobs over the years.
Finding Connections
As someone who has been involved in various fields, subcultures, and communities, I'm often able to bring insights that no one else had observed. As a dancer, being exposed to lindy hop, house, b-boying, and rhythm skating cultures, I can see the lines in between those artforms. The same is true for my work in global human rights, international tech policy, digital learning, and media literacy. I've seen and done some shit.
Asking Good Questions
Along with finding connections, I'm able to see where there are gaps in information or understanding, and formulate that into a question to try to fill that gap. A former colleague would say if there was a strategic meeting and I had the floor, she knew that I was going to raise an important issue that no one had noticed before.
Empathy
When faced with a challenging situation or interaction, I find myself trying to see it from the perspective of the other. Often that gives me insights into how to bridge misunderstandings or find a win-win outcome.
Enthusiasm
This is my newest strength that I have discovered about myself. I get easily enraptured by so many things — a sick dance move, a perfect croissant, an eye-popping digital effect, a dope beat — and I want to share that joy with others. Often that comes in some variation of "Oh HELL yeah" or "Let's go!"
Again, those are just the strengths I am noticing today. There may be others and these might shift and change over time. But for now, I'm embracing my own power, celebrating it, and want to share it. I wish for you the same.