Last Saturday, I participated in the "2-Raw Spring Skate Jam," my first weekend-long rhythm skate party. It was held at the Sunrise Rollerland rink in north Sacramento. It was an amazing event and I'm so glad I got to be there.
It's been a little under two years since I started quad skating, so I felt like I was past due to attend one of these epic rhythm skate parties that I've watched online so many times, but never experienced in person.
2-Raw was actually a four-day event, starting on Thursday April 7 and ending late on Sunday, April 10. Beyond the skating there were socials, BBQs, dances (in shoes), and other informal hangs. I understand that skaters from all over the West Coast and beyond have been coming for years to 2-Raw.
The actual skate parties start at midnight and go till 5am. I can barely manage to get through a three hour skate session during the day. So five hours of skating well past my bedtime felt very intimidating.
Still, there was no way I was going to miss this annual event.
I decided to do an up-and-back for the main Saturday night party, and see how long I lasted. I figured worse-come-to-worse, I could skate for a couple of hours and head home when I got too tired.
Well that wasn't how the night went.
I got there with my friend Alex at around 11:40, and we were some of the first on line to enter. Slowly more and more folks joined us while we patiently waited for the organizers to let us in. Sometime after midnight we were admitted into the rink where the music was already pumping, vendors were set up, and a huge, beautiful wooden rink was waiting for us.
It didn't take long for a hundred of so folks to hit the floor. There were maybe 200-250 skaters in the venue that whole night, but it never felt that crowded because of the size of that rink. Of course there was strong Bay Area representation, and it was great to see some familiar faces from San Francisco and the East Bay there.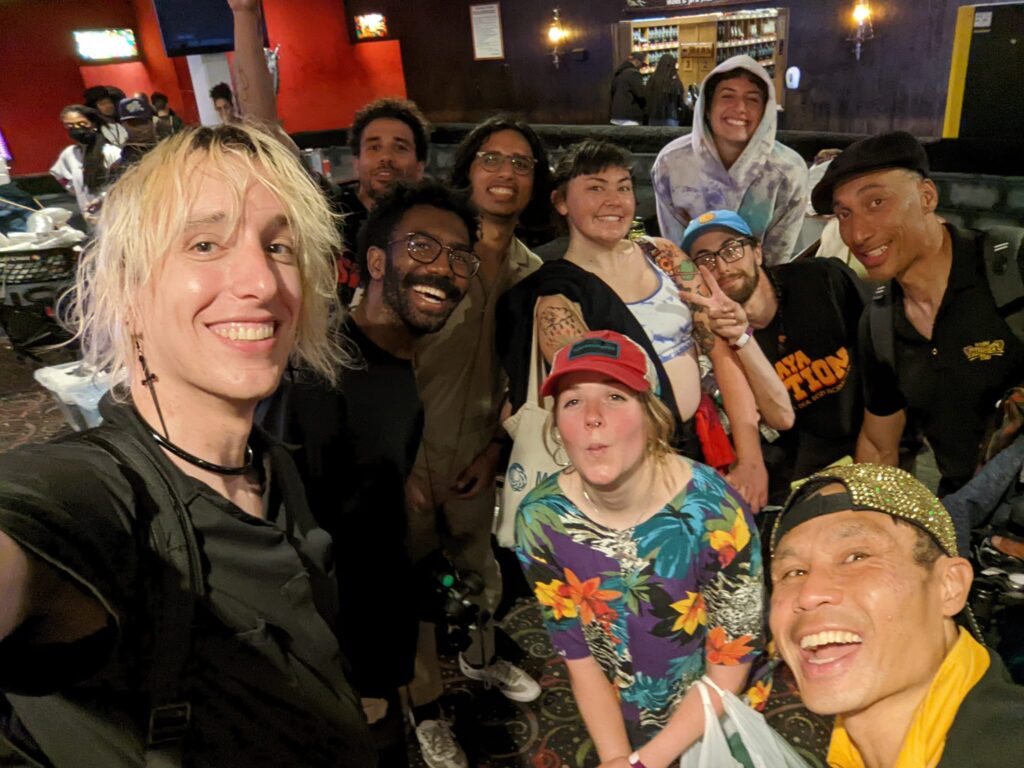 The crowd was largely African American, but there was a diverse mix of other folks there was well. It was great to see the wide age range of skaters, from folks who clearly have been skating for many decades to kids just starting. But in general, everyone seemed like they were dedicated, passionate dance skaters.
I was blown away by the diversity of styles I saw that night — from slow rolling groovers to dynamic jam skaters, from perfectly synced group choreos to couples smoothly gliding together to individuals just doing their own thing.
One woman who was waiting on line with me before the party explained that she was a "Detroit skater from LA" and that there were a bunch of them coming tonight. I wish I knew more about the individual styles to be able to point them out.
It's not possible to capture what happened that night, but here's some snippets I shot from the rink that give a little taste.
Honestly, it was a lot chiller and friendlier than I was expecting the event to be. I just assumed the energy would be intense and intimidating. But I felt right at home.
Even when the inevitable cypher broke out, it felt less intimidating than the cyphers I had seen in Oakland. So when the moment felt right, I jumped in.
Did I do as well as I had hoped? No. Am I proud of myself for what I did? Absolutely, And I'm so grateful that my friends Alex and Deep were there to help film me.
Surprisingly, I made it through the whole night till 5am. I had to take several extended breaks all night, but I went right back onto the rink every time. The vibe was just so hype and fun it made the time pass so quickly.
I'm so glad I got to be part of 2-Raw, and grateful for all the organizers, volunteers, DJs, and others who made this possible. I'm even more excited to keep growing as a dance skater and experiencing the diversity and artistry of this community. Let's roll!