I've been to Disneyland who knows how many times in my fortunate life. But this last trip may be one of the sweetest: my first Disney trip with my niece Aria.
There are lots of ways to experience Disney parks — with your family, with friends, solo. I've done them all — with the exception of being the sole adult with a child. And wow, was it different.
Of course it really depends on the child. Aria is just an incredible nine-year-old. She's a big fantasy book nerd, often with her face buried in a book whenever I see her. She plays piano, practices taekwando, and takes good care of her little brother. She loves Star Wars, Marvel movies, and Frozen. And she hasn't been to Disneyland since she was a baby. So a perfect kid companion in the park!
As a loving uncle and a Disney parks expert, I wanted to make this visit PERFECT for Aria. Which involved lots of planning — when to go, what parks to visit, what rides to prioritize, where to stay, what to eat, etc. I was committed to us getting the most out of our special day together in the Happiest Place on Earth.
There were some challenges along the way though. It was boiling hot in Anaheim this week, highs in the 90s and rarely dipping below the 80s even in the evening. And crowds felt like it was the height of summer instead of mid-September.
But as a Disneyparks pro, I felt confident I could arrange a fantastic day, no matter the obstacles.
Planning Our Day
The biggest decision was which theme park to visit. I love both California Adventure and Disneyland, and in theory we could do both in a day. But for this first visit with Aria, I thought just doing Disneyland would be best. That would allow us to dig deep into one park, the classic that Walt designed himself, instead of running between the two massive parks. And honestly a lot of the rides at California Adventure would be too much for Aria.
Another key decision was where to stay in Anaheim. In my experience, being able to have a place to crash near the parks is key to surviving the whole day and night. So I found us a reasonably priced motel that I thought was "walking distance" to the parks.
Well "walking distance" is relative, particularly when one of the walkers is nine-years-old and it's 90+ degrees out. So we actually ended up taking a Lyft several times between the motel and the park, which was not that bad, honestly. I can see why families pony up the extra cost to stay in one of the official Disney hotels!
Disneyland Rides
I love Disneyland for more than just the rides, but of course I wanted Aria to get to experience as many of the best ones as possible. I think we did pretty good! Here's our list:
Star Wars Rise of the Resistance: her favorite by far!
The Millennium Falcon: her second favorite, particularly since she got to be pilot
Star Tours
Jungle Cruise: our boat driver Aramis was so sassy and fun!
Buzz Lightyear Astro Blasters
It's a Small World
The carrousel
Peter Pan
Pirates of the Caribbean
All of these were hits with Aria, with the exception of Pirates. I totally underestimated the amount of scary, dark parts of the ride versus the fun, silly pirates parts. "I'm getting nightmares from this," Aria told me, matter-of-factly.
Disneyland Highlights
This moment during It's a Small World made the whole trip worthwhile.
Other special moments:
Aria holding my hand on Rise of the Resistance during the scary parts
Aria getting excited about all the little things: flowers, butterflies, ducks, cast members making candy apples
Aria calmly reading her book and eating popcorn during the interminable wait for Peter Pan … and then totally loving the ride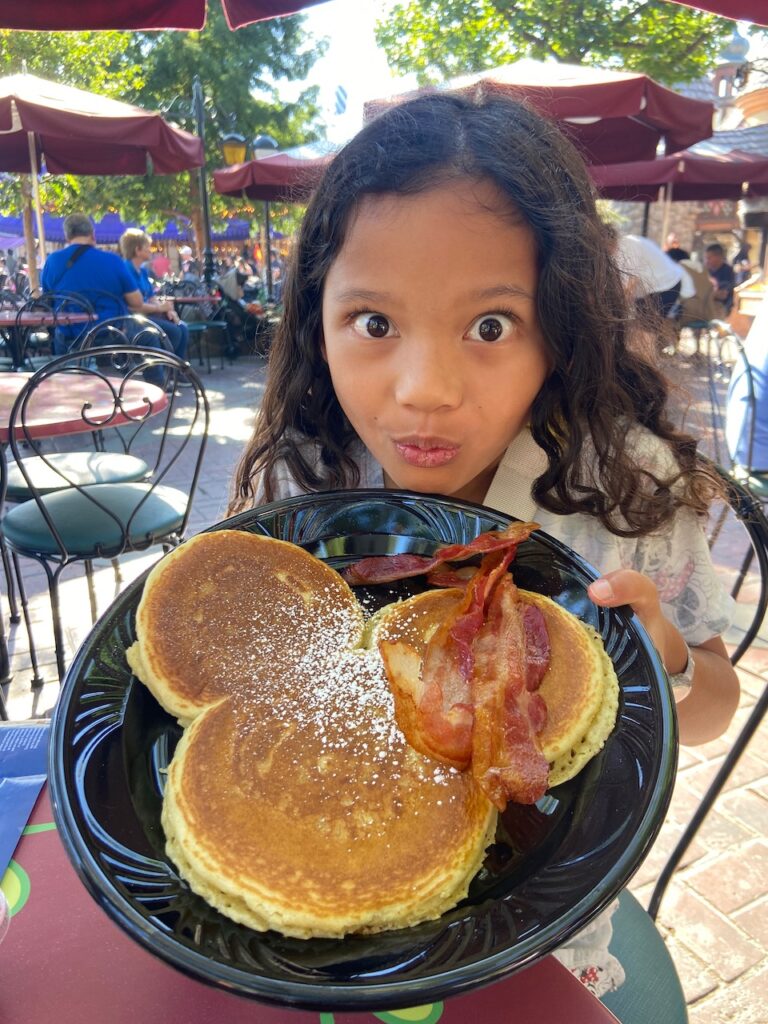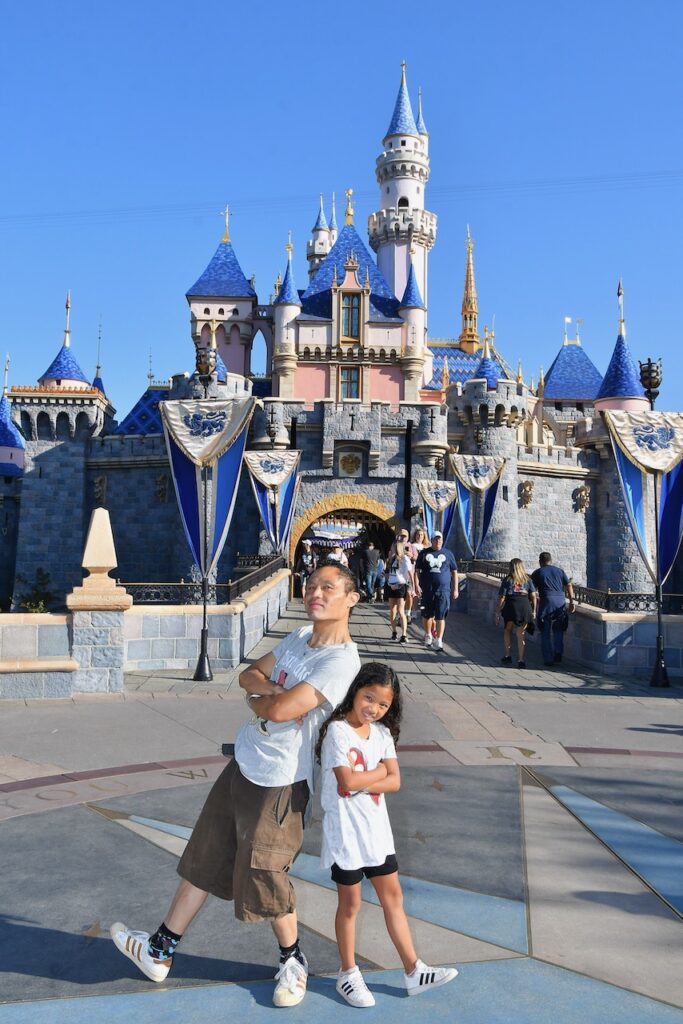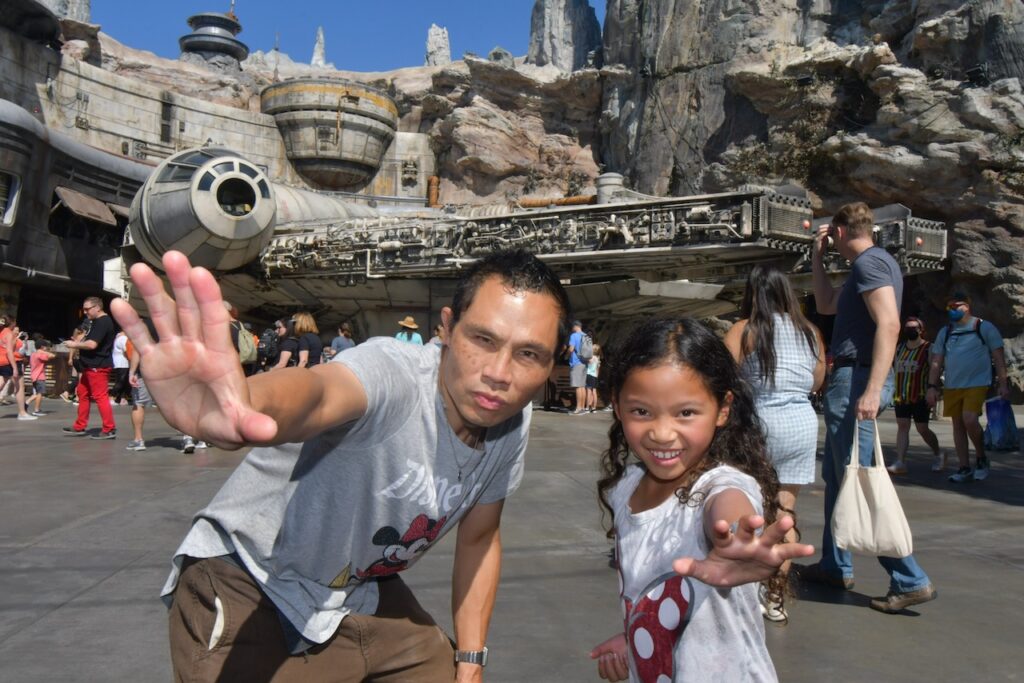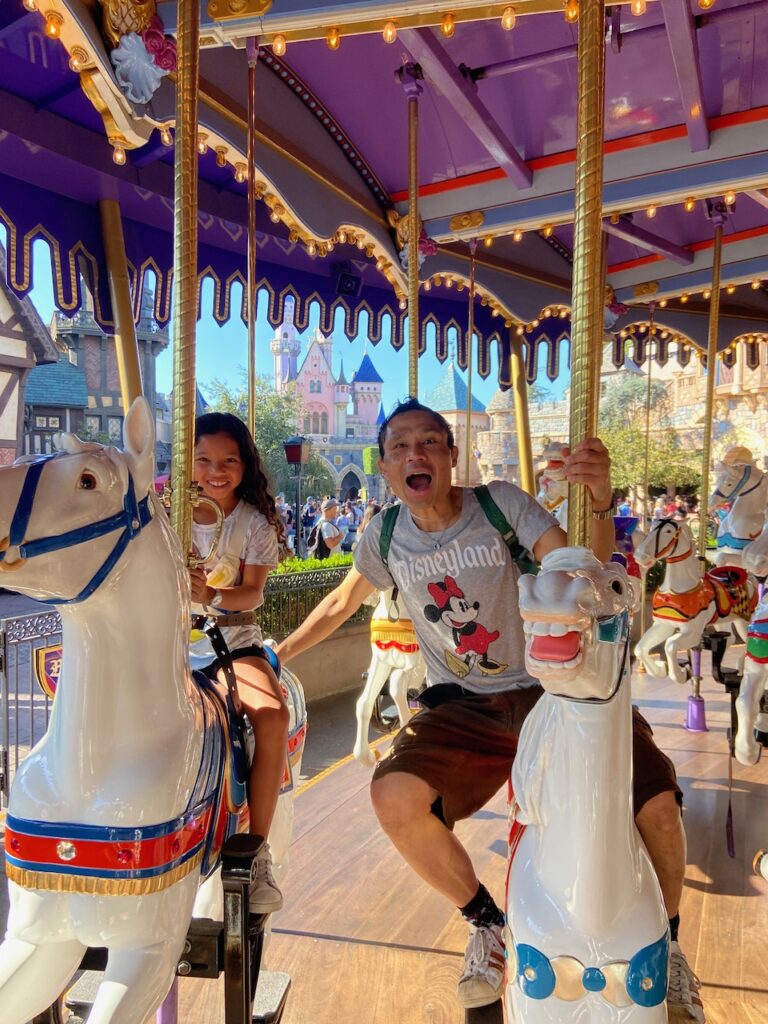 Storytellers Cafe
I've heard about Storytellers Cafe in the Grand Californian Hotel for awhile, but never visited because it's clearly designed for families not adults and pretty spendy. So getting to visit with Aria was a treat for both of us. Basically it's a fancy breakfast buffet with walk around Disney characters. Aria and I both loved the Mickey waffles and ate too many of them.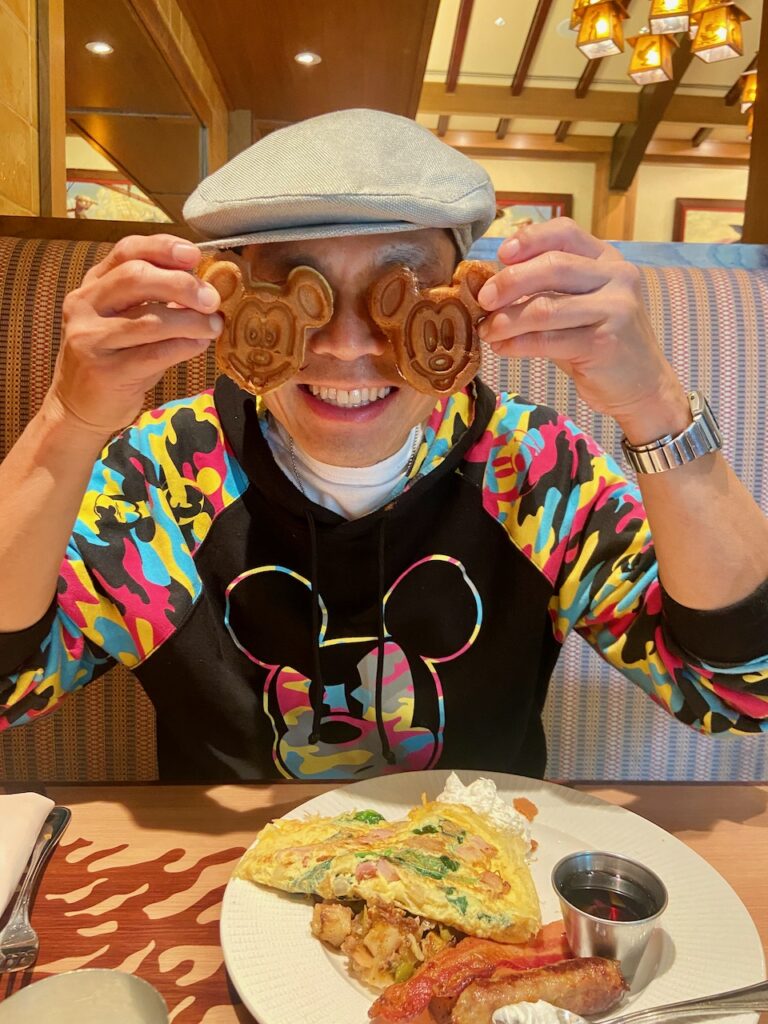 Getting to meet Mickey, Minnie, Pluto and Chip was so fun!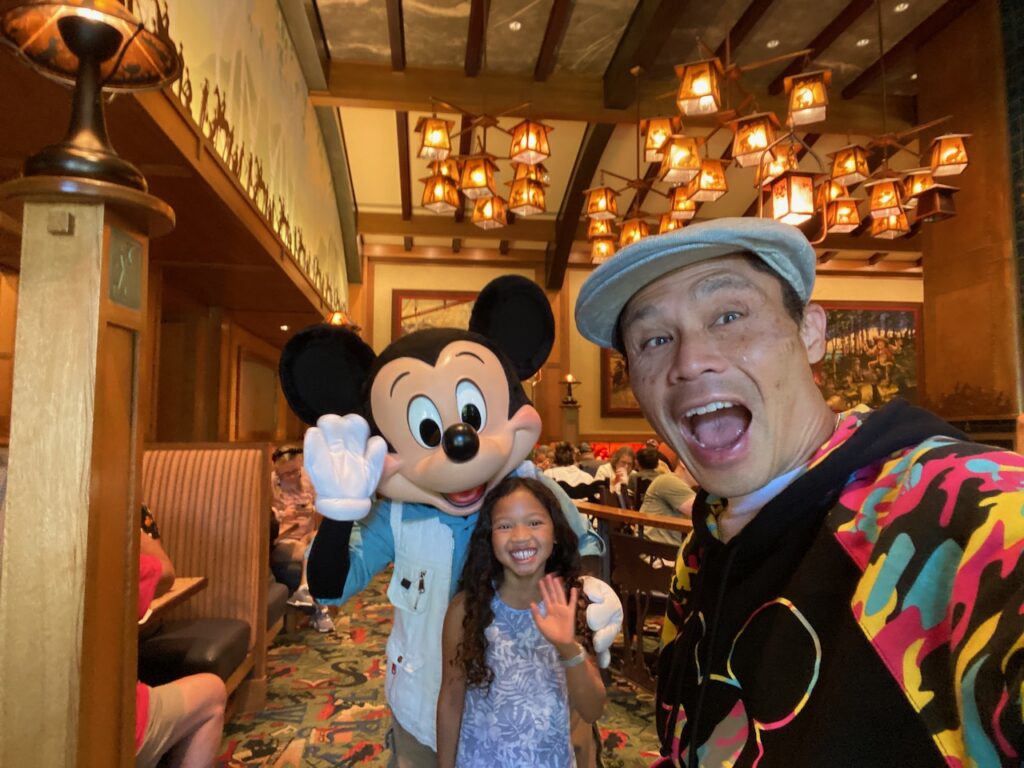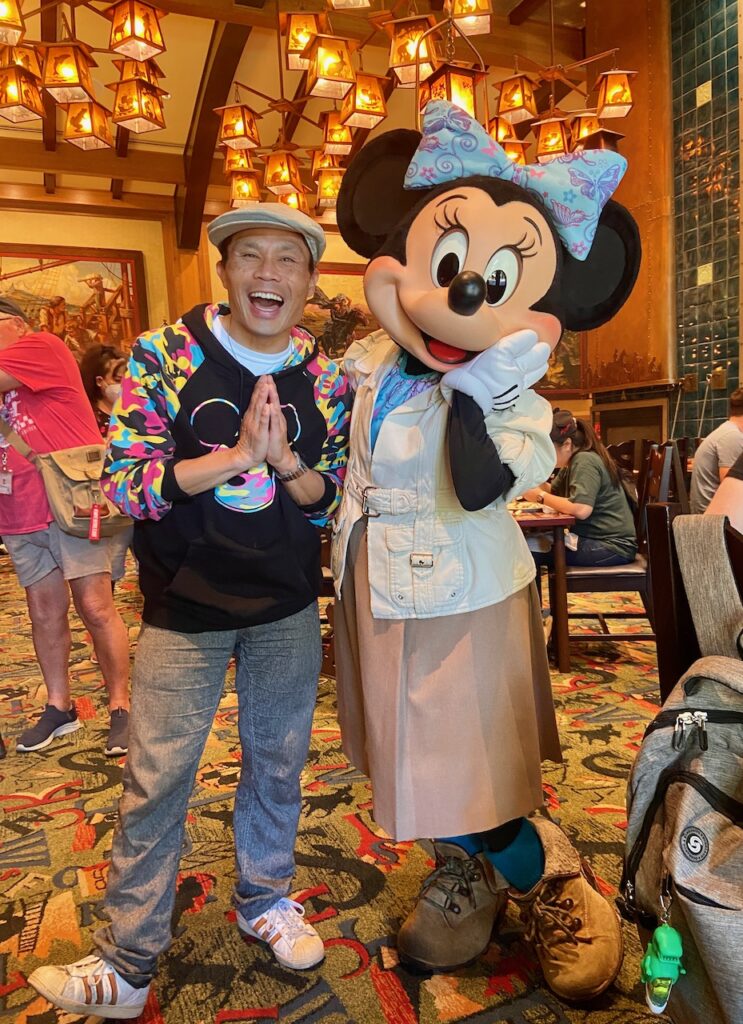 "Ronin [her little brother] would really love this, or it would totally scare him," Aria explained to me.
Visiting Storytellers Cafe on our final day in Disney before heading to the airport was a nice way to round out our visit. A luxury but worth it.
Heading Home
As we were waiting for our plane at the Santa Ana airport, Aria remarked that some people were just starting their trip while we were finishing ours.
"That's right," I said. "Some of them are excited to get to their destination, and some are feeling sad that their trip is almost over."
"I'm feeling a little sad," Aria replied.
"Yeah me too, kid. But I'm glad that we had such a great trip together. And maybe we can do it again sometime."
"I'd like that."