What started out as the worst Mermaid Parade day ever, turned into one of the best!
The weather forecast was for severe thunderstorms all day. So the organizers of my group the Brooklyn Bombshells Revue decided that it was too risky to have us march in the parade. I can not explain how much the Mermaid Parade means to folks like me who have been marching in it for more than 10 years, and how devastating it was to hear that we weren't going to be participating.
Luckily, things soon turned around….
I immediately texted several of my friends who were also in the Bombshells group. They all replied, "what the hell, let's go anyway!" After all, we had all put in all this work into creating our costumes, makeup and dance routine — it would be shame for that all to go to waste!
I immediately posted to our swing website, Yehoodi.com, that some of us were still planning on going to the Parade, and perhaps marching if the weather permitted. Then we headed to Coney Island.
As we arrived, a cold rain was already starting to fall, and getting heavier by the minute. Nevertheless, my friends John, Christina and Sara Jane all headed to our appointed section of the staging area of the parade, prepared to march by ourselves if necessary. We finished last minute costume arrangements, applying glitter, fake eyelashes, body paint, etc. Here's my outfit: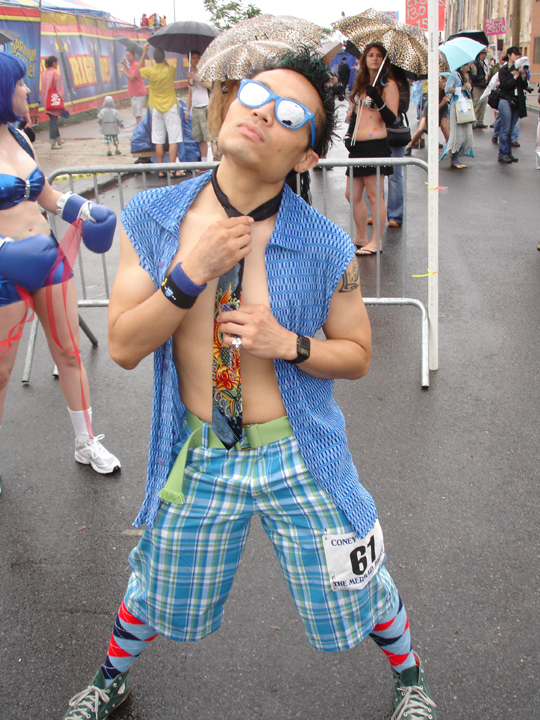 Already several groups were starting to organize themselves in the staging area, and a dozen or so motorized floats and classic cars we revving up in the float area. Hundreds more mermaid marchers arrived over the next hour, which we spent walking around and greeting each other and taking each others pictures. The preparation period before the parade is one of the best parts, as you see familiar faces from previous parades, marvel at other marchers creativity, and even get ambushed by pirates!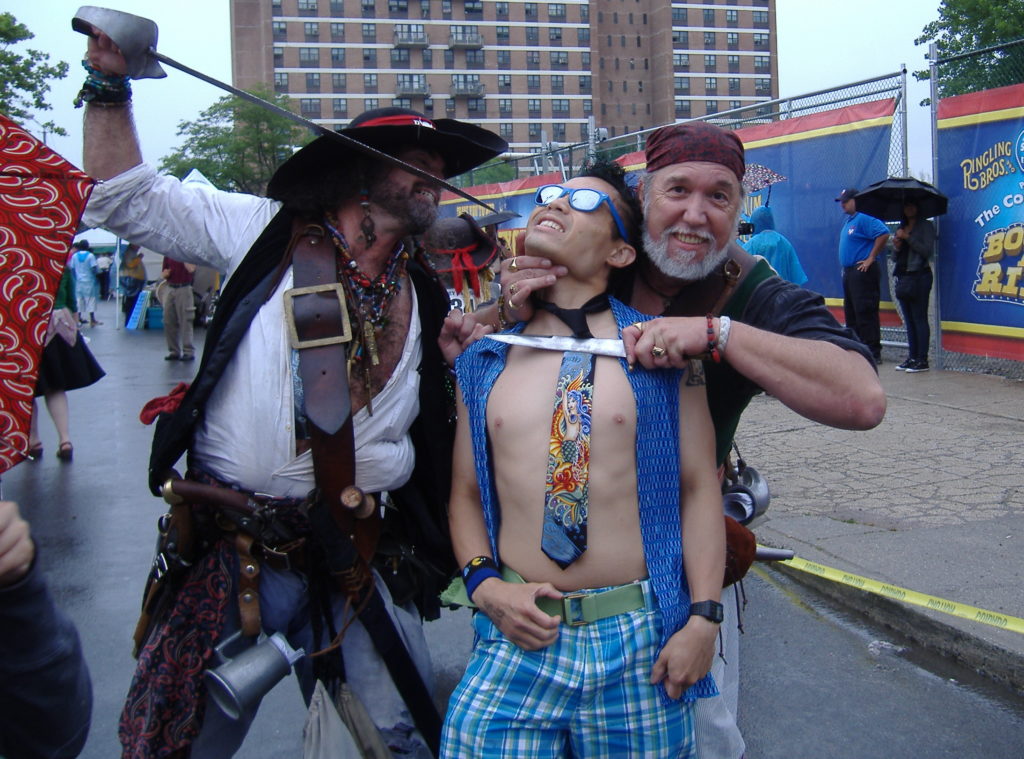 After a few minutes, other swing dancers started trickling in, a good 20 folks by the time the parade actually started. The rain was getting harder and I started to feel chilled in my skimpy mermaid outfit. But we had real numbers now, and our mermaid banner had actually arrived with Miss Behave!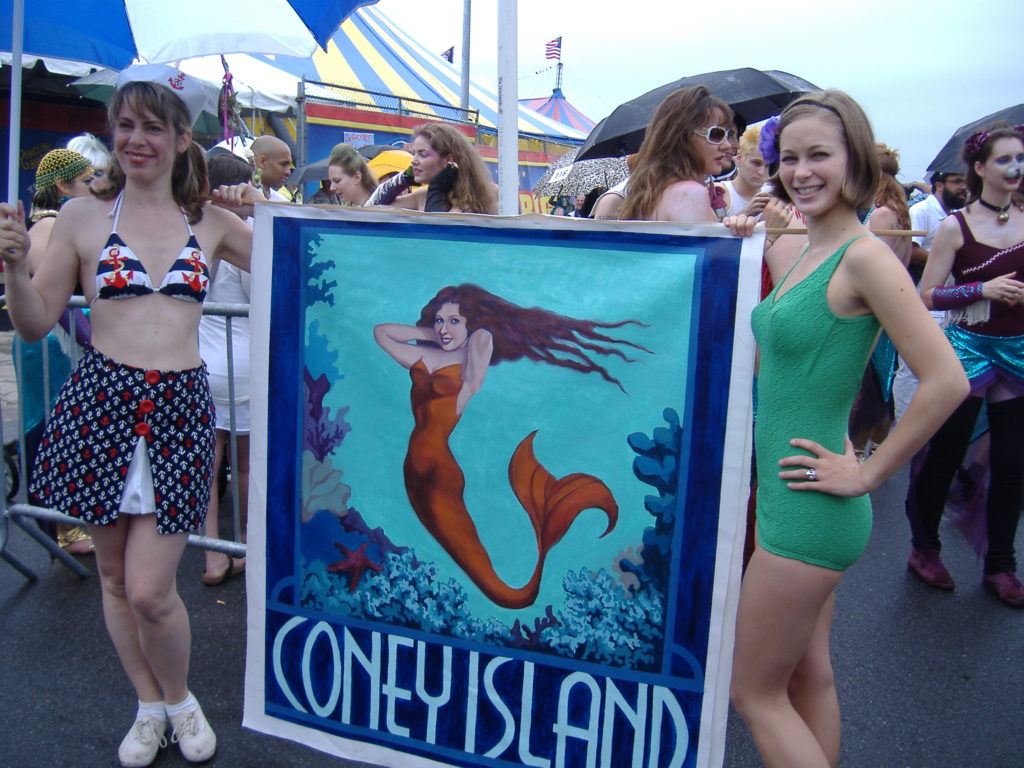 Then around 1:30pm the parade organizers started guiding us on to Surf Avenue from the staging area. Literally as soon as we stepped out onto the avenue, the rain stopped, and didn't start again until after we had finished marching in the parade. It was a Mermaid Miracle!
All we lacked at this point was music, since we had not brought our portable amp or boombox because of the rain.
This was cleverly remedied by finding a kick-ass brass band in the parade and making sure that we marched near them. We heard the "New Tradition Brass Band" practicing in the staging area, and knew these cats could swing. So we tracked them down and got them to agree to play with us! Marching and dancing down Surf Avenue with hundreds of well-wishers cheering you on, with a brass band behind you and your fellow dancers beside you is one of the best experiences ever.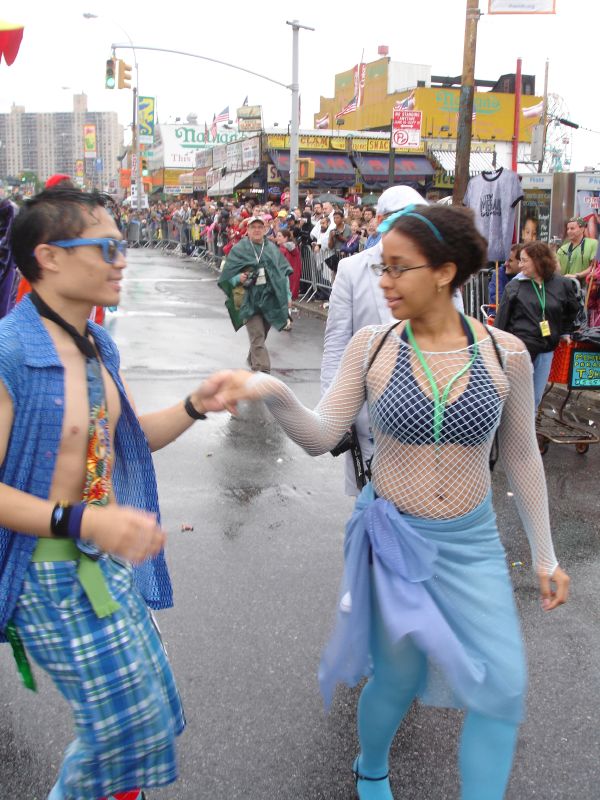 Despite missing most of the members of the Brooklyn Bombshells performance group, a hardy dozen of us still managed to do our routine twice during the parade — once in front of Nathans and once in front of the reviewing stand. We gave a few small bribes to the judges — including Harvey Keitel and his wife Daphne, the King and Queen of this year's parade. One of the main judges remarked that we didn't need to bribe them, they loved us already — which was an incredibly sweet thing for him to say.
Here's Harvey and Daphne Keitel on their rolling throne. Despite the rain, they seemed to be having a great time.


By about 3:30pm, we had finished marching the parade route, took a bunch of group pictures, and then head to Flatbush Farms for the after party.
Flatbush Farms has been our gathering spot for a couple of years now after the Parade. They have a great backyard, good drink and food menu, and they let us stay for hours and hours.
This year we got an extra special treat, Mama Digdown's Brass Band performing three spirited sets in the backroom of Flatbush Farms! They are a powerful, kick ass brass band, with some funk, jazz, and pop all in the mix. Hard to believe these boys hearken from Madison, WI!
I and a few hardy others ended up staying for all three sets, heading home very tired by satisfied at midnight.
Definitely one of the best Mermaid Parade days ever!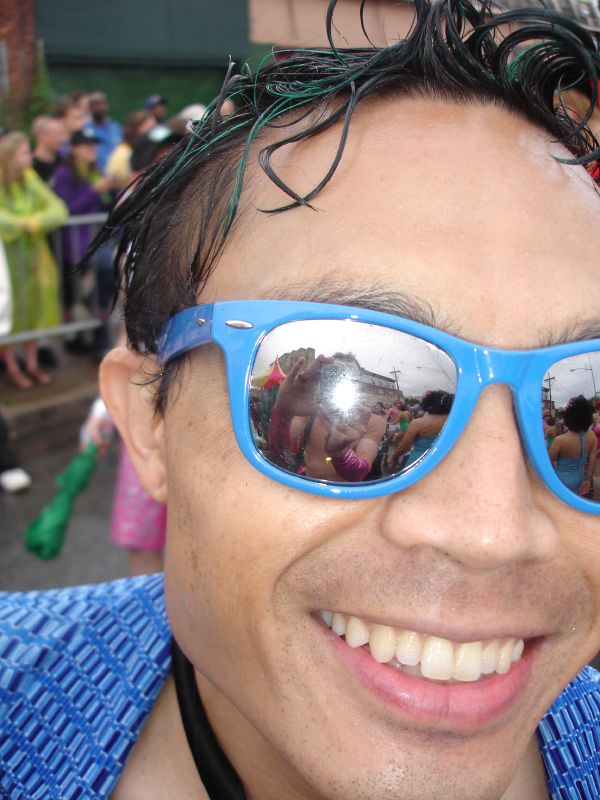 Check out Swifty's awesome pics from the Mermaid Parade here.