As those of you who follow my blog know, I am a huge fan of the Coney Island Mermaid Parade. For me, it is the quintesential New York summer event, a celebration of all that is wonderful and weird about NYC. As we have for the last 12 years, my group the Brooklyn Bombshell Revue planned on making a big showing at the parade, led by my friends Miss Behave and Lilieblue.
A minor complication this summer is that I no longer live in New York City. But that isn't anything that a bit of budgeting, planning and the kindness of friends can't solve. So last week I boarded a plane to New York to again be a part of the parade.
What to wear is the first order of business for people in the parade. Typically your costume is supposed to be nautically based, given the theme of the parade. Some people spend an entire year fashioning their costume from scratch. And others head to Ricky's the day before and purchase a sexy sailor outfit.
This year I was stuck for ideas, until I went to Singapore in May. One day, I was walking around Orchard Road with my new friend Janice, when I spotted a group of young men in white sailors uniforms.
"What is that about?" I asked Janice.
"Oh, it's Fleet Week. Those are our sailors," she replied.
At that moment, a lightbulb went off in my head, and I knew I had to be a Singaporean sailor. I spent an hour of so scouring the local army-navy surplus stores for uniform supplies. In the end, I had — not a costume — but an actual dress uniform that might pass muster on a Singaporean frigate.
Since this is Mermaid Parade, I had to modify it a bit to fit the artsy nature of the event. But I didn't want to ruin such a fine outfit. I settled for cutting off the sleeves and putting on a bunch of temporary sailor style tattoos. I think it made a quite nice effect, if not as glittery or naughty as previous costumes of mine.
I of course was joined by literally thousands of other sailors in the parade. In our group alone, we must have had at least 15-20 sailors. But I can say quite confidently that I was the only Singaporean sailor!
Another big change for me this year is that this is the first year in as far back as I can remember that I didn't participate in the group dance routine. Logistically it was impossible since I had such little time in New York and hadn't arranged to have a partner.
It made me sad not to be a part of the emotional bonding and comradery that comes with doing the routine. And this year's was especially awesome, with 40-some people participating!
That said, not being in the group routine meant that I could just concentrate on having fun and be in the parade. This was the first year in awhile that I felt like I could really observe and interact with the audience, social dance freely, and check out other marchers and floats. I actually saw a record number of friends in the crowd this year, rushing over to quickly hug people and take pictures with them all along the route.
By chance my friend Miriam from San Francisco was in town. When I ran into her at the Frim Fram dance last Thursday, I told her that she HAD to be in the parade with us. With some trepidation, she agreed, quickly throwing together a costume from extra clothes that my friend Voon happened to have with him. Miriam become effectively my parade partner, which was perfect.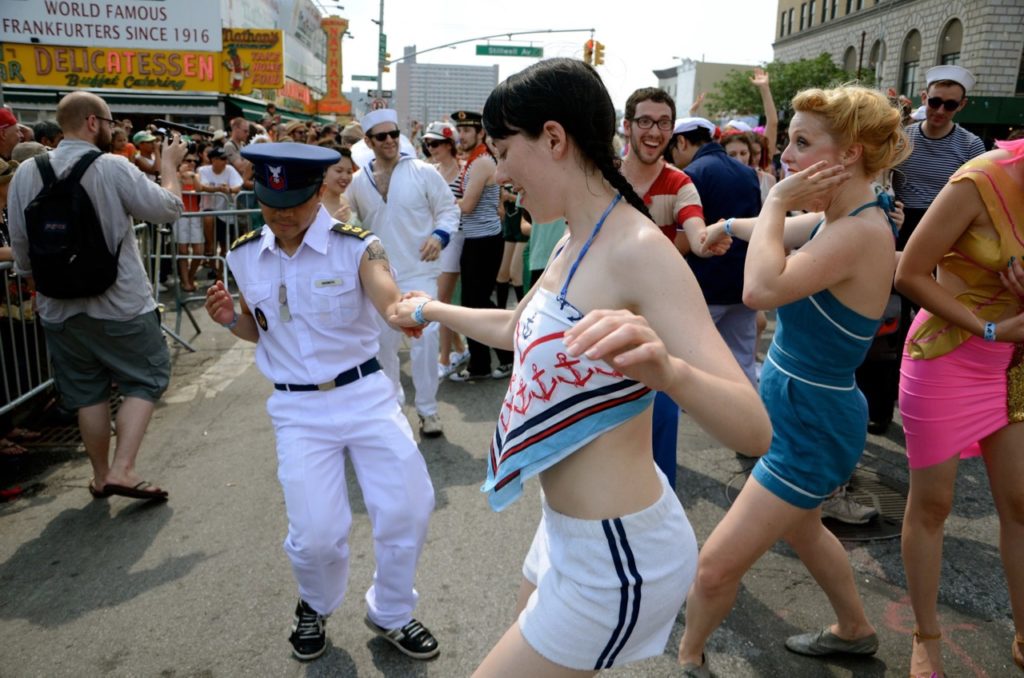 One of the best moments for me in the parade was prior to kick-off as we were hanging out in the staging area. Another group in front of us was playing a bunch of old skool hip-hop. Miriam and I almost immediately rushed over and started dancing with them. They were really cool about us hanging with them so we stayed for about half-an-hour, jamming to the DJ.
Another fun moment was during the parade when again the group in front of us were blasting some hip-hop song. Our tiny sound system could not compete with their gigantic speakers, which was super annoying. But some lindy hoppers started jamming to the hip-hop, and a bunch of folks started calling my name.
I couldn't disappoint my fans of course. To start, I did a little popping and then some floorwork, finishing with a baby freeze and a spin up. My group and the crowd watching cheered their approval, which was a really great feeling.

Of course lots of people took my picture during the parade, which is always good for the ego. "Hey sailor, how about a photo?" the paparazzi would call out. Or a family would want me to pose with them. And lots of random pics of me have been appearing on Flickr, which I am vain enough to search for on my off hours.
The actual marching in the parade takes about two and a half to three hours from start to finish, and goes by really quickly. By around 4pm, we were done with the parade — totally exhausted, dehydrated, achy, and blissfully happy.
That evening, we regrouped at the after-party at Flatbush Farms to tell stories to each other about what a great day it had been. Go, Bombshells!
[Photo credits: Metromix, Ryan Blackwell and Ben Rich]