This weekend was my latest trip to Disneyland. I spent all of Sunday at the Disney California Adventure theme park, which I have grown to love, almost as much as the magic kingdom.
There were a lot of special moments throughout the day:
A delicious chile relleno meal at the Paradise Garden Grill. Really tasty, spicy, healthy, and a good deal at $12. And the ambiance could not have been beat in this Mexican-style open air plaza, with a great band playing Latinx pop songs.
Hitting my three favorite rides in the park: Radiator Springs, Incredicoaster and Guardians of the Galaxy.
A tasty small plate of pork belly adobo with garlic fried rice at the Festival of Holidays food fair. So neat seeing Filipino dishes in Disneyland!
But the highlight of the trip was getting to promenade down Buena Vista Street for a bit with the lovely Miss Minnie Mouse.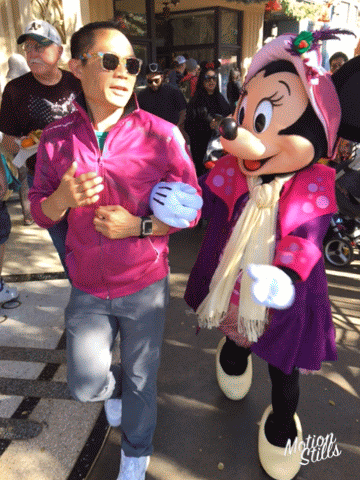 I had actually tried a couple of times to get a picture with her that day in the photo line. But each time, she finished her shift and I just missed her. This last time, I talked to the Kelcey, Minnie's cast member escort, about how disappointed I was. Kelcey suggested I walk with Minnie while she made her way back of house, while Kelcey took our picture.
That resulted in a fun delightful moment of us walking down the street together arm in arm, like we were old friends. I was buzzing for hours about this afterwards.