I decided to complete my collection of Disney theme park maps by getting a classic Disneyland map from the original era. Etsy has a number of vendors selling reprints of classic Disney park maps, and this one that was originally published in 1958 really caught my eye. So much charming artwork, so many intriguing titles, and just jam packed with attractions!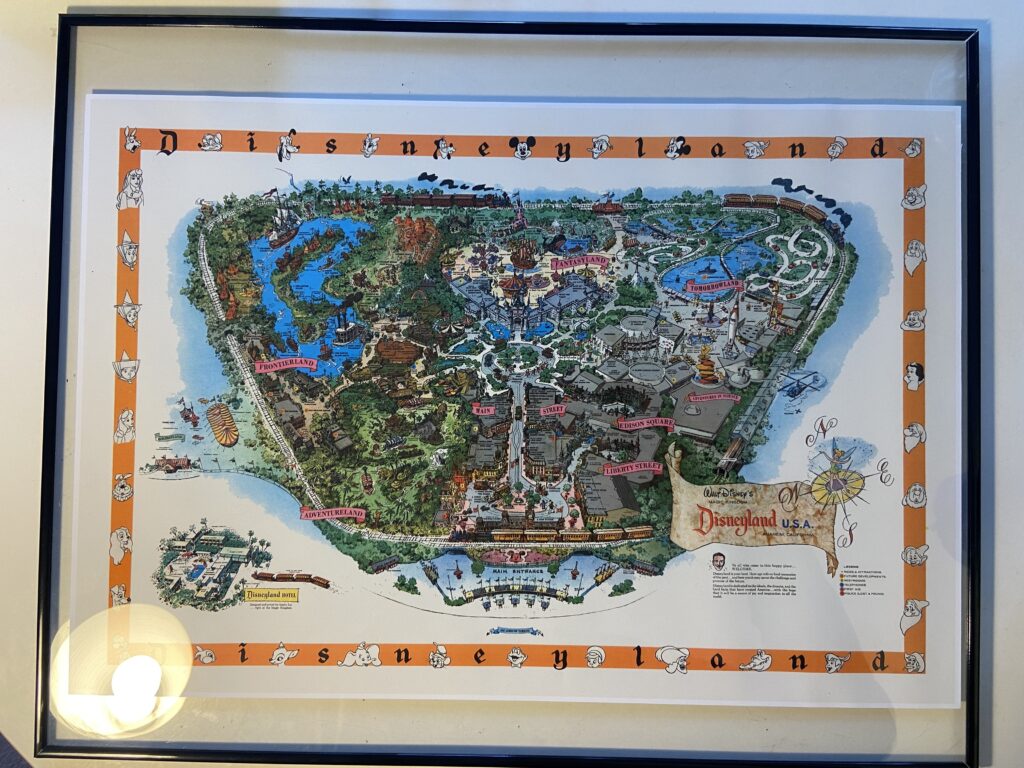 I don't know where to start, but here's the dedication from Walt himself.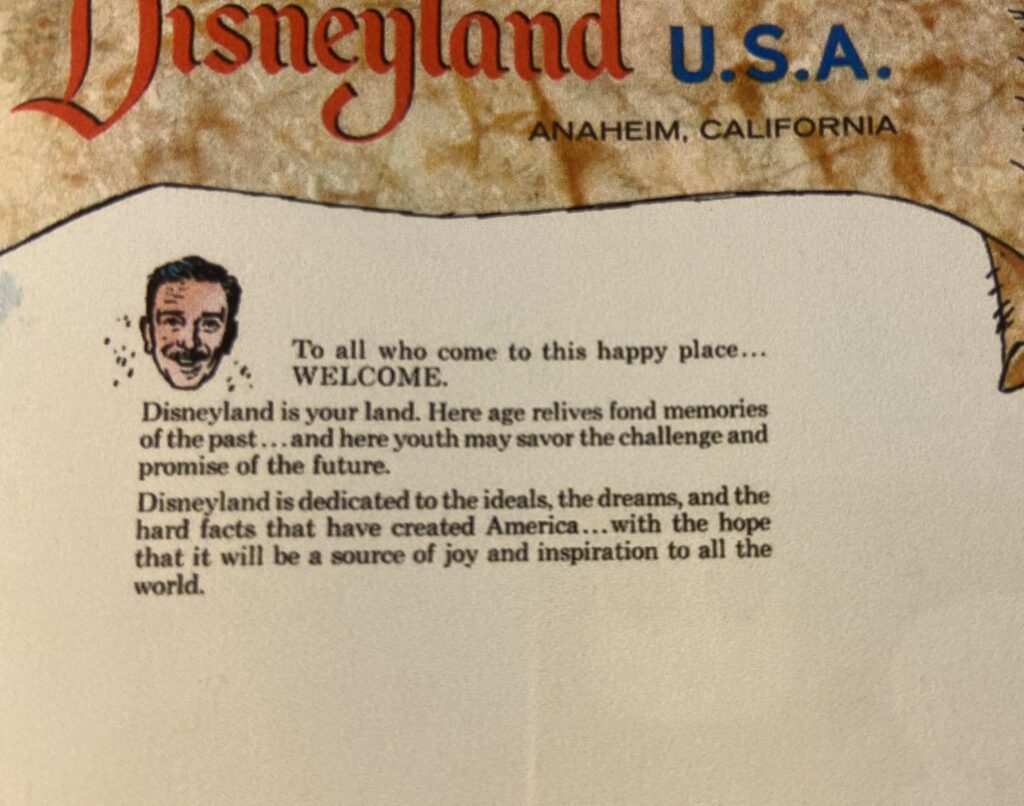 It seems like this map is a combination of actual attractions and wishful thinking, since many of the places depicted weren't done yet in 1958.
For example there is shown a planned Edison Square that was totally new to me! I guess this was dedicated to various turn-of-the-century innovations that changed live in America? There's a little square featuring various homes:
American House Pre-electricity
American Home — the Advent of Electricity
Contemporary Living
The Electronic Age
And then there's a "Diorama of Inventions." There are several dioramas in this original park. I guess they were a lot easier to build than full size attractions.
Right below Edison Square is planned Liberty Street, which focuses on colonial times, including — yes– a Declaration of Independence diorama.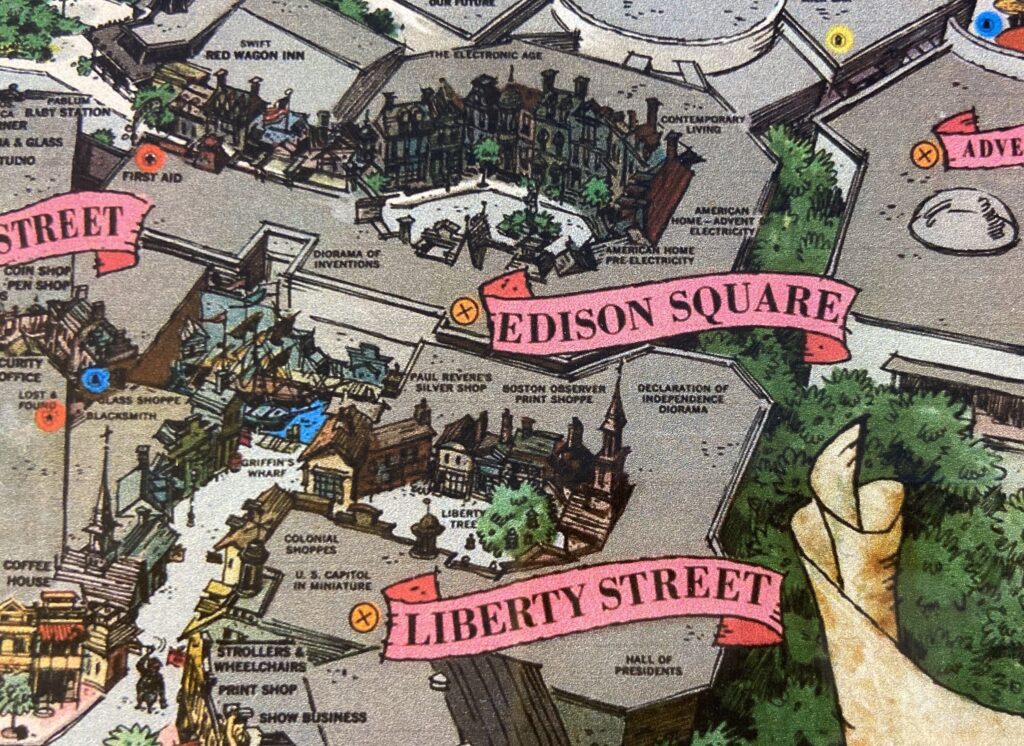 Take a right and you head to my favorite land in Disneyland, Tomorrowland! Oh my goodness, so many companies sponsoring stuff here:
American Dairy Assoc. Milk Bar
Kaiser Aluminum in Our Future
Crane Bathroom of Tomorrow!
National Lead Color Gallery
Richfield The World Beneath Us
Monsanto Chemical Hall of Chemistry
Monsanto Chemical House of the Future
I guess Walt really needed that outside investment to get Disneyland opened.
There's also:
Model planes and boats
"Circarama"
20,000 Leagues Exhibit
Satellite View of America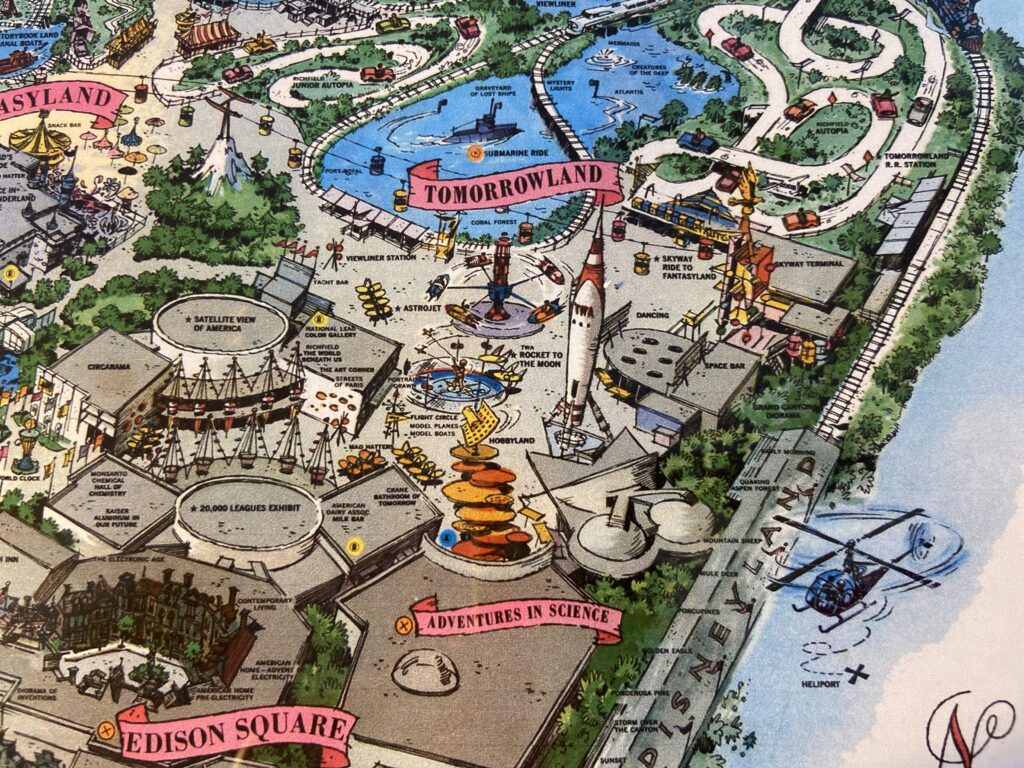 Oh and there's a planned "Adventures in Science." The whole thing gives me strong EPCOT vibes!
Most importantly, they had the Skyway from Tomorrowland to Fantasyland! I dimly recall riding this as a kid and thought it was the best.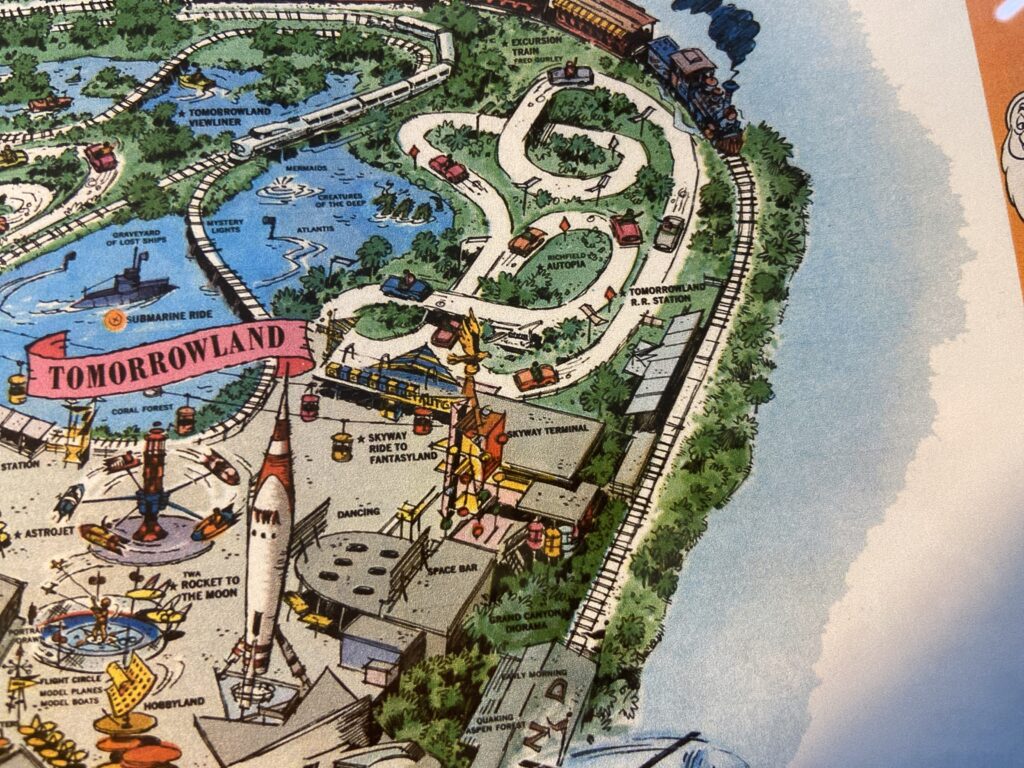 Tomorrowland of course did not have Space Mountain yet. But they had THREE Autopias! Regular, Junior and "Midget." Woah.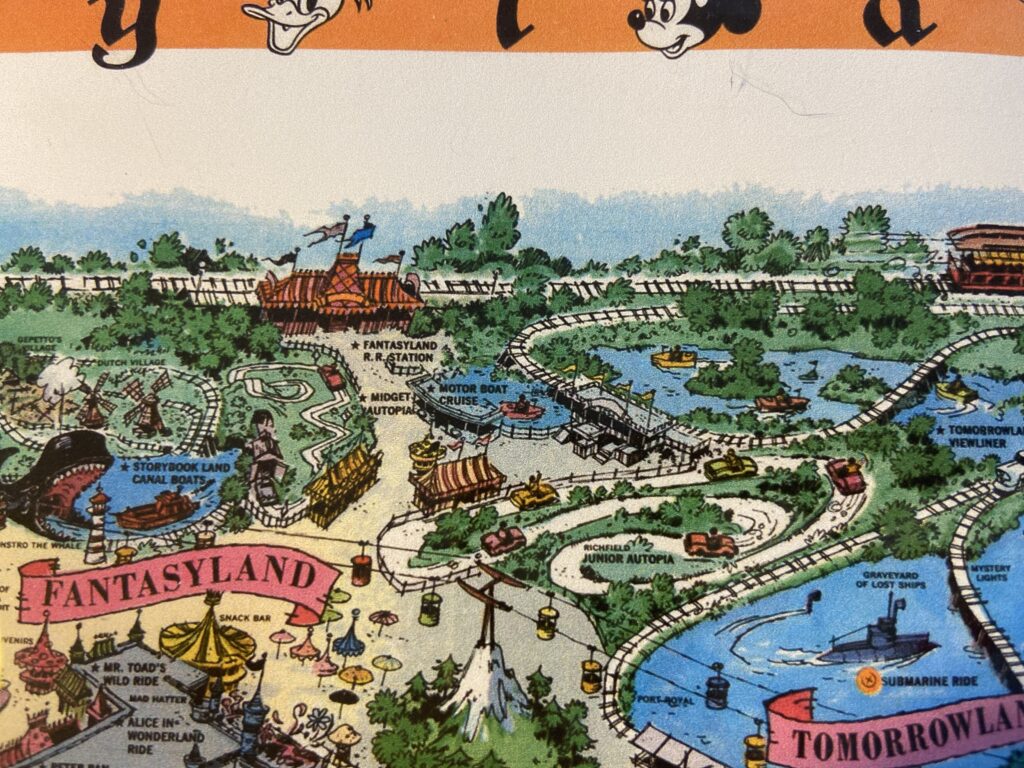 Heading over Fantasyland, not much really jumped out at me. I like that there's a big ol' pirate ship behind the carrousel and a "Chicken of the Sea Restaurant." Otherwise, it looks pretty similar to Fantasyland today.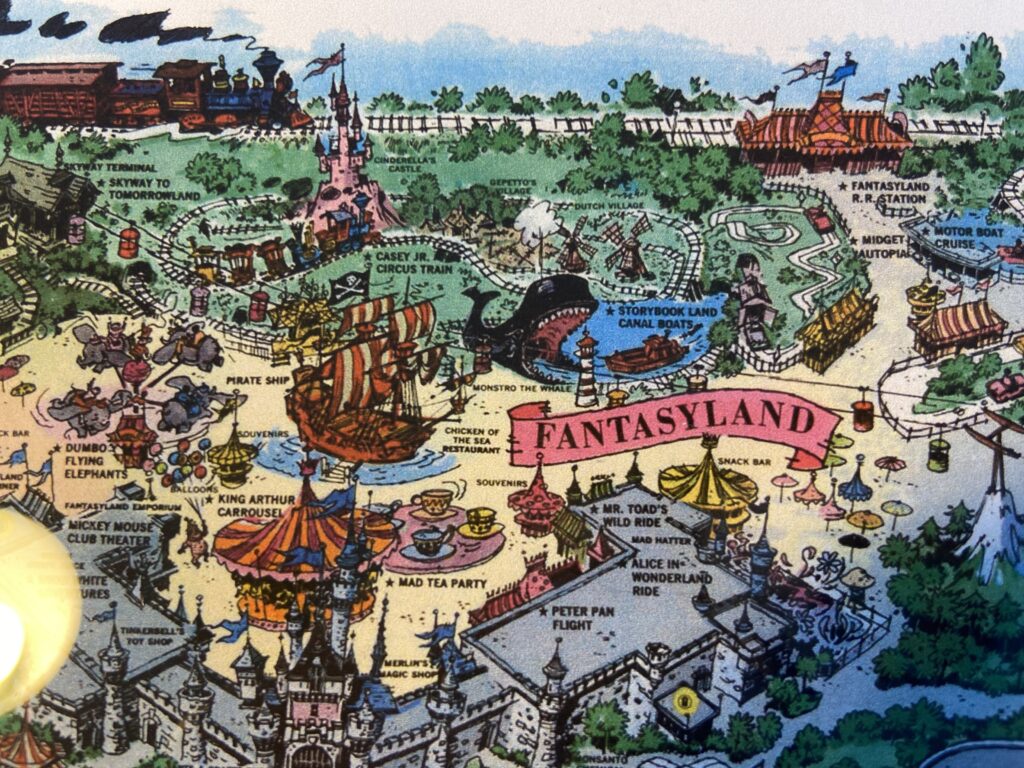 For all the juicy stuff, we head over to Frontierland. In the 50s, America was in love with the Western. Which means lots of problematic depictions of Indian culture. E.g.:
friendly Indians
unfriendly Indians next to a burning settlers cabin
dancing natives
Native burial grounds
war canoes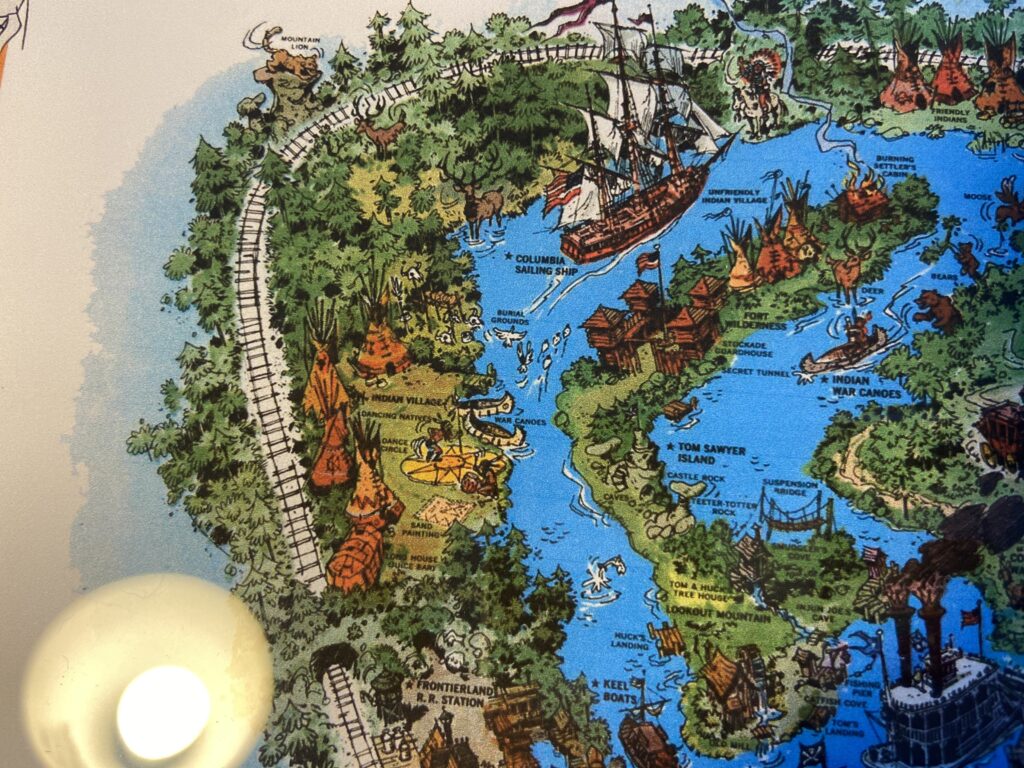 I was excited to see the pack mules attraction! This was literally what it says — a bunch of actual pack mules that you can ride around a fake frontier area.
There are lots of references to rainbows here — a rainbow bridge, rainbow mountain, rainbow caverns, and rainbow desert. I guess it didn't have same symbolism it has today.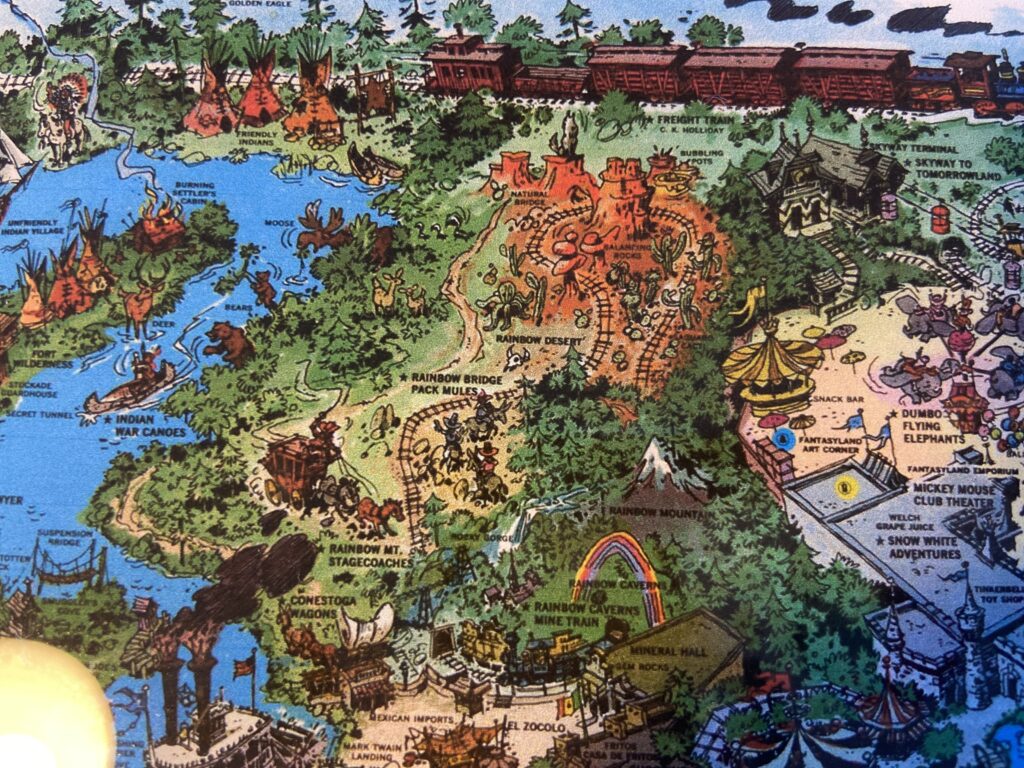 Also in Frontierland is a "gun fight" show, which is right next to the dance floor. And nearby is the Aunt Jemima Pancake House!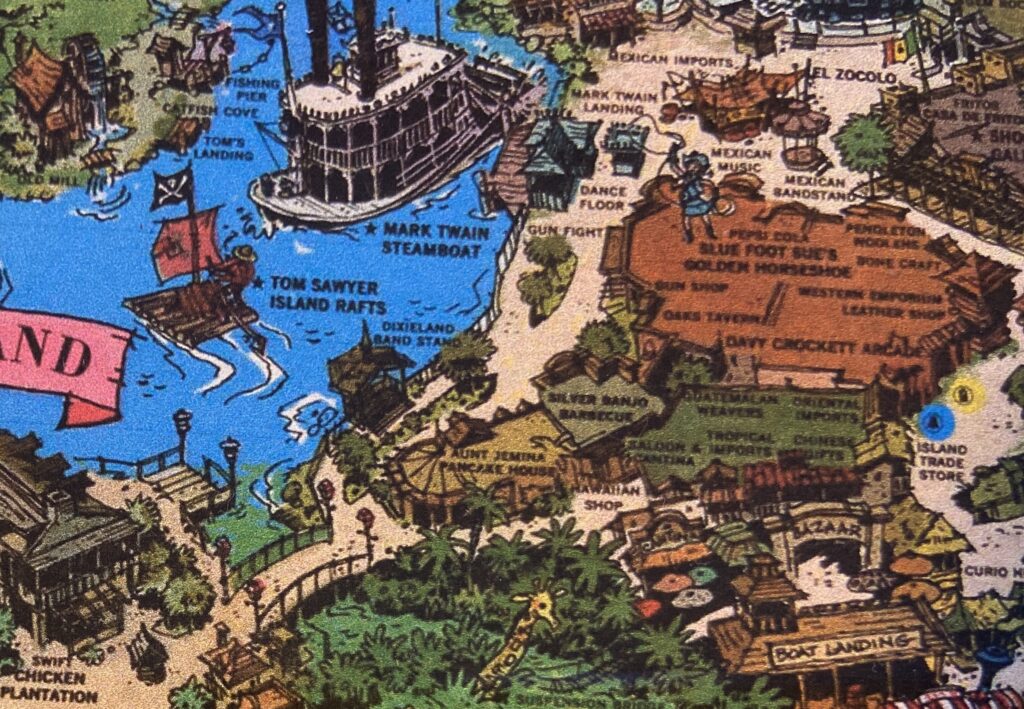 Adventureland is pretty sparse in this time, with the Jungle Cruise being the main attraction. You can still see the original head hunters. There is a planned wax museum and a planned "haunted house."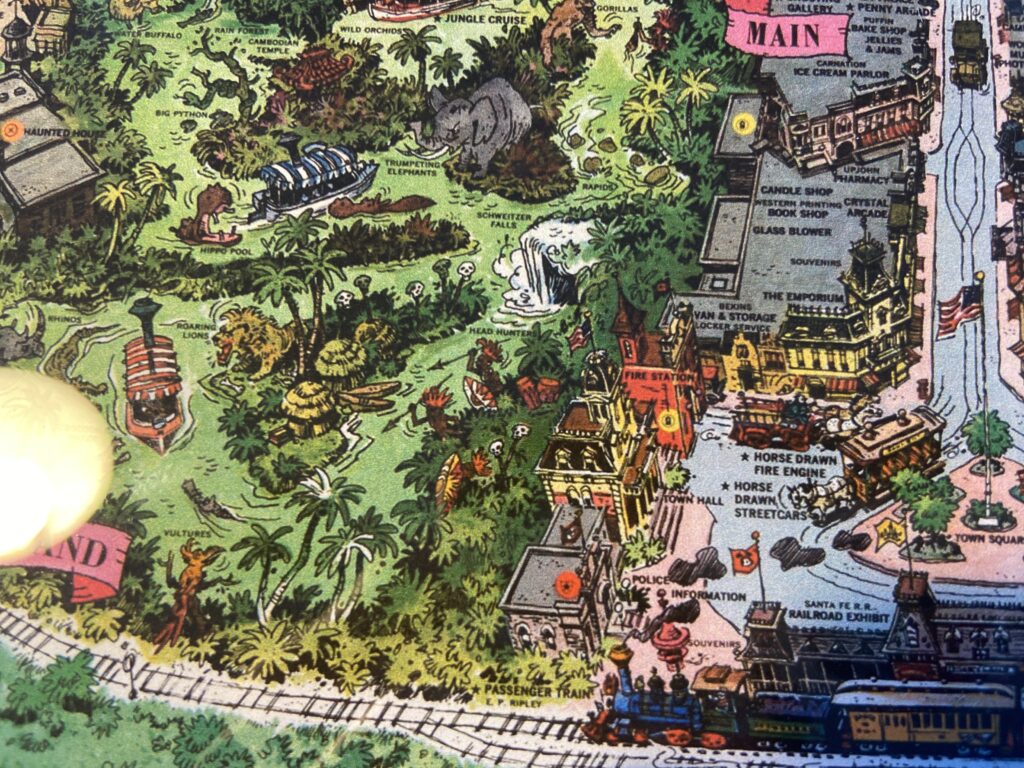 The whole thing is just too damn charming. And I'm so pleased to have it in hanging in my home, alongside other treasured Disney park maps.