As I try to summarize 25 years of Yehoodi, I realize that Yehoodi has been a lot of things to a lot of people over the years. Yehoodi has been….
A discussion forum for lindy hoppers
A calendar of swing events
A dance party organizer
A swing news service
A video and podcast producer
An online event broadcaster
But that seems a little backwards. Yehoodi has always been its community, the many thousands of lindy hoppers who have connected through this site, in small ways and large.
In light of that, we thought it made the most sense to ask you all what Yehoodi has meant to you over the years. And you responded! Here's seven vignettes that Bob, Cynthia, David, Holly, Neal, Serena, and Tessa graciously shared.
"Wait. There is a website for swing dancing?"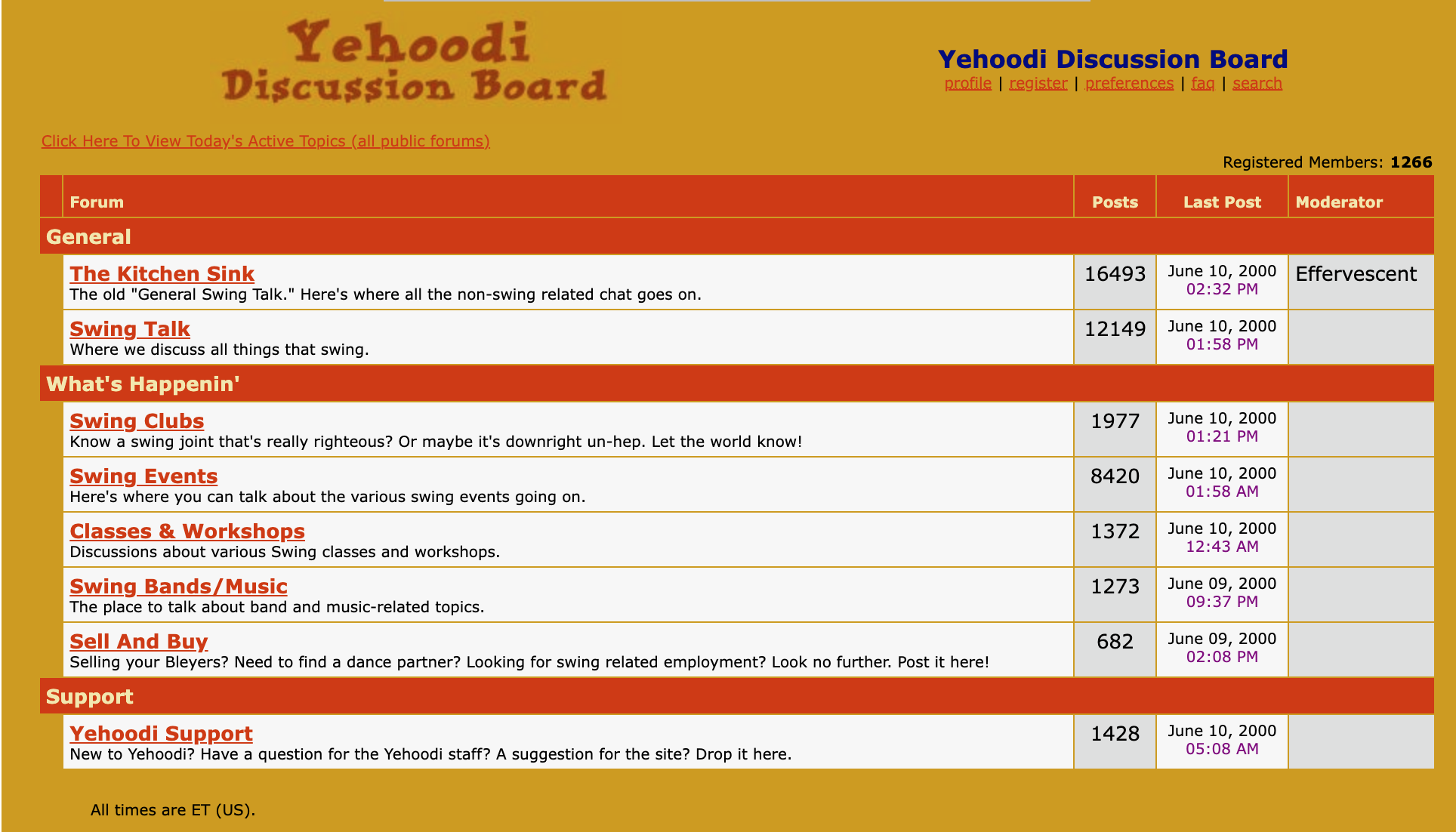 For most swing dancers of a certain age, Yehoodi was its discussion board. Initially built from off-the-shelf forum software, it had many incarnations from 1998-2015. But from the start it was a fun place for lindy hoppers to hang out, at a time when few such other online venues existed.
Neal Blangiardo was one of the forum moderators for most of the site's history. Here's how he found us:
Back in the pre-Gap commercial '90s, I remember being confused about how certain key dancers always seemed to know each and every upcoming dance venue/event. I learned to touch base with them (just a handful of folks) before leaving venues like The Cotton Club, Louisiana, and Sandra Cameron studios dance parties.
So, one day, I asked. And was told, "Yehoodi."
"What's Yehoodi?"
"A new website."
"Wait. There is a website for swing dancing?"
Yehoodi was just a few months old at that point and became my go-to instantly. Dial-up was still king in those days. Cell phones had no way to access the Internet and wouldn't for years. Later (as a Yehoodistrator), had my employers known just how much time I spent on the Boards, I likely would have been instantly canned. It became a huge part of my life.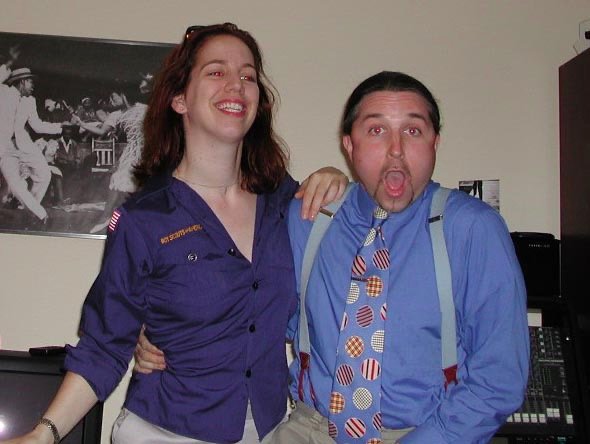 Neal was not only a moderator but also one of the most active posters on the forums, typically with something off kilter and funny. One of his best long-standing bits was a fictitious swing musician he create – Burt "The Buzz" Callingford:
I don't think any of us could forget where we were (likely out dancing!) when Yehoodistrator Leslie ("Lindygirl") broke the news of Burt "The Buzz" Callingford's death as a Yehoodi front page news item.
The subsequent thread "Burt 'The Buzz' Callingord is Dead!" which I started, was my Trojan Magnum …I mean… my magnum opus on Yehoodi. Outshining, if only due to its cultural significance, even threads like "I want a Baby Monkey, I think", "The Daily Mensa Challenge", as well as the long-lived "sex ed question a day" thread.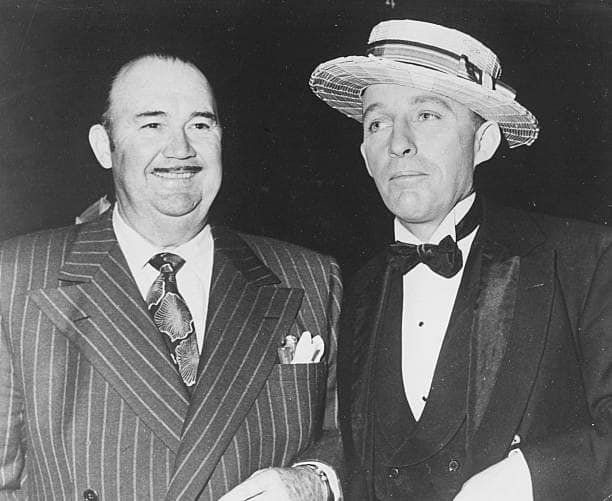 Some backstory: I was having that lil' Miata with "YEHOODI" plates repaired and didn't have Internet access. So, I emailed Leslie all the details of the breaking news (along with these images of Burt) and she IMMEDIATELY posted the item (despite saying she had never heard of Burt). WHAT A DOLL! Callingford was SUCH a massive influence in so much of the music we all loved, collected off Napster, and danced to at overpriced Lo-Fi Lee events. Ah…the voice of a swingin' generation. Who could forget "It's just a somethin', I'm supposin', You're a doin', " "So long, Provincetown: married now!" and "Is that a…why yes, it is!"
If that doesn't make much sense, I guess you just had to be there? Other yehoodites shared some of their favorite threads on the boards over the years:
Advice for parents from the childless
WMDs or no WMDs?
Shaving 🪒 your chest hair…
Eight count mafia
Videos of people dancing "The Swing"
Jessie Babcock is a Slut.
Online dating morons
Ask your questions about bass flute here
You really shouldn't be in pictures
Florida Weirdness
Inappropriate sexy halloween costumes
Swing Memes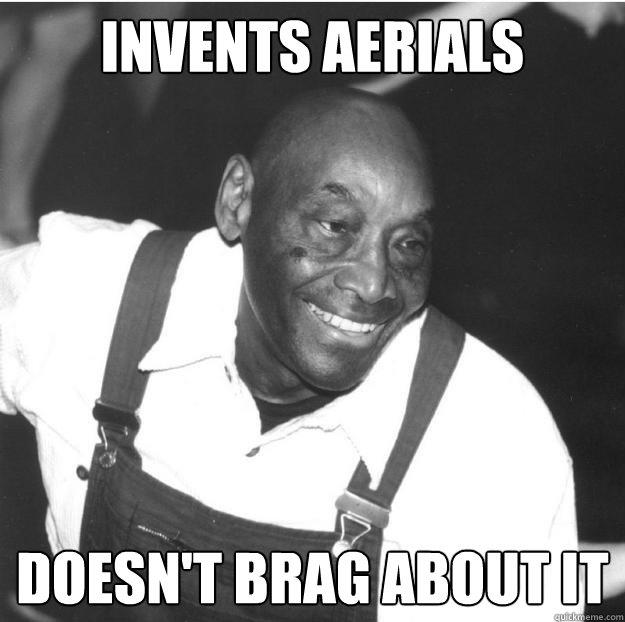 So much tomfoolery posted by so many people! It was inspired madness, which never failed to amaze me with the creativity, humor, and sheer volume of content you all produced.
"So I'm leaning against the bar at the House of Blues in New Orleans…."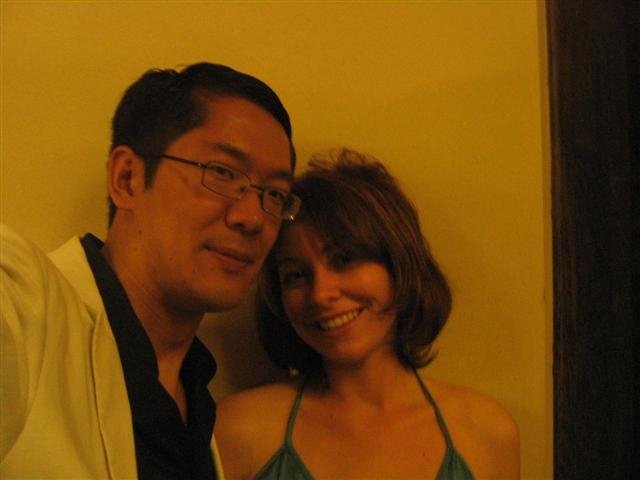 Many folks commented how Yehoodi connected them to other people that grew into some of their deepest friendships, and sometimes, something more. Here's Holly Yang's story:
After I'd been dancing for a few years, I started traveling, with my net spread wider and wider in concentric circles each time. Yehoodi made me feel like anywhere I went for dancing, I walked in with automatic friends. No room was full of strangers, as long as Yehoodi was there.
After becoming comfortable on Yehoodi, I started joining message boards all over the country- home in Raleigh, then DC, Nashville, Chicago, LA, etc. I posted occasionally, but read everything. So even people I'd never talked to at all I felt I knew.
In 2005 I found myself leaning against the bar at the House of Blues in New Orleans, at Llndy Gras Friday late night. I was talking to Jeff Washington, whom I'd met both online and at various events. I was looking at the other side of the room, where a tall, skinny asian guy was dancing. "Who's that? I asked Jeff. He looked at me curiously. "Julius? you don't know Julius? Julius from LA? I mean everybody knows him." And of course after hearing the name, I agreed. I did immediately know him. And yet not at all. We'd never met, never talked, never interacted in any way – lived on opposite sides of the country from one another. But Yehoodi (and Jive Junction, to a lesser degree) made me feel like I both knew him… and wanted to know him. So I pushed off the bar, puffed up my big-fish-in-a-small-pond feathers, and said "well, he's going to know me."
Eight months later we flew to Y7A for a truly magical weekend, full of our brand new romance.
Now, 18 years later, as I sit here in our home, surrounded by the life we have built, our two spectacular kids, and the full, loving community of other dancers and their families as well, I can honestly say Yehoodi made me richer than I ever imagined. Thank you seems a little inadequate for helping every dream come true.
Several others posted about finding their romantic partners through Yehoodi. And many, many more related how the friends they made through Yehoodi continue to be some of their closest friendships. That alone makes what we did worth it, in my opinion.
"You made me feel like I was really part of something bigger than my small college scene"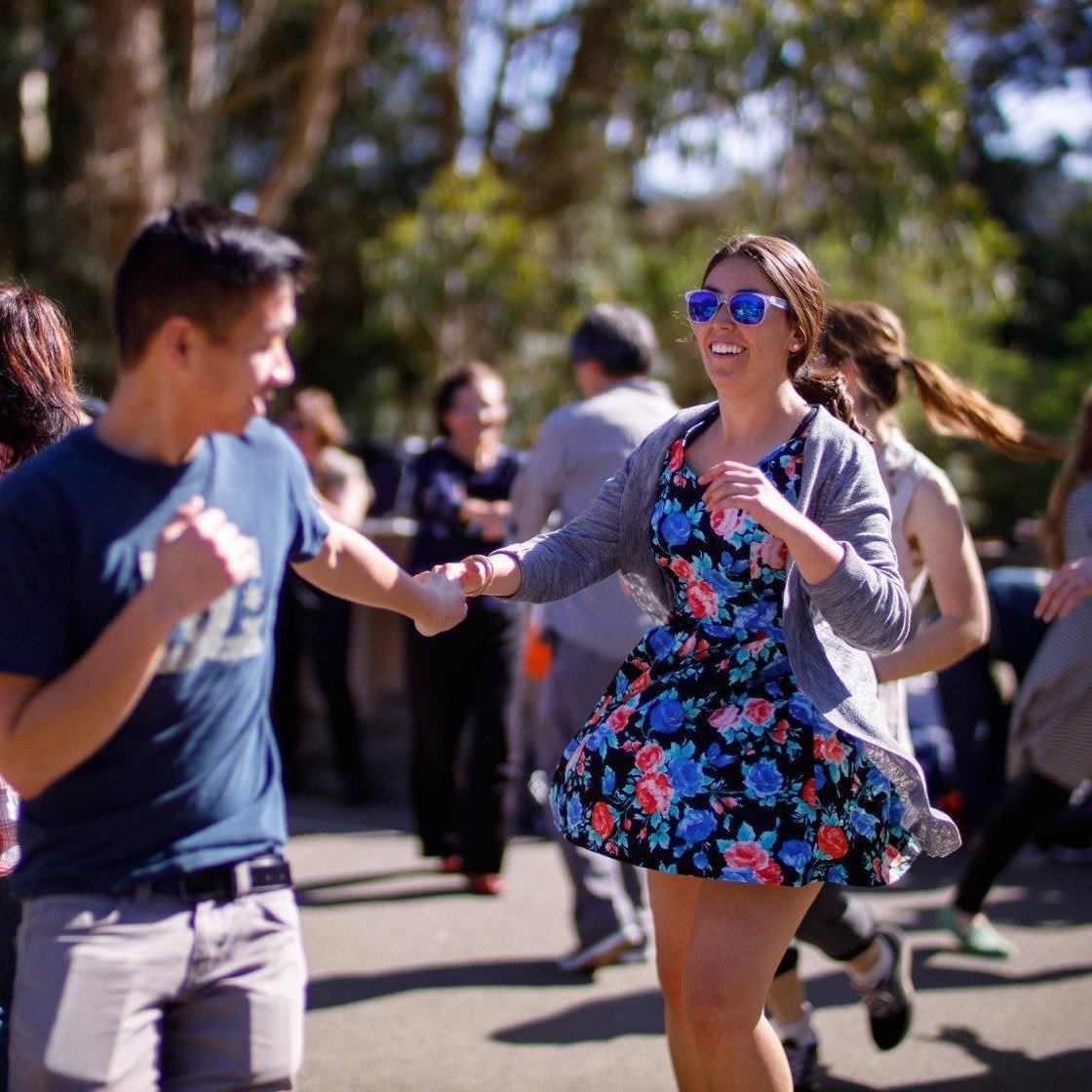 Beyond the discussions, Yehoodi was a source of news and information for many people. For a time, we were the best place to find out where to dance, first in New York City, and then almost anywhere on the planet. And if there was something big happening in the world of lindy hop, we tried to cover it.
Serena relates what Yehoodi's information sharing meant to her as a young lindy hopper:
When I went to Minnesota for college and started Lindy Hopping in 2013, Yehoodi was my gateway to the National and International discourse around dance. I read Frankie's autobiography, read tons of Yehoodi blog posts, and even listened to Hey Mister Jesse, which I didn't realize was part of Yehoodi until far later.
When the ILHC live broadcasts came on, we all gathered around a huge TV in the dance studio at St. Olaf to witness it. As I started DJing swing music at my college's dances and on the school radio station, Hey Mister Jesse introduced me to new music, and made me appreciate the deeper cuts – especially how creativity on the part of different bands could make the same swing song feel totally different.
Of course over the years our community has gone through a lot together – from reckoning with the impacts of power dynamics and sexual assault on our scenes, the pandemic changing how we experience dance, and of course the murder of George Floyd and countless others who remind us that we need to continue to challenge status quo and be stewards of the legacy of the dance to ensure that we role model high standards of equity in how we approach community building and sharing this dance with others.
Finding Yehoodi made me feel like I was really part of something bigger than my small college scene, no matter where in the world I found myself then and after.
For many, Yehoodi was how folks discovered that there was this big international movement of people who loved lindy hop. And that inspired them to go deeper into the dance, find others like them, and spread the love.
"a spiraling avalanche of jazz greats – and some younger cats – excited to reconnect with dancers."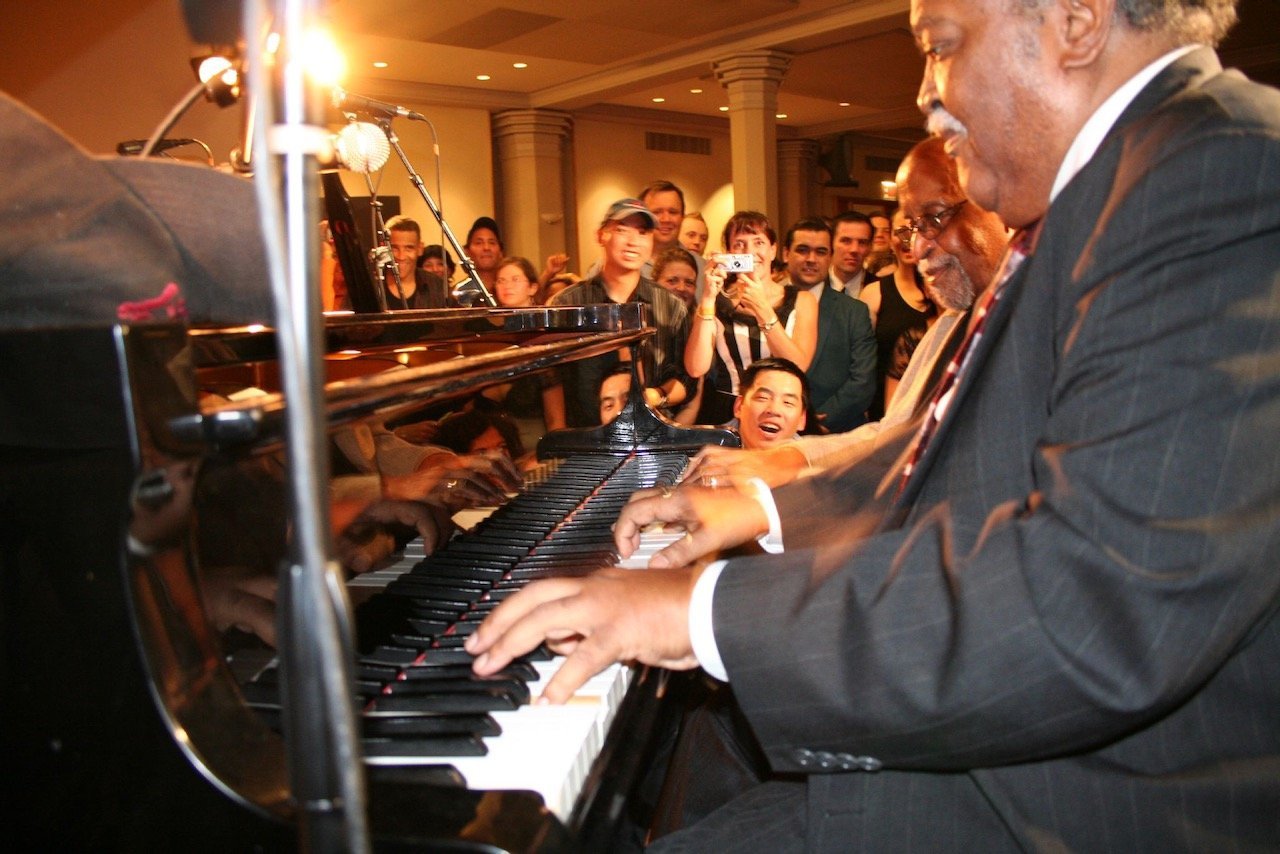 Yehoodi anniversary parties were the main way that our community came together in the real world. We held a total of eleven anniversary parties between 1999 and 2010, some more intimate affairs and others major national events. Seeing and dancing with people you had only known from their posts on the discussion forums was such a huge thrill for folks.
Jelly Roll Productions was a sister organization that put on a series of incredible dance events in New York City in the early 2000s. Yehoodi was fortunate enough to partner with them on some of our best dance parties. Here's how David Jacoby, one of the founders of Jelly Roll Productions, relates it:
Have you heard Junior Mance's version of "For Dancers Only"? He takes this fast, big band Jimmie Lunceford tune and flips it on its head. Slow, bluesy, heartfelt, yet still a swingin' rollercoaster ride. What amazing ability to have the creativity to hear a song like that in a completely different way.
In 2002 I heard he was playing at Knickerbockers, an intimate restaurant near Washington Square. I called Manu, and off we went to see him. He blew our minds immediately. We sheepishly said hi to him during the end of a set break and told him we're crazy about his version of "For Dancers Only." Off he immediately went to the piano and started playing it! Pure bliss, and such a sweet man.
So after his gig, I tell him we're lindy hoppers and we'd love for him to play for us sometime. He looked at me kinda funny, but a little interested. Then I told him what we could afford, and he looked at me very funny. But I followed up and begged and pleaded and promised him it would be great, and he finally said yes, at the very least to shut me up.
That's how it all began: the Junior Mance Trio, January 9, 2003 at Jack Rose, sponsored by Jelly Roll Productions and Yehoodi. Junior's bass player, Earl May, had such a fantastic time, that he insisted that his band, The Earl May Quintet, play for dancers. That band included vocalist Catherine Russell (now a Grammy winner), and the legendary Benny Powell, who played in Basie's band for over a decade. After that night, each of them insisted on their own gigs for dancers with their own bands! And on and on it went, a spiraling avalanche of jazz greats – and some younger cats – excited to reconnect with dancers.
Read more of David's story here.
"All I did was buy a book, but it felt so good."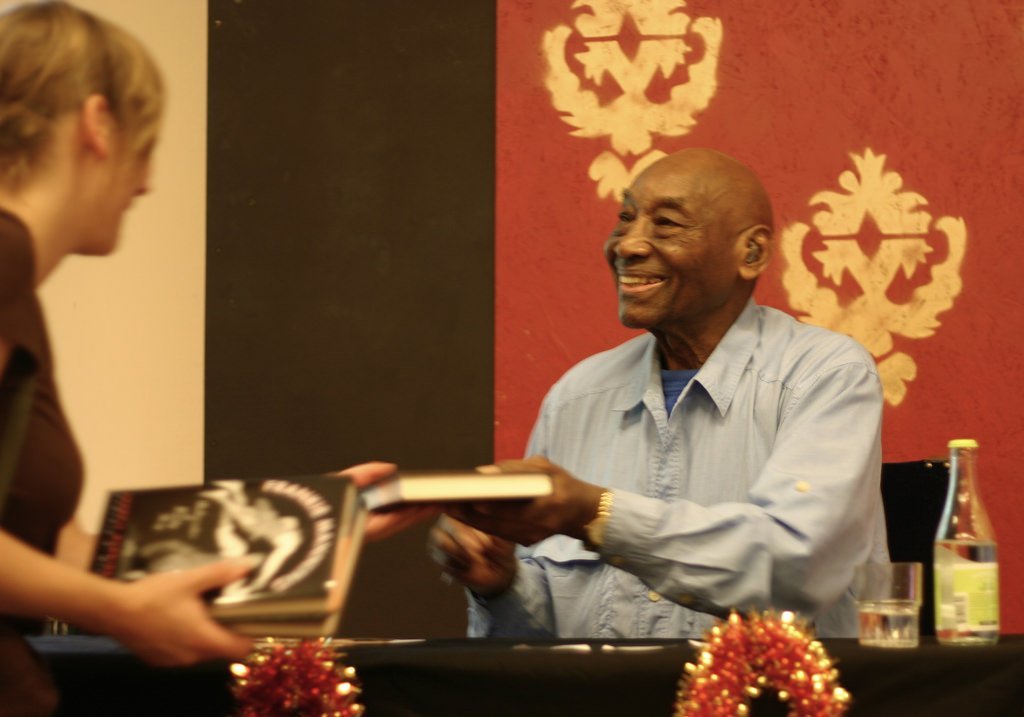 Yehoodi has tried to do our bit to support the growth and expansion of lindy hop over the years – produced intros to lindy hop, brought together swing organizers, shared ways to create safer, more inclusive dance spaces. But perhaps one of our finest hours was helping get the word out about Frankie Manning's autobiography Ambassador of Lindy Hop. Here's how Frankie's collaborator and friend Cynthia Millman tells it:
Yehoodi initiated a campaign to boost sales on the book's release date. I'd had a minor panic attack when I realized I couldn't meet the original deadline for a Fall 2006 release [of the book], thus breaking the terms of our contract with Temple. But this turned out to be a great example of things working out.
The May 26th, 2007 publication allowed Lindy hoppers around the world to buy the book en masse on Frankie's 93rd birthday, an idea suggested by David and masterminded by Riki. Using an ancient technique called viral email, Riki orchestrated the sale with the intent of bumping the book into Amazon's top ten. The Yehoodi team applied their talents. David lobbied musicians, dance studios and venues to donate incentives. Manu created a cool video. Ryan Swift designed banners and buttons to post on other sites. And it worked!! After a thrilling 24-hour climb, we hit #7 by day's end on the East Coast. I later heard that we hit #6 by midnight on the West Coast.
David recently reminded me that the book reached #1 in the Entertainment category on Amazon, and #2 in Biography, landing between Ronald Reagan and Albert Einstein!
I went to sleep happily overwhelmed by this incredible show of support and unity. As one dancer wrote on Yehoodi, where everyone was roll-calling in all day, "All I did was buy a book, but it felt so good." Huge thanks to everyone who participated, and to Yehoodi for this incredible experience.
Read more of Cynthia's story here.
"After I collected my winnings from 'Wheel of Fortune', I decided to take my best friend to NYC"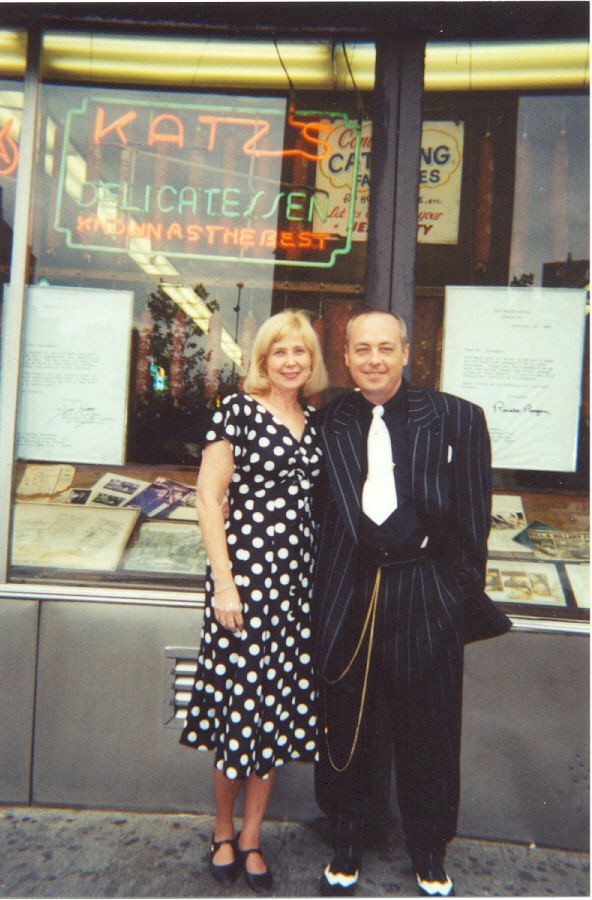 Lots of folks fondly remember the pleasure of connecting with people in the real world that they had first met on Yehoodi. This is one of our favorite stories shared by Bob Marlowe:
In early 2000, after I collected my winnings from my appearance on "Wheel of Fortune," I decided to take my best friend to NYC over the Memorial Day weekend, since she had never been there. I had been there numerous times as a kid in addition to going to Frankie's 85th.
In planning our weekend, I posted a question on Yehoodi asking which "authentic" deli in NYC was the best. I got several replies, but the consensus seemed to be for Katz's Deli. Both Effervescent and SwingE suggested it, so I invited them to join us for dinner.
Eff showed up in his Miata, and we all had a great time eating pastrami sandwiches. It was a great weekend. We danced on the observation deck of the Empire State Building, where I hummed the tune to "New York, New York" since there was no other music. The first night, we went to a dance at St. Jean Baptiste Church where Eddie and Eva from the Rhythm Hot Shots were teaching a lesson and Peggy Cone's band were performing, and the next night, we attended the NYSDS dance at Irving Plaza.
I've remained friends with Eff and SwingE after all these years.
People recounted running into other dancers they first knew on Yehoodi during their travels, at work events, or just sitting in a cafe surfing the internet. "Back in the day when we didn't have Youtube, FaceBook or Instagram," wrote Singaporean dancer Sing Lim. "We relied on forums and websites like Yehoodi to connect to the lindy communities around the world."
"Dancing with my friends to music that I love was such a beacon of hope during a time I was so scared and unsure"
The terrorist attacks on September 11, 2001 was one of the most horrific events of this century. But it was also a time when we found out why community matters, including the lindy hop community. Tessa Auza shares her story of that difficult time:
I love telling people about the power of social media and the internet. All that, in combination with the connections and opportunities in the Lindy Hop scene gave me the best experiences in my life. And in this case, it helped me survive one of the worst times in my life.
After standing up at my English cousin's wedding, I was making my way back to the US. I planned to have an entire day and night in London before catching an early flight back to Chicago. I spent part of the day visiting a museum and walking around. I slowly realized that a lot of people are on their phones talking about a bomb in the US. And it was while I was in a street market that I realized a lot of people were standing beside a radio listening to the news. And I'd finally realized that this bomb people were talking about was planes flying into buildings in New York City. I could tell who the Americans were in this group.
After reaching my mother by telephone, we decided that I should go straight to Heathrow Airport and try to fly out of the UK as soon as possible. Little did I know that Heathrow would be my home for three days and three days nights.
Aside from the occasional long-distance phone call to my family and boyfriend, a little kiosk allotted 15-minute increments of internet time gave me the news and communication I would need for those days. Most of that time, on the internet, I would check on my friends and the news from America on Yehoodi. I relied on this national swing dance forum for news on what was going on in the US and to check in on my dance friends in New York City. Yehoodi gave me more information about the results of 9/11 outside of the chatter in the airport or the headlines I would read in the airport shops.
I imagined I would be sleeping on the floor of the Heathrow Terminal until I got home. But my lindy connections saved me. Through the Gwon siblings, whom I'd met during my lindy travels and later on Yehoodi, I was able to connect to their sister Shannon in London. Shannon took me in for a few days. I had a safe place to rest and a kind, generous person who took me around London.
At one point, we visited a memorial for 9/11. Another evening, Shannon took me out to the pubs where I got to speak with other internationals who gave me their perspective of the event while others could look at me with sad eyes and share their sympathy.
It was also on Yehoodi that I realized that George Gee was still going to be able to perform at the Willowbrook Ballroom and near Chicago around September 15. I got home just in time to see my friends on the dance floor and thank George for driving from New York City to play for us in Chicago. Knowing that I would be dancing with my friends to music that I love was such a beacon of hope during a time I was so scared and unsure. So thanks again, Yehoodi, for being there for me when I needed you.
On Yehoodi we've mourned the passing of people in our community, grieved together the tremendous losses resulting from Hurricane Katrina, and commiserated with folks over tragedies large and small.
I've been reminded recently that it takes adversity to show who your real community is. And while Yehoodi wasn't perfect, it was a place that many people found support over the years.
---
I hoped that helped evoke some fond memories for you of the ways that Yehoodi has touched people's lives over the years. There are many more stories, memories, photos and videos you've sent in. We'll work on how we can archive all of that in some organized way before the end of 2023.
Thanks so much to Bob, Cynthia, David, Holly, Neal, Serena, and Tessa for letting us share your stories. It means everything to us.