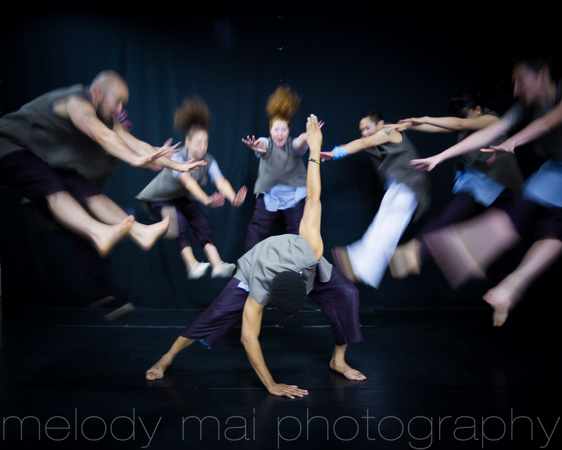 I can't believe that after months of work, we are just days away from my dance crew's show "Re/Genesis" April 12 and 13 in San Francisco.  It's been an incredible journey for me, as the original instigator of this show with my piece "The Message" that I created a year and a half ago.
A version of "The Message" opens up "Re/Genesis," this time done as a duet with Kevan Arrington.  It's something I wondered would work with a non-Quaker audience. I can't wait to share it.
I also could never had imagined the diverse and eclectic mix of dance pieces that follow my piece for the next 58 minutes of our show.  Seeing awesomely talented dancers from Freeplay and Prince on Point perform their own pieces building off of the subject of spirituality is humbling and moving.
In contrast to the diversity in dance styles and music, the dance pieces do connect and relate to each other in interesting and subtle ways. I won't spoil the fun for those of you coming to see the show this weekend. 
On the positive side, we are almost completely sold out of all three of our shows as of this post, even after adding a third show on Saturday.  I'm looking forward to seeing how our audiences react to our pieces.  I'm so close to the work, it's hard for me to imagine the experience of the spectator. 
Last Saturday was our tech rehearsal, the first time that both crews have been together on the actual stage doing our pieces.  The rehearsal was exhausting, but went surprisingly well, considering all of the people involved and the multiple things happening at once.  We were fortunate enough to have the services of the talented photographer Melody Mai on hand to document our performances.  You can see highlights from her awesome pictures at this link. Thanks, Melody!  You make us look so good!
For those of you out there who supported me and my crew in putting on this show, whether through encouragement, advice, or dollars, I thank you.  As the spotlights come up on me this weekend, I will carry your kindness and support in my heart to chase away the fear and the nervousness. 
Let's play!
All photos by Melody Mai.  See the rest of her work on her website melodymai.com.