For 2015, I'm trying to get more serious about my running. Last July, I resolved to run three times a week, which I've kept up more or less, putting a 150 miles or so on my trainers. While the results have not been dramatic, I have enjoyed getting back to a regular workout regime and feeling strong in my body.
Assuming I'm going to keep this up, I want to upgrade my game to ensure I'm getting the most out of my runs and preventing injury. This month that means getting new trainers. 
I knew that just hitting up Amazon or Zappos and clicking on whatever looked nice was not going to cut it. I need expert help and consultation. So last weekend, I went to "A Runners Mind" in the Presidio, which has a very positive Yelp reputation as store for runners and joggers in the city.  
Tim*, my store clerk / running expert, helped me pick out the perfect running shoe. He began by measuring my feet and asking about my running regime (how far, how often, what surfaces, etc.) I have both wide and flat feet, and one foot slightly larger than the other. So finding the right shoe that feels right has been a challenge for me.
After measuring me, Tim brought out what he said was a well-balanced running shoe and had me try them out running up and down the sidewalk outside. While I ran, Tim recorded me with his iPad for a few seconds.
We came back inside to watch my footage. Reviewing frame-by-frame, Tim could spot how I tended to overpronate when I ran, putting pressure on my joints and knees. He recommended a shoe with more support to prevent injury, instead of a more springy shoe.
Tim then brought out a several pairs shoes for me to try out, sometimes putting on both left and right, and other times putting one style on one foot, and another style on another for comparison. For each set, he had me run down the block briefly to see how they felt, then asked me to compare. In this way, we narrowed in on the pair I ended up getting, the Brooks Adrenaline GTS 14.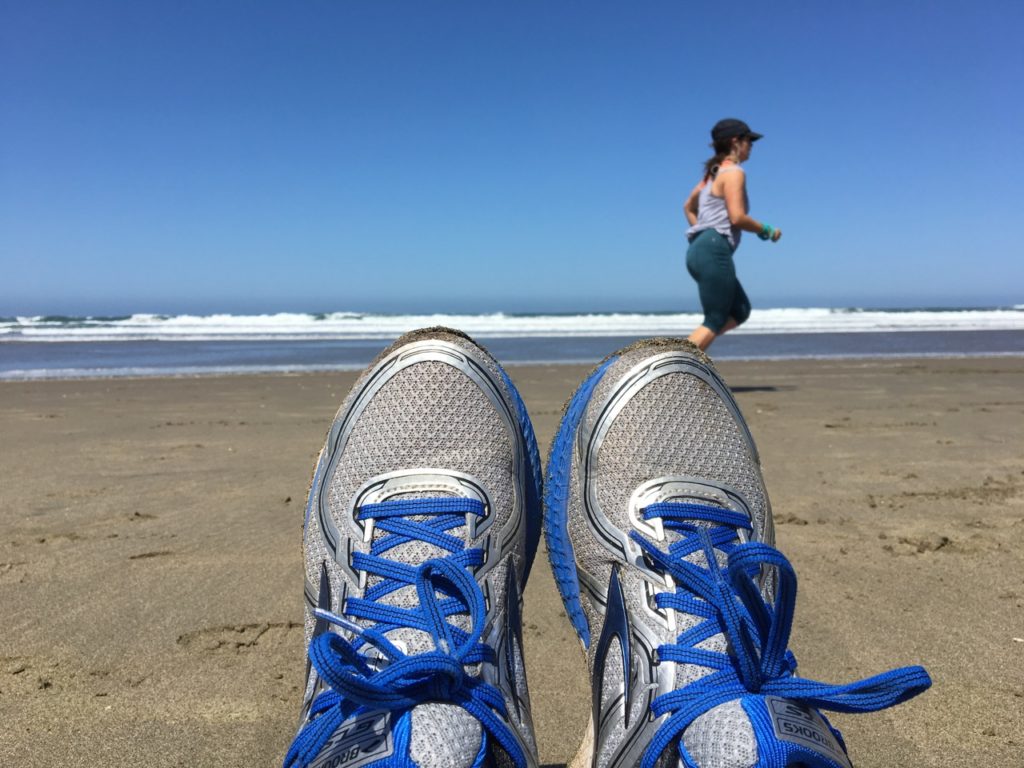 Yes, I paid a premium for buying them at A Runners Mind. I could have gotten them much cheaper online or from a big box store. But the value I got from the experience of the salesperson, the ability to try out various pairs, and the 30 day return policy made it more than worth it. And it felt nice supporting a local SF business.
I've done five runs in the Brooks so far and really like them. Much more comfortable and lighter than my cheap New Balance pair. They feel supportive, but not overly so. There was no real break-in period, which was surprising. I think I'm keeping these babies.
Next month: a heart rate monitor!
A Runners Mind is a small, independent shoe store near the corner of Sacramento and Locust in SF. Check them out at http://www.armyourfeet.com/.
*Possibly not his name. Chris? Mark? Jim?