DISCLAIMER: I am not a mental health professional. These are just my personal views and experiences as a "veteran" dancer. If you are experiencing intense feelings of depression or anxiety, please see a mental health provider in your area.
I'm a "social dancer." Which means that I dance a style (lindy hop) that requires two people to execute successfully. And … that's really it. The rest is just marketing.
I can go to a "social dance" and not socialize at all. I can enter, dance to every song with a partner, and leave, without having made any other honest human connection. I've actually done this.
I think we perhaps conflate being a "social dancer" with meaning that everyone who practices our dance is connected to each other in some kind of "community." Heck, I've made this assertion in the past. But it falls apart with the most superficial examination.
Are there people who come to our dances regularly who don't have any significant social connections or friendships in that space? Almost certainly.
Are there people who participate in our dances who still experience feelings of loneliness and separation — perhaps even when they are physically in the room? Absolutely (points to self.)
On the other hand, there are certainly many, many examples of lindy hop facilitating powerful social bonds — lifelong friendships, strong peer groups, passionate pairings.
So given these two extremes of intimate connections and social disconnection that can exist in the same dance, what can we conclude? I can say as someone who has practiced lindy hop for a couple of decades that the dance offers an extremely useful catalyst for human connection. But it is not sufficient on its own to support actual meaningful relationships.
To put it differently, you don't just show up at a dance and magically have dozens of friends.
I know that might sound silly as an statement. But I think it's easy to buy into the illusion that all those people you meet when social dancing are somehow your friends. You might know each other's names, you might be Facebook "friends," or "❤️" each other's pics on Instagram. But the large majority of dancers in your scene are at best casual acquaintances.
Which is not to say there is anything wrong with that. Most of us require a variety of human connections, from casual to very intimate. But what we really crave are people in our lives who understand us, who support us, who care for us — real friends.
What lindy hop (and other social dances) offer is many opportunities to build real friendships with people. You get to have a momentary artistic connection to dozens, or hundreds, of people you would have never had an opportunity to meet before.
But you still have to do the work. You have to be the one who takes that first step — shares a drink with someone at the bar, invites people to your home to play board games, creates a book club or a knitting circle. You need to put in the emotional labor and endure the risk of rejection that all new relationships require.
I'm so fortunate to have people I've met through lindy hop who have made that effort with me. And I have carefully cultivated friends through the scene, despite having my own sometimes intense feelings of loneliness, disconnection and self-doubt.
So I'm writing this for lindy hoppers who have ever felt intensely alone on a crowded dance floor, who have gone home from a dance feeling physically tired but still craving real human connection, who have wondered why everyone else seems to have their own cliques and crews but you. You aren't alone in feeling those feelings. I suspect they are more universally felt than might be apparent from the sea of smiling faces you encounter at a dance.
There are a lot ways to confront those negative emotions and thought processes. One is to make a more conscious effort to make meaningful connections in the scene. Express appreciation for someone beyond just their dance ability or their physical appearance. Ask someone in your scene who is going through a tough time if you can help out in anyway. Other good strategies are volunteering, joining a performance team, or being part of an associated interest group.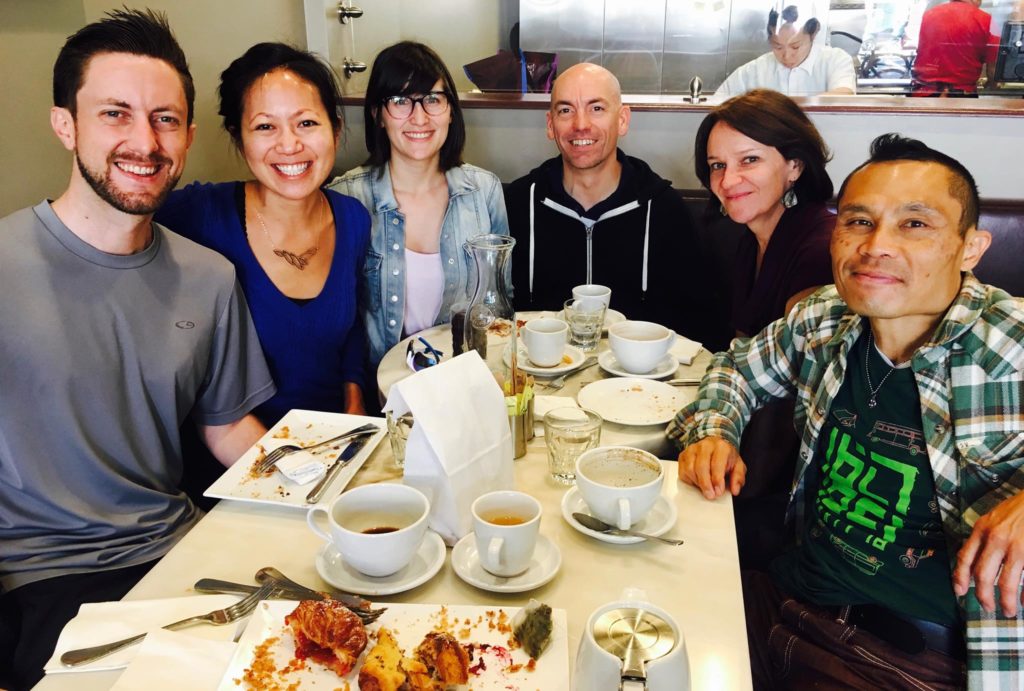 Or you can simply acknowledge that lindy hop is not going to be your avenue for making strong friendships, and just use it for casual recreation and exercise. Find your emotional support and your tribe elsewhere.
Most importantly, get what you need emotionally and spiritually. That's much more important than learning the Tranky Doo or going to the next "can't miss" dance event. It all starts with expressing kindness and compassion for those around you, starting with yourself.
---
UPDATE 10/19: I wrote a "Part II to this post, after seeing many people's responses: What it's like coming back to lindy hop after a hiatus.