[NOTE: This was cross-posted to Yehoodi.com]
"It's like… a solo jazz mosh pit," Pamela, a lindy hopper from Singapore , remarks beside me, looking out on the crowd.
In front of us, hundreds of sweaty and happy people are solo jazzing like crazy to the sounds of the JB swing band, on day 1 of the Jazz Roots 2019. I wonder if this is the future of lindy hop, and I watch four jazz circles going on simultaneously in the packed dance hall.
Jazz Roots, now in its 14th year, is a weekend long celebration of all things solo jazz, held in the Menilmontant neighborhood in eastern Paris. Perhaps the largest solo jazz event in the world, Jazz Roots 2019 welcomed 550 dancers from as far away as Croatia, Argentina, Taiwan… and even one ancient dancer from San Francisco.
The weekend is divided into tracked dance instruction in the mornings, a buffet of "taster classes" in the afternoons, and dance concerts, performances and competitions in the evenings.
THE CLASSES
The classes are taught in six levels, from complete beginner to master level — with several levels having up to four sub-groups to keep class sizes manageable. The teaching staff is composed of 23 top-level instructors from all over the world.
The variety of afternoon taster classes was incredible. You could choose between beginning tap with Daniel, dancing to contemporary jazz with Alina, boogie woogie footwork with Rikard, Latin Jazz with Markus, Appalachian clogging with Caleb, or Mambo Swing with Evita, among 50-some other choices over the weekend!
THE SHOW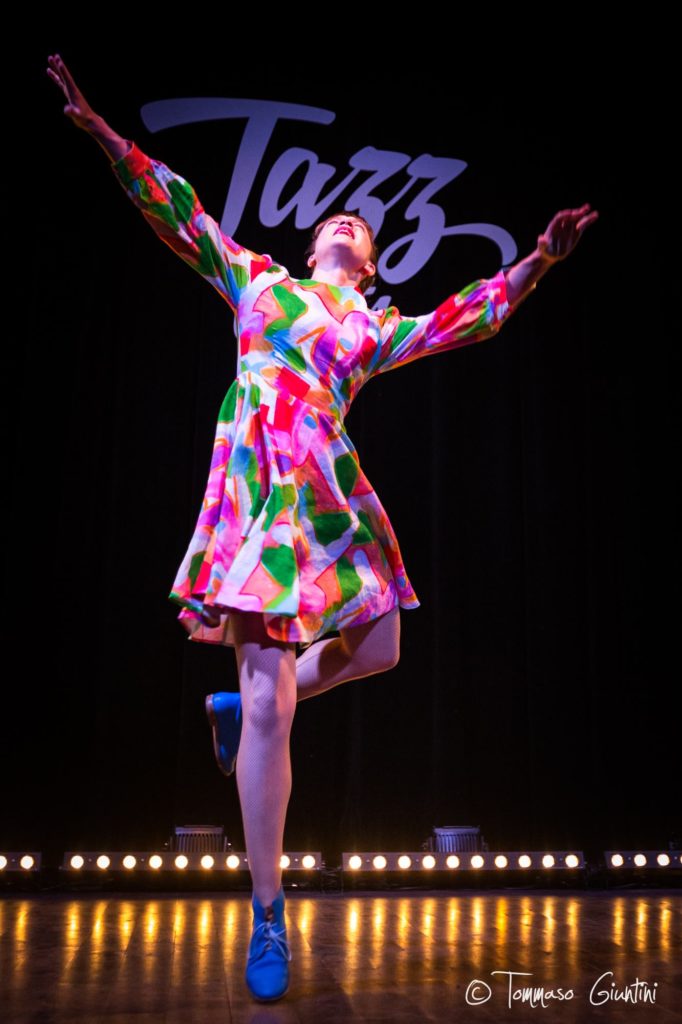 Jazz Roots is most famous for its performances, that have been viewed millions of times on YouTube and Facebook. The Great Show on the second night of Jazz Roots is 75 minutes of non-stop solo jazz amazingness. Sitting in a packed dancehall as the best jazz dancers in the world put on a show for you is just so thrilling, beyond anything you can experience on YouTube.
At the risk of insulting all of the amazing performers, here were some of my favorite performances from the show.
I was blown away by a tap performance by Caleb, a New York-based hoofer, who started with a more chill number and then killed us with an exuberant and raw piece that has us all shouting.
Alina of Ukraine performed a couple of envelope-pushing pieces that blended contemporary movement and lines with traditional jazz.
This beautiful ensemble piece by Swedes Egle, Felix, Rikard, Daniel, Markus, and Anders was just dazzling.
Skye and Remy are always a treat to see, but with Fatima of the Harlem Hotshots this was at another level.
And so any more! See more videos on the Facebook page of Jazz Roots.
THE COMP

The third night of Jazz Roots was the solo jazz open competition, the only comp of the weekend. Some 100 dancers were divided into smaller groups and faced the judges scrutiny while dancing to five songs.
The finals with the five top dancers jamming in spotlight format to a live band was so exciting. I don't think too many folks were surprised to see the always joyful Hyun-Jun Choi come out in first. But all the amazing dancers gave her a run for the money, for sure.
THE PARTIES

I had a sense for what the performances and the competitions were like, having seen videos of previous ones already. It was the social dancing in the evenings was what I interested in experiencing first hand.
Each evening featured a different live band, playing a mixture of straight-up swing, trad jazz, blues, and even soul music on the last night. While there was some lindy hop going on in the room, it was very much the exception, as hundreds and hundreds of people solo jazzed together in the dancehall. I've never seen so many people, of all levels, ages, and sizes, just solo jazzing their hearts out at the same time.
I myself could barely last for more than a couple songs before needing a break. Solo jazz is much harder to do for long periods of time than lindy hop, in my experience. But after taking a short break, I was back into it — the energy from the room was just infectious.
Jam circles were much more democratic and open than at a lot of other events I have attended. On the second night, I watched several jams composed of mostly beginner dancers cheering each other on, as they took their turns in the middle of the jam.
It's quite a diverse event. I saw lots of people of color from African, Asian and Latin descent attending classes and at the dance parties. And solo jazz isn't just for young people, as I had suspected. I was inspired to see so many dancers in their 40s, 50s and older solo jazzing with joy and abandon. I couldn't take my eyes off of one gray haired Parisian woman who danced with a beautific smile on her face for hours and hours every night.
Jazz Roots is not a perfect event, of course. The main venue is too small and not ventilated well enough to accommodate 500+ dancers. It was uncomfortably hot much of the time. The preliminary rounds of the solo jazz competition lasted way too long and were difficult to watch. The event has no safe space policy or dedicated staff looking after the safety of the dancers, which as an American dancer I found a bit shocking.
Nevertheless, if you are interested in solo jazz, this is a must-attend event. You've got the best dancers in the world to get inspired by, learn from, and dance with for four days. It's also a pretty great deal at 200 euros for 12 hours of instruction, four nights of dancing, and an unbelievable dance show. And of course, it's in Paris.
The vibe is encouraging, warm and electric. Folks I met were incredibly friendly and eager to hang out between classes and prior to the dances. On Sunday afternoon, sitting in a Parisian cafe, with dancers from a dozen countries, trading stories over beer and espressos, felt like something out of a movie. This is the life, I thought. These are my people.