I'm very passionate about croissants. I spend weekends scouring the city for the best French pastries, looking for that crispy exterior, beautiful "laminated" layers of dough, and buttery goodness of a perfect croissant. I went to Paris last Spring to eat my weight in croissants.
So I was surprised to hear from my fellow pastry-nerd Michael Yuen that he found the Trader Joe's chocolate croissant to be quite delicious. I generally trust his judgment on these matters, so I had to check them out.
My local Trader Joe's had two varieties of croissant available: chocolate and almond. So in the interest of science, I got both.
Both varieties come in a box of four pastries for under $5. The instructions tell you to proof them in your oven overnight for 7 to 9 hours. Here's what they looked like just out of the box.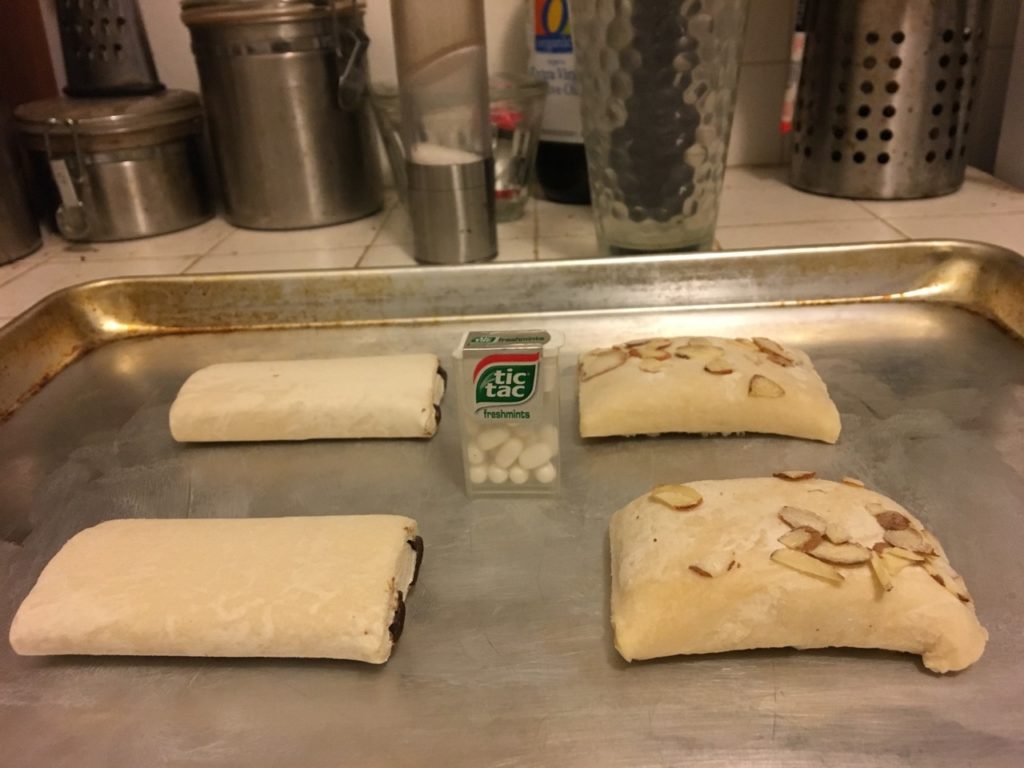 And here they are after an 8 hour proof.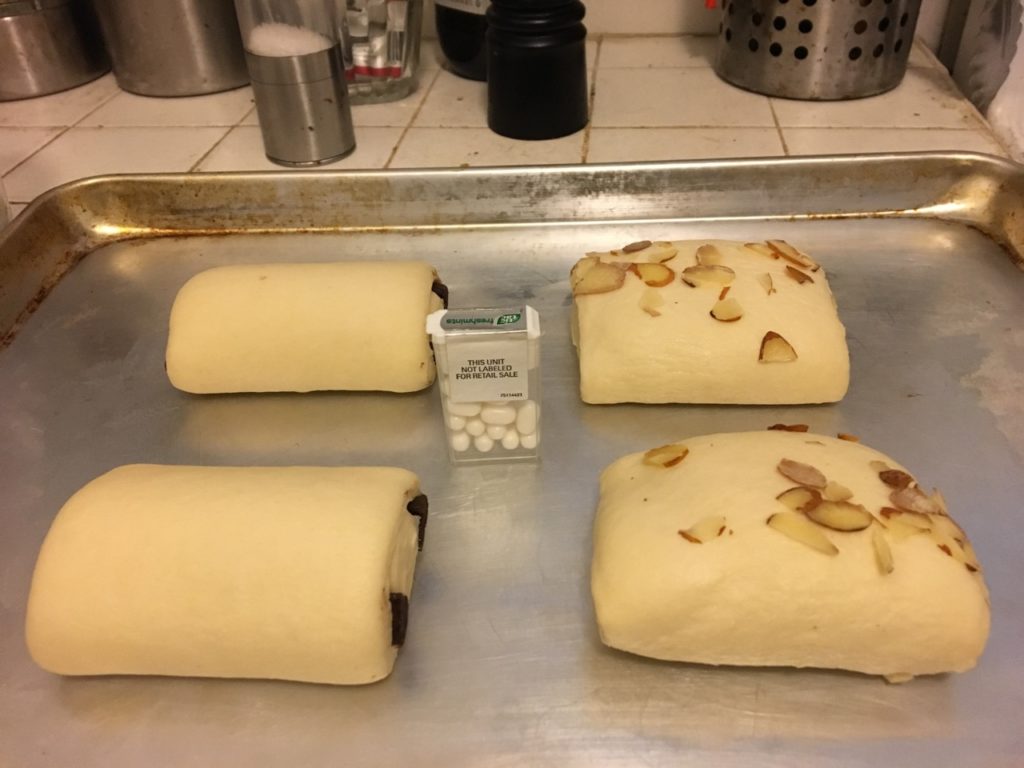 Lots of nice rise and bounce to them! The almond one seemed to lack in the almond covering department, so I added a bunch more. I did a light egg wash to the chocolate ones to give them more color and shine.
Then they went in the oven for 20 minutes at 350 degrees. Here's what they looked like when they were done.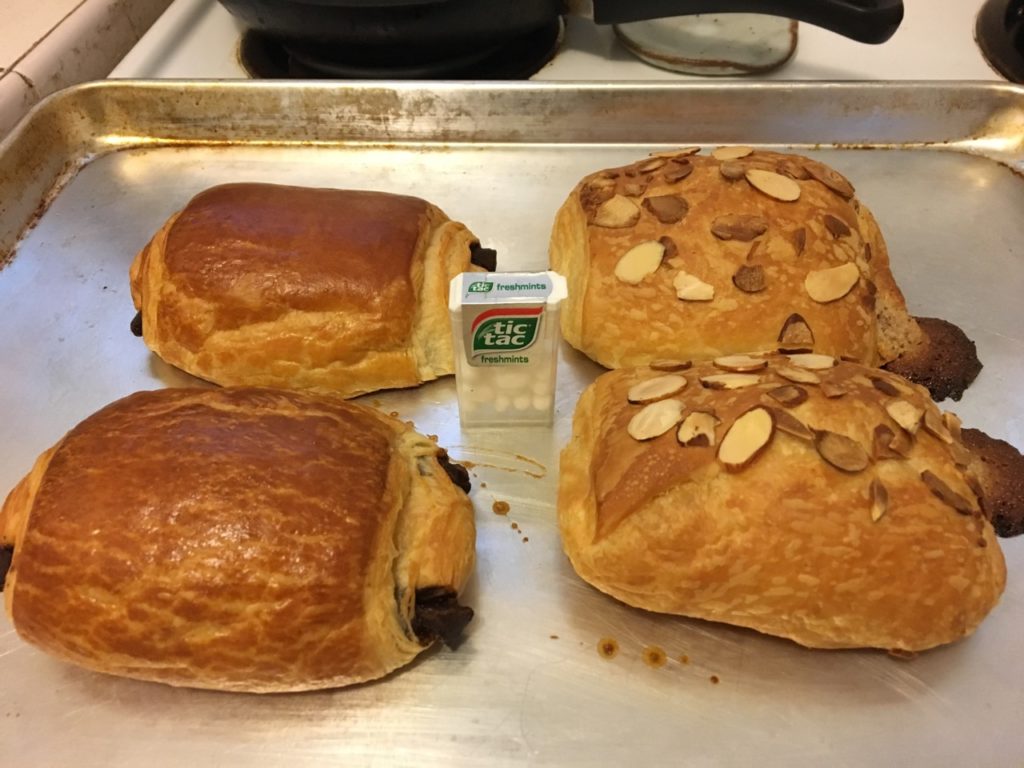 One of the chocolate ones had cracked a bit. But both had a nicely crispy exterior. The almond ones had leaked a little bit of the filling, but otherwise looked quite decent.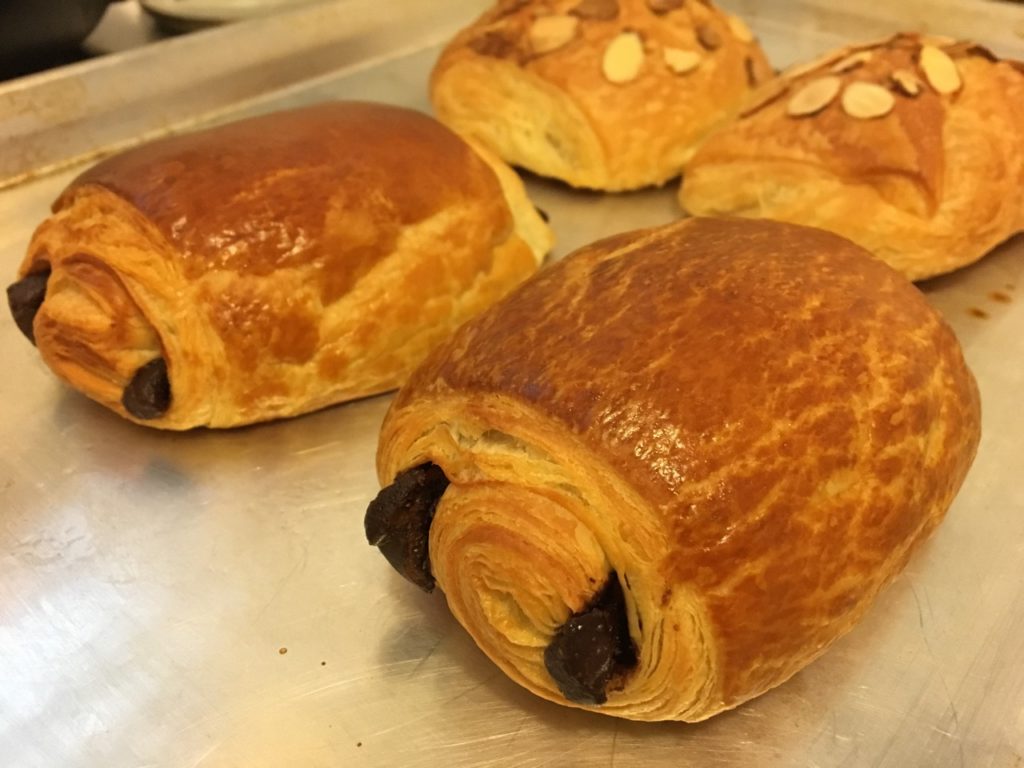 You can see some of the lamination on the chocolate ones here.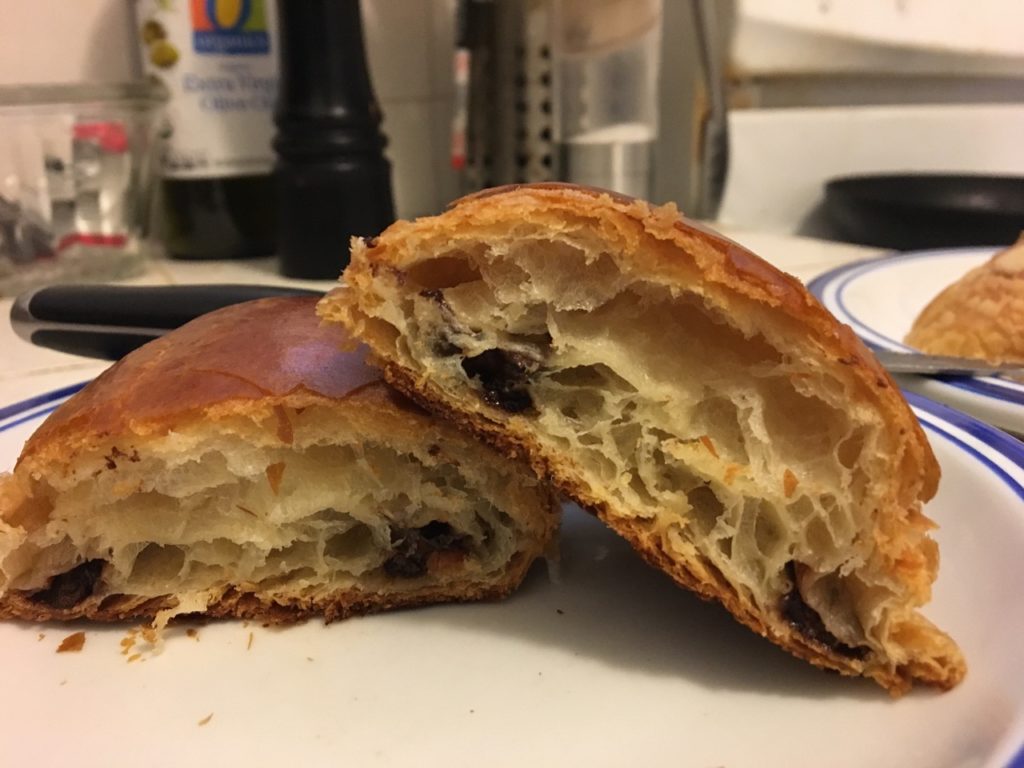 And here's a cross section showing the layers and how embedded the chocolate chunks are.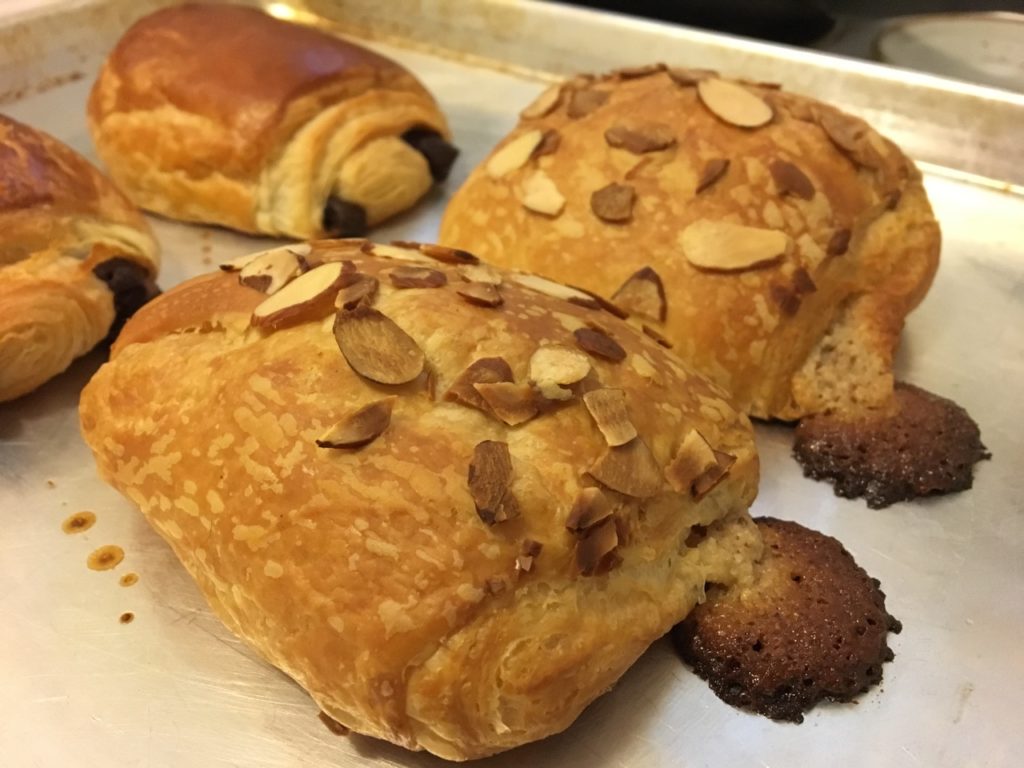 Here's a closer view of the almond croissants. Nice browning of the almond slices. I am glad I added more.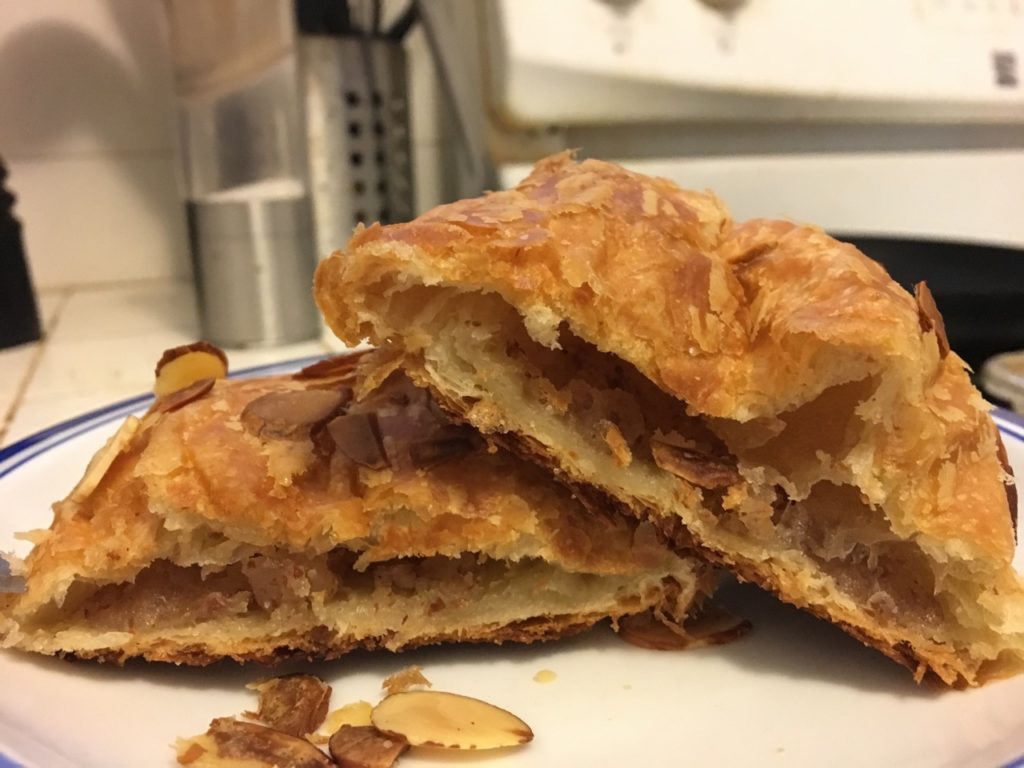 The interior of the almond croissants was less layered, with a big air pocket in the middle. You can see some of the almond paste in there.
So what was my general verdict? I have to say, they were both quite delicious. I would certainly have both again. The dough was buttery and flaky, with a nice crispy exterior that is one of my favorite things about a croissant.
Of the the two, I would say that the chocolate one was better. It had a good ratio of chocolate to pastry, a decent amount of lamination, and a crispy exterior. And having a chocolate croissant fresh out of the oven is one of life's finest pleasures.
The almond croissant was good, if not great. The almond filling was quite sweet, but not too overpowering. They needed more almond slices on top, which I added myself. (Other people recommend dusting them with powdered sugar, but I think that might make them too sweet for me.) They do puff up quite a bit. I think I prefer multiple layers of dough versus one big air pocket in the middle of a pastry.
Still, for a French pastry that came out of my freezer and I could easily bake in my own oven that morning, I was pleasantly surprised by both croissants. Give them a try, if you love croissants.
Now I just wish Trader Joe's still made their frozen kouign amann.