So it was bound to happen: last night I got into my first real motorscooter accident.
It was about 7:15pm on a Saturday night. I was feeling fantastic after a day of lindy hop dance workshops and prelims for a dance contest. I was five minutes from home when I was cut off by a Toyota minivan making an illegal left turn from the middle lane near the intersection of Fell and Masonic.
To avoid hitting the van, I braked hard and turned, causing me to skid out and slide for a few yards. Luckily I didn't hit anything or anyone.
Several bystanders rushed up to help. Someone called 911 and a couple of people lifted the scooter off of me. The driver stopped and muttered something about not intending to hit me. The police rolled up a minute or so later.
I felt okay at the time, just battered and in shock. And surprisingly Bella still seemed to be running okay. So I rode her home — very slowly and carefully.
When I got home, the adrenaline started to wear off, and I started feeling pain in my left hand and right leg. So I decided to head to the ER to get checked out.
The ER staff were all very professional and responsive. I only had to wait a few minutes before someone came to intake me and take my vitals. Soon afterwards, I was seen by a doctor who ordered an X-ray of my hand.
A nurse came by about 20 minutes later with the good news that nothing was broken in my hand. I just had a bad sprain, which would heal on its own over time. They gave me a cool wrist brace to protect it.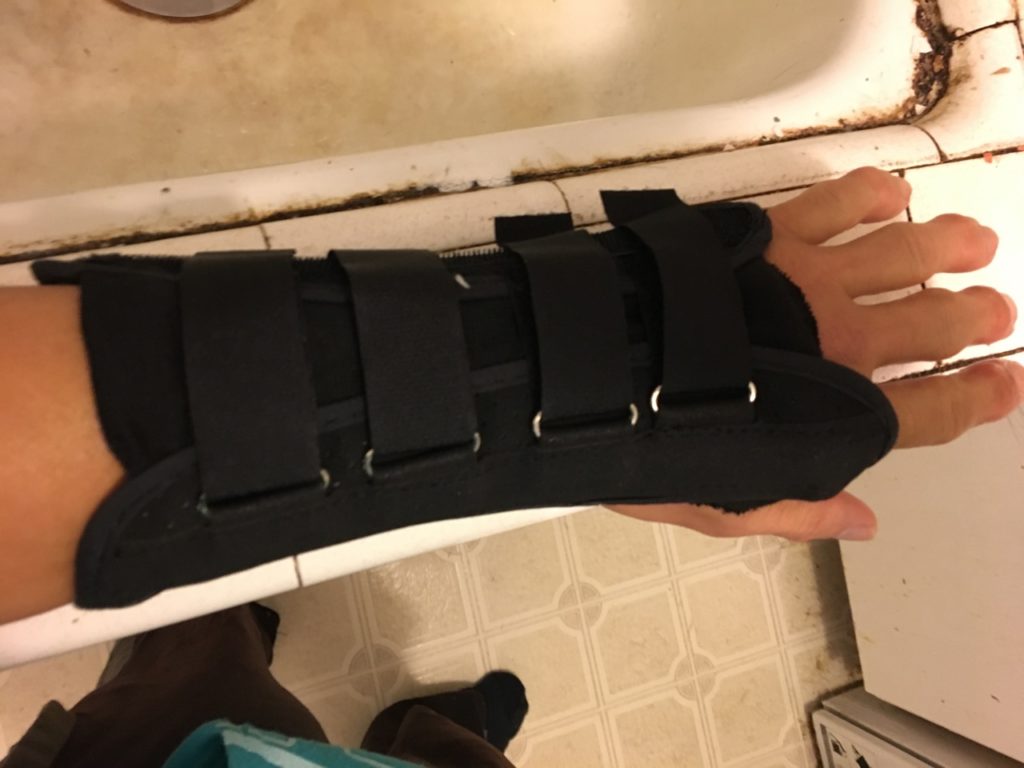 Then I was discharged.
I feel very fortunate to be relatively unscathed from my first real scooter accident. I'm glad that I had the foresight to upgrade my riding kit to a full-face helmet and an armored riding jacket. I could have been hurt much worse otherwise.
My friend and motorcycle enthusiast Shawna Hopkins introduced me to the term "ATGATT" which is a motorcycle safety acronym for "All the Gear All the Time." Good advice!
A scary incident, but honestly not the worst thing in the world. I'll be healing up for a few days, and won't be dancing rock climbing for awhile. But otherwise I think I can get on with my life. Ride safely, folks!