I've been dreaming about this pie for about a year, and finally got around to working on it this past month. Calamansi is a lime used in a lot of Filipino cooking, almost exclusively savory dishes, as far as I know. But I thought it work work well as a variant on key lime pie.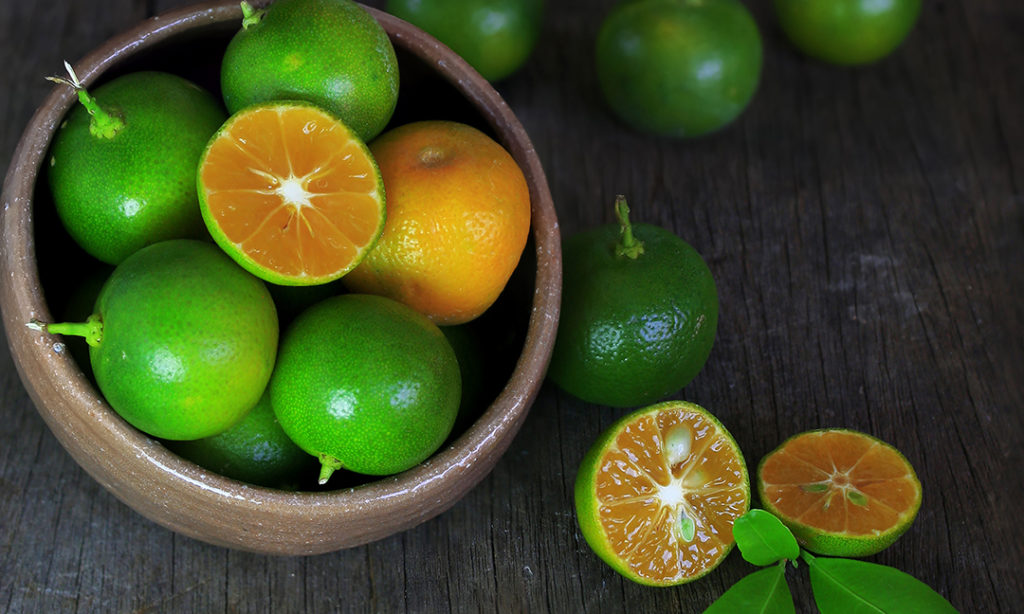 Finding fresh calamansi is not possible around here in San Francisco, unless you know someone who has a tree. Apparently it's quite challenging to cultivate in this climate? And most of the Asian grocery stores I hit up had not heard of it.
Luckily I found two shops fairly nearby that carry calamansi juice. Down in Daly City is Manila Oriental Market, which carries containers of calamansi juice in the produce aisle under $4. Closer to home is Starco Market in Soma, a tiny little bodega that has a surprising amount of filipino grocery items and even hot food. They carry a frozen version of calamansi juice in the freezer aisle, also under $4. I look forward to returning to this neighborhood gem.
The calamansi filling is based on the Bon Appetit recipe for key lime pie, with a couple of variations. I think I've settled on about a 1/2 cup of calamansi juice as about the right level of sourness, plus a bit of lime zest, balanced with the sweetened condensed milk.
I experimented with a few kinds of crusts. I landed on a combination graham cracker + saltine crust, which combines the texture and sweetness of graham cracker with the saltiness and texture of the saltines. I tried cutting out some of the sugar, but doesn't bind as well to the pan, and comes out quite salty.
For the whipped cream, a standard dairy cream would be fine, but I thought a coconut whipped cream would combine really nicely with the calamansi flavor. Super easy to make too!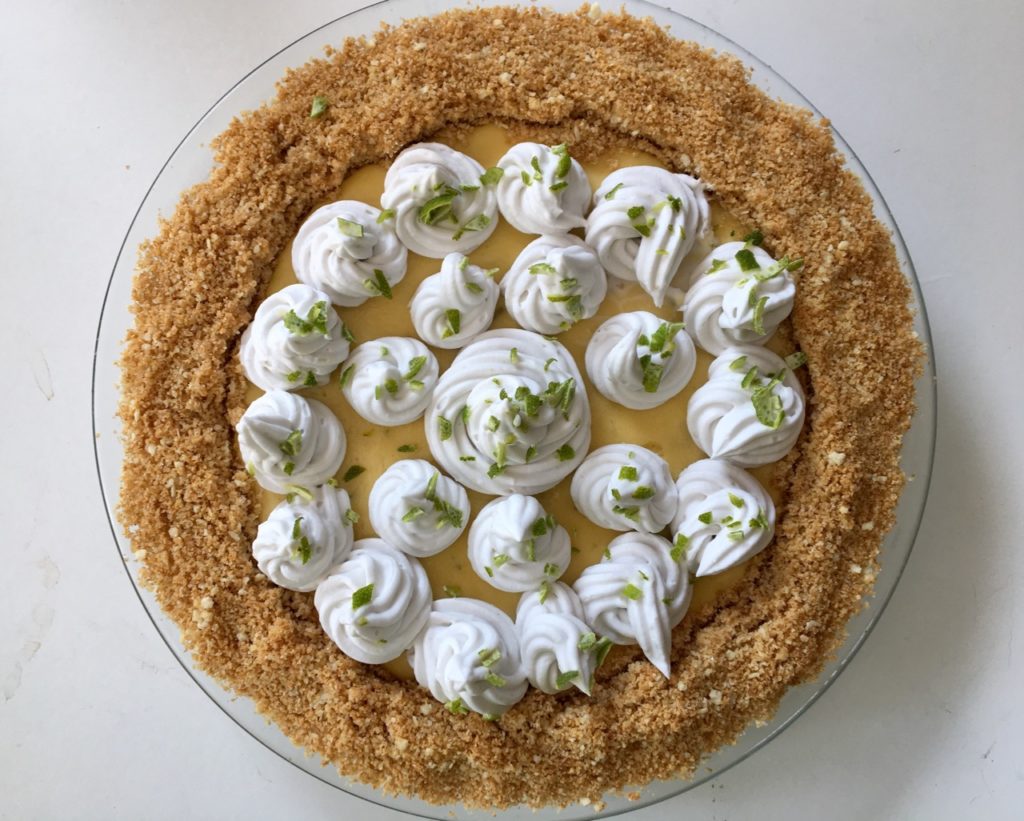 ---
Calamansi Lime Pie with Coconut Whipped Cream
Ingredients
Pie Crust
10 full sheet graham crackers
20 saltine crackers
5 Tablespoons unsalted butter, melted
1/3 cup granulated sugar
Filling
4 large egg yolks
1 14-ounce can sweetened condensed milk
1/2 cup calamansi juice
2 teaspoons finely grated lime zest, plus more for garnish
Pinch of kosher salt
Whipped Cream
1 14-ounce can coconut cream or full fat coconut milk, chilled in the fridge over night
1/4 – 3/4 cup icing/powdered sugar
Lime zest (optional)
Instructions
Pie Crust
Preheat oven to 325.
Put saltines and graham crackers into food processor. You might have to do them in batches. Pulse a 8-12 times to get them nicely and crumbly. You shouldn't have any large chunks of cracker left.
Add the melted butter and sugar and pulse another 7-8 times to combine.
Put mixture into a 9-inch pie tin and press down with the back of a 1-cup measuring cup, shaping the edges with your hands. You want the whole thing to be pretty densely packed and thick, so it retains its shape after baking.
Chill for 10 minutes to harden the butter a bit.
Bake at 325 for about 12 minutes till it is golden brown.
Remove from oven to chill while you make the rest.
Calamansi Filling
Using an electric mixer on medium speed, beat egg yolks and condensed milk in a large bowl until paler and almost doubled in volume, about 5 minutes.
Whisk in 2 tsp. lime zest, calamansi juice, and salt.
Pour into cooled crust. Bake pie until filling no longer jiggles and is starting to slightly puff around the edges, 15–20 minutes. Let cool completely.
Coconut Whipped Cream
Chill a large mixing bowl 10 minutes before whipping.
Remove the coconut cream or milk from the fridge without tipping or shaking and remove the lid. Scrape out the top, thickened cream and leave the liquid behind (reserve for use in smoothies).
Place hardened cream in your chilled mixing bowl. Beat for 1-2 minutes with a mixer until creamy. Then add powdered sugar and mix until creamy and smooth – about 1 minute. Taste and adjust sweetness as needed.
Put on top of pie and sprinkle with lime zest for color.