Since my first scooter accident a month ago, I've been thinking more and more about scooter safety. I believe that an important reason why both myself and my scooter suffered only mild injuries from the accident was because of a few safety practices. Specifically, I was driving at a moderate speed with the flow of traffic, while wearing the right safety gear and a full-face helmet.
In the interest of promoting rider safety, I thought it would be good to share some of what I've learned in my ten+ years of scooting.

---
Rik's Nine Scooter Safety Practices
Before You Ride
1. Wear the Right Gear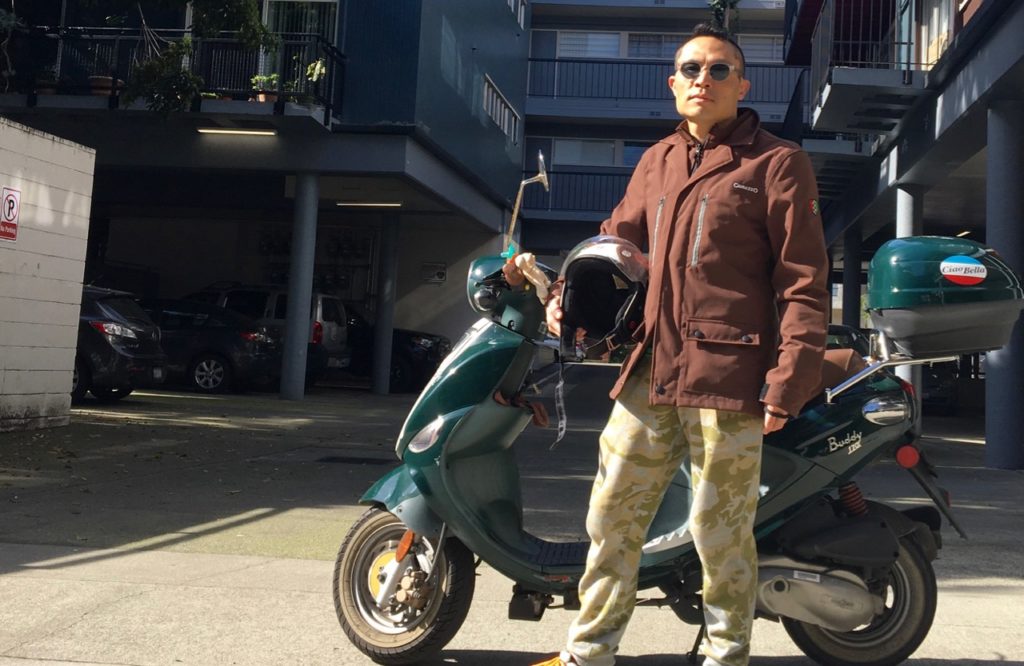 A maxim among motorcyclists use is ATGATT, which stands for "All the Gear, All the Time." I.e. whenever you ride, always wear proper safety gear. For a scooter rider, this means at the very least, a substantial jacket, pants, and shoes. While it might be tempting on a hot summer's day to hit the road in flip flops, a tank top, and shorts, I wouldn't advise it.
Last year, I upgraded from my leather jacket to the Corazzo Tempeste. It's one of the best clothing purchases I've ever made. It's got internal armor in several strategic places, but light enough I can wear it on a hot day and still feel relatively comfortable. There are lots of other riding jacket options out there, both in your local shop and online.
2. Wear a Full Face Helmet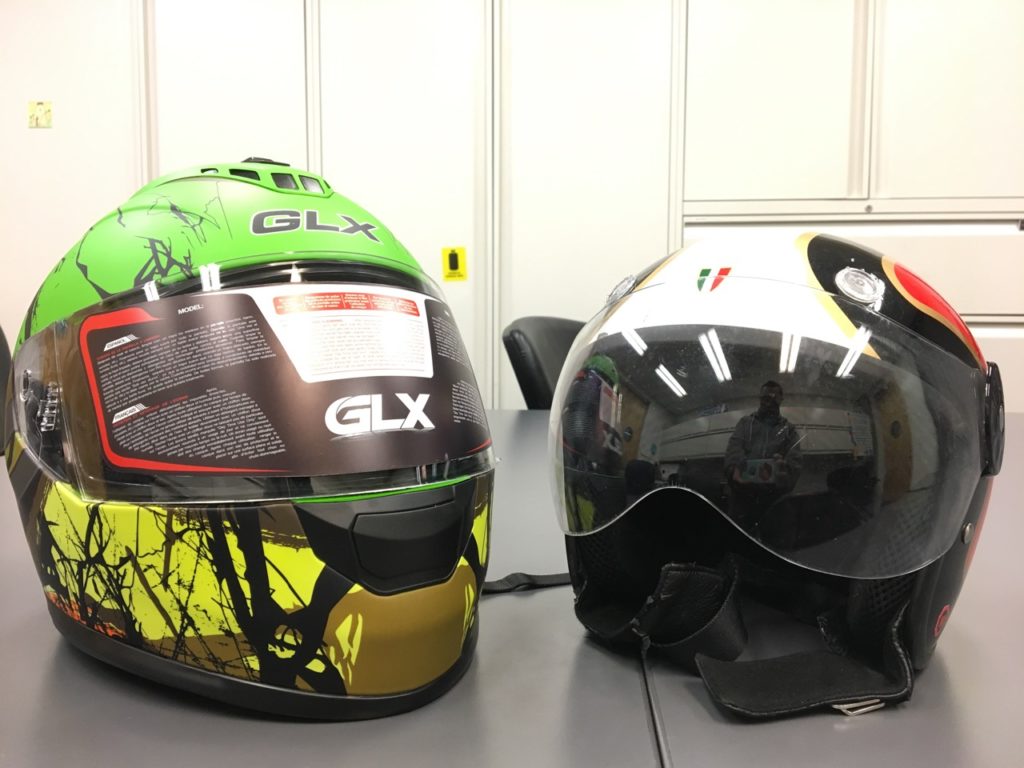 Until recently, I was wearing a ¾ helmet basically because I thought a full-face helmet "looked dumb" on a scooter. Then I read a post on a Reddit thread about helmet safety where someone wrote, "You should wear a helmet that only covers the parts of your face that you are interested in keeping in their current configuration." That made me realize how foolish I was to risk injuring the most important part of my body because of vanity.
Now I think I look rather sporty in my full face helmet.
3. Dress for Cold and Rainy Conditions
I used to not think much about getting soaked on my scooter if I was doing a short ride. But then I realized that if I was soaking wet and cold, I wasn't fully concentrating on driving safely, since I was feeling so miserable. So I upgraded my gear to the Corazzo Tempeste jacket, which is water resistant, and water-proof riding pants. There are many varieties of rain pants for scooter and motorcycle riders, priced for any budget.
On a very cold day, throw on an extra layer of clothing, and definitely wear gloves. Riding with wet, cold hands is the worst.
4. Rain, Wind, Nighttime – Choose Two
You always need to assess how safe the current environmental conditions are before you ride. My general rule of thumb is to only ride if up to two of these conditions are true:
It's raining
It's windy
It's dark
Obviously, if there's a torrential downpour or gale-force winds, find another transportation option.
During Your Ride

5. Lane Split with Caution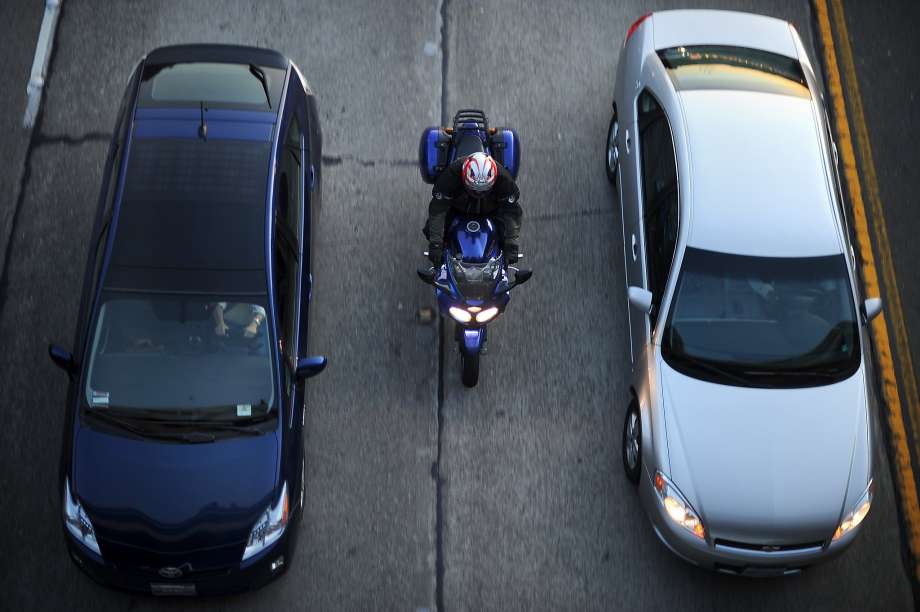 Lane splitting is a controversial scooter and motorcycle practice that happens to be legal in the state of California. I engage in lane splitting, but only very carefully.
My personal strategy is to only lane split when traffic is at a crawl or stopped at an intersection. I don't trust other drivers to not change lanes in front of me. And I almost never ride between the lane and parked cars to my left or right, since you never know when someone might open their door in front of you.
Every day on my commute, I see scooter and motorcycle riders lane split at very high speeds through dense traffic, which I think is fool-hardy.
6. The Two Second Rule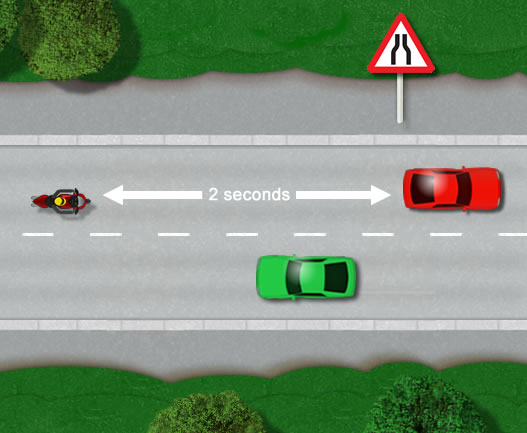 The Two Second Rule is a basic rule of thumb for how much distance you should keep between your vehicle and the one in front of you.
My general strategy is to make sure that no matter what road conditions are, I want to have at least two seconds to react if something dramatically changes. The obvious example is if the car in front of me suddenly brakes. But also, if I see that there are children running near the roadway, or a stray dog is by the side of the road, or a crazy person is meandering around the street, I try and anticipate what might happen and leave myself time to react.
By the way, did you know the most common cause of motor scooter accidents is a driver making a left turn in front of them? It was the cause of my own accident.
7. Drive with the Flow of Traffic
The temptation to speed is ever present on a scooter and a motorcycle. You are generally faster, smaller, and more nimble than most anything else on the road. So every day I observe cyclists driving at unsafe speeds, weaving in and out of traffic.
My general strategy is to be as predictable as possible to the other drivers around me. I aim to drive with the flow of traffic, staying as visible as possible to others, and not making any erratic maneuvers. I might arrive at my destination a few seconds later than if I had raced through the traffic, but I would rather leave the house a little earlier than risk injury and death.
8. Use Your Signals
One of the easiest ways to be as predictable as possible to other drivers is to signal your intentions before you move. It's super easy, and yet I rarely see other scooter and cycle riders do it.
Your horn is another signal that I like to use, particularly if i think a car might not see me, or a pedestrian is looking like he is about to walk right in front of me. I would rather they thought I was being rude than risk an accident.
9. Don't Rush Yellow Lights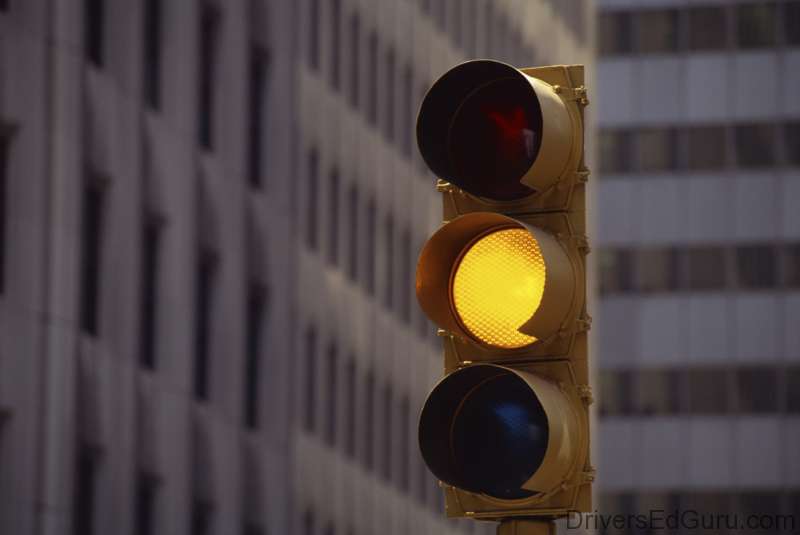 It's very tempting to rush yellow lights at an intersection. You are faster than most other vehicles, after all. But it only takes one car or bicycle going in the other direction to ruin your day. It's not worth it.
---
These are just a few of the ways you can make sure you are as safe as possible when driving your scooter. I hope you found these tips helpful. When done properly, I think scooter riding is a safe, fun, and convenient way to get around.
Check out these other resources on motor scooter and motorcycle safety:
Happy riding!