I based this recipe on a Food Network coconut ice cream recipe. I modified it to have even more coconut flavor with the addition of macapuno (young coconut strands). I added in the ginger flavor in two ways — with fresh ginger steeped in the custard and then candied ginger for that hit of spice.
I think it's well balanced between the coconut and ginger flavors, and not too sweet. But of course you can modify it to your own taste.
By the way, this is what macapuno looks like in most Asian groceries. It's very sweet, so use judiciously.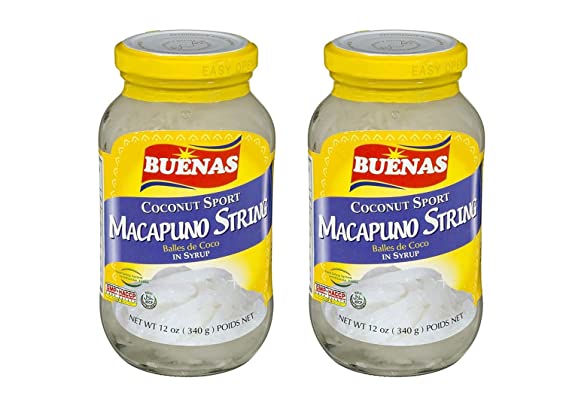 Ingredients
1 cup milk
1 cups heavy cream
1 cup coconut milk (I used Trader Joes)
1/2 cup unsweetened coconut flakes
4 egg yolks
3/4 cup sugar
Pinch salt
3 chunks of fresh ginger
1/4 cup of candied ginger, cut into small pieces
1/4 cup of macapuno / young coconut sport, cut into small pieces
Instructions
Bring milk, heavy cream, coconut milk, coconut flakes and fresh ginger to simmer in heavy saucepan for a few minutes. Allow to steep for 10 minutes.
Whisk the egg yolks, sugar, and salt together, long enough to dissolve the sugar.
Temper hot liquid into egg mixture. Return all back into saucepan over low heat, stirring all the while, until mixture starts to thicken. Chill overnight in the fridge.
Churn in ice cream machine. About 15 minutes in, or when ice cream starts to thicken, add in candied ginger and buko.
Freeze at least 4 hours before serving.