So we had another work social event involving baking a week ago, and I brought something I'm pretty proud of: a Red Velvet Tres Leches cake with Ube Frosting. The occasion was something called "NPR Cake Week" where stations around the country all make cakes around certain themes. I was a bit fuzzy on the details.
All I know is that one of the categories was "Best of the Bay." I decided I wanted to make a cake that represented the diverse, multi-cultural nature of the Bay Area. I thought of cake flavors that I loved that came from different cultures, Latinx, Asian, Black and more. Out of that came the idea to combine red velvet, tres leches and ube flavors.
I did a bit of research, and there are a few versions of red velvet tres leches cakes out there. This one by Views on the Road seemed both delicious and do-able with my modest cake baking experience.
For the ube whipped cream frosting, I used this recipe, which seemed more stable and easier than the one in the recipe above.
I was pretty happy with the result, which looked pretty dramatic and had interesting flavors going on. That said, it was a bit too sweet for my taste.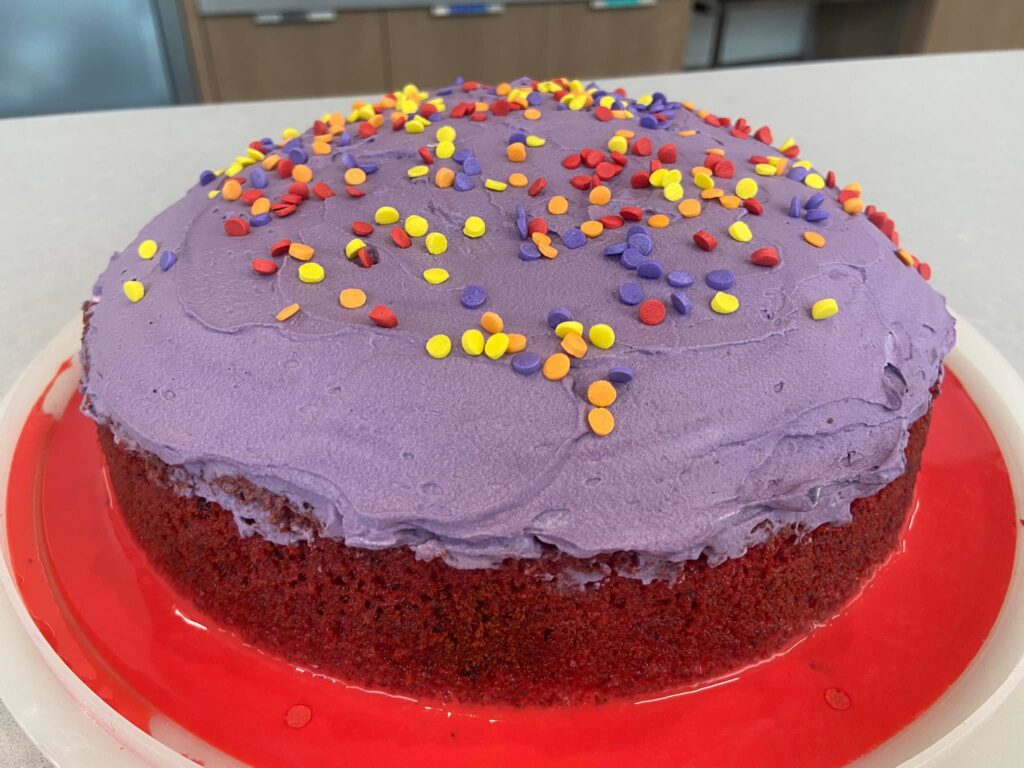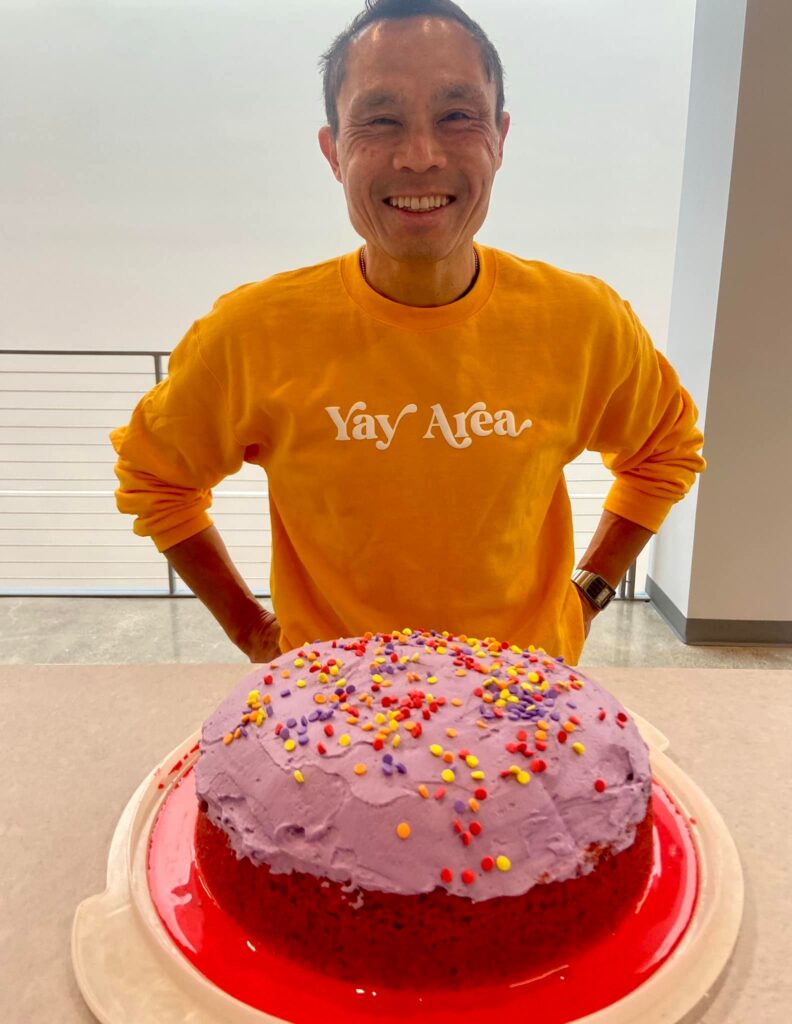 My co-workers seemed to enjoy it!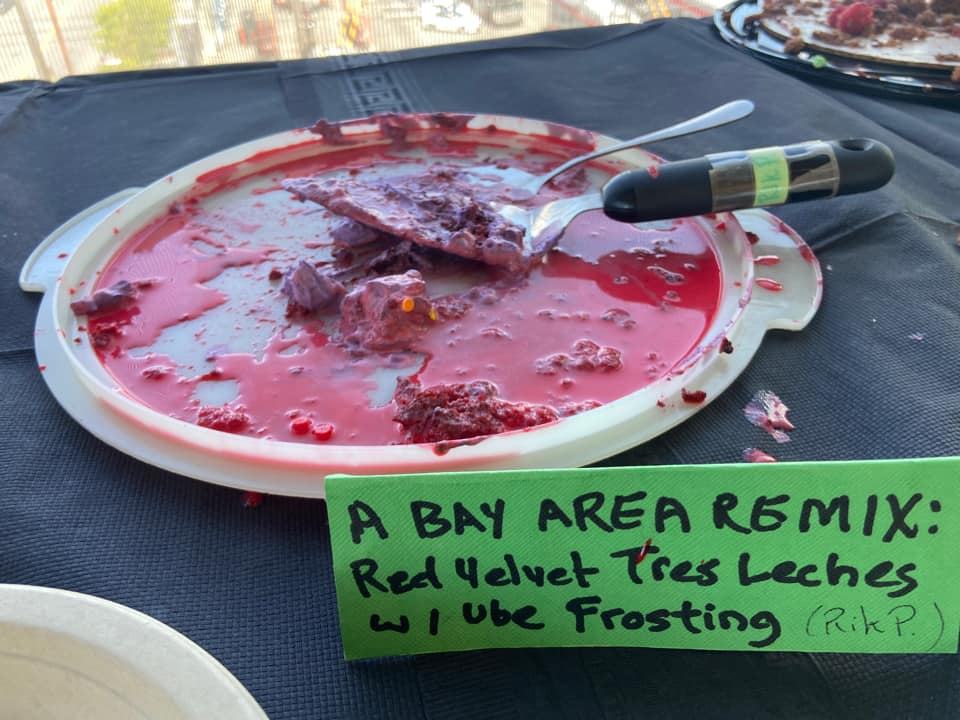 I decided to do another version of this cake for my family this weekend. I opted to make it a bit less sweet and use regular whipped cream. I think the result, while less dramatic, overall tastes more balanced.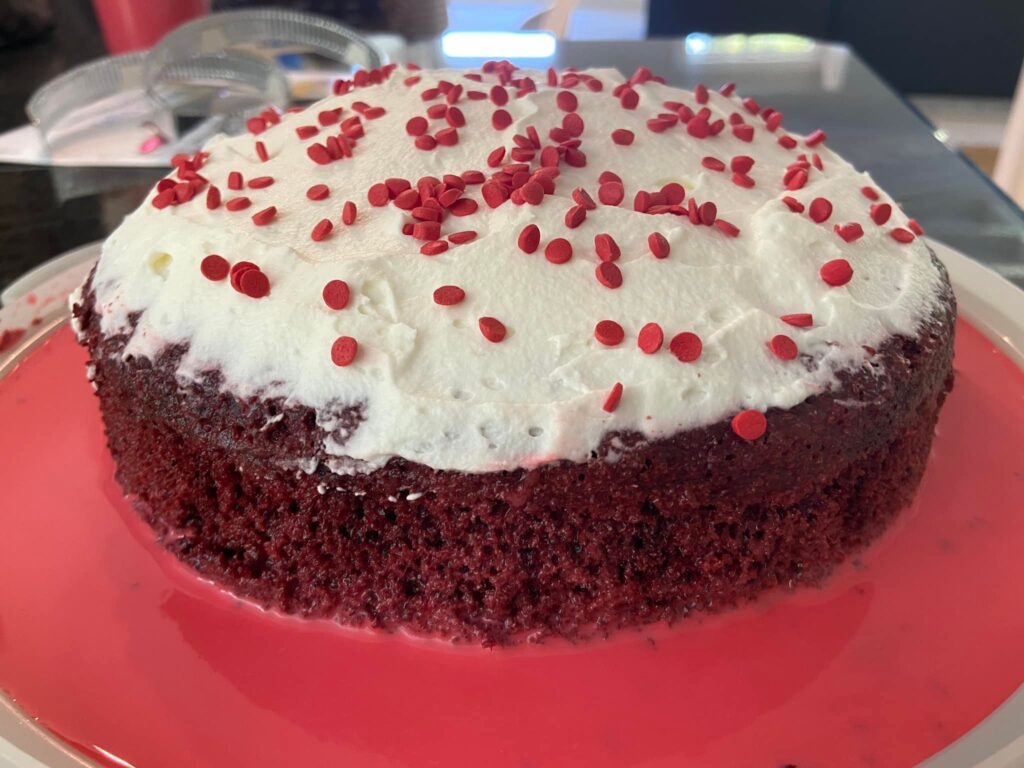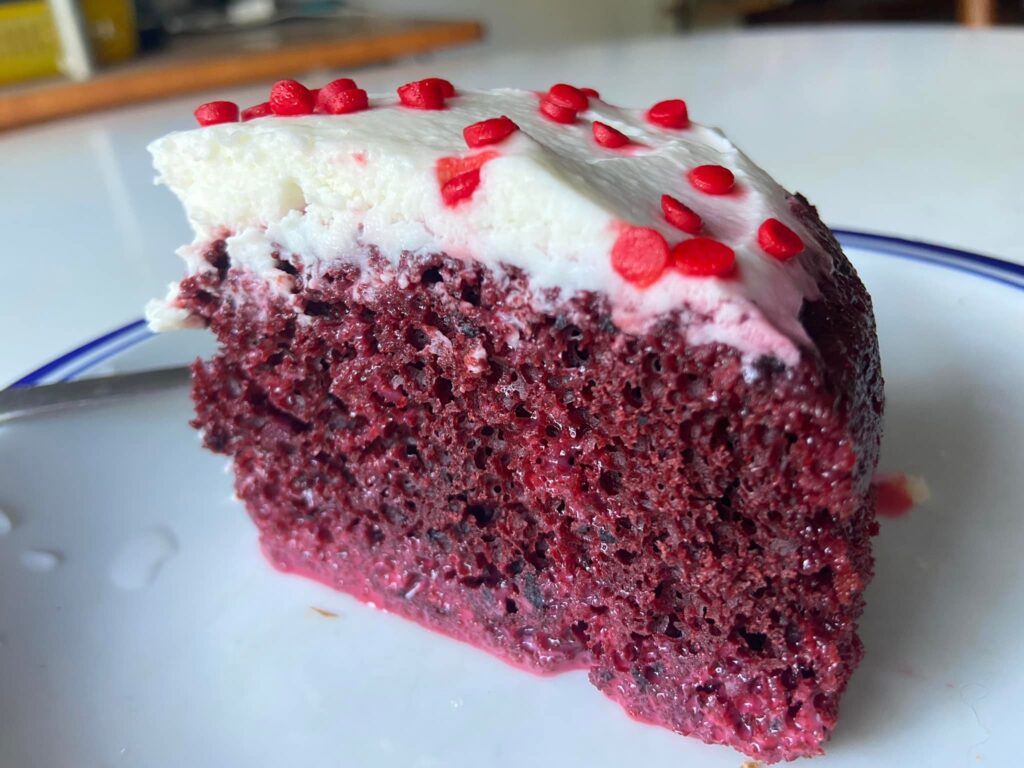 I also had the best helpers!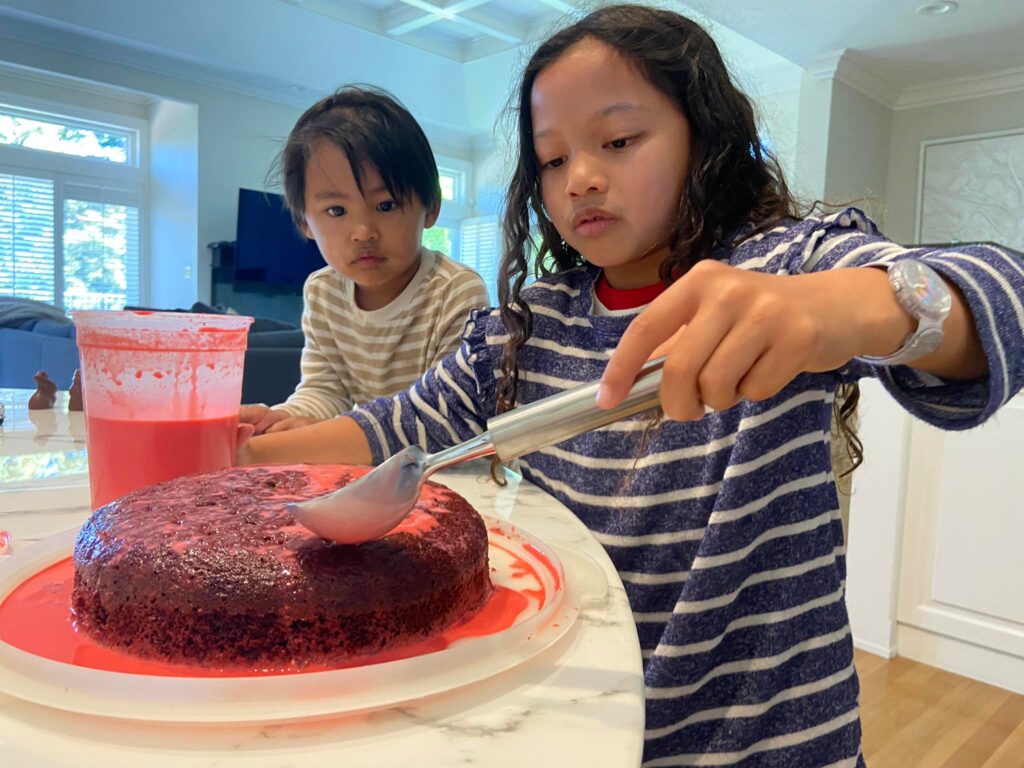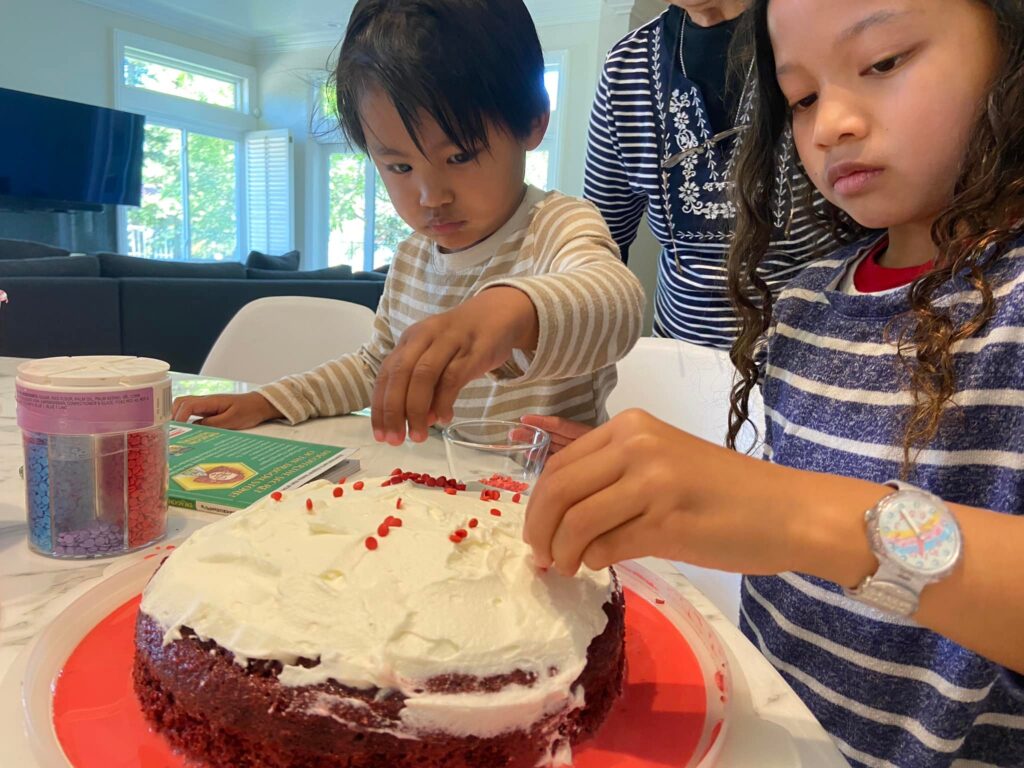 ---
Red Velvet Tres Leches Cake with Ube Frosting
Modified from this recipe
Prep Time: 1 ½ – 2 hours
Ingredients
Cake batter
4 medium, room temperature eggs
1 cup of sugar 
1 -1/4 cups of AP Flour 
1/4 cups of cocoa powder 
1 Tbs baking powder 
1/4 Tsp salt
1/2 Tbs vanilla  
1/3 cups milk 
.5 Oz red food coloring 
Milk soak
1 can of evaporated milk
1 can of condensed milk 
1/3 cup of heavy whipping cream  or your choice of milk
1/4 cup of sugar  (maybe leave out?)
.5 Oz red food coloring 
Whipped cream frosting
2 1/2 cups of heavy whipping cream  (put in freezer for 5 mins)
1/2 cup of sugar 
1 teaspoon ube extract
1/2 tsp unflavored gelatin
1 1/2 tbsp water
Optional Toppings
Special Equipment
9 inch cake pan
Mixer (stand or hand)
Parchment paper
Instructions
Make the Cake
Preheat oven to 350.
Whisk / beat room temperature eggs with sugar on high until pale and fluffy. About 8-10 minutes.
Combine Flour , Cocoa powder, baking powder and salt.
Mix together vanilla , milk and red food coloring .
Slowly add flour mixture to mixer set to low.
Slowly add milk mixture.
Place parchment paper circle in a 9" cake pan.
Pour in batter. Tap gently to pop bubbles. Smooth top with an offset spatula.
Bake at 350 for 28 minutes. (or until skewer comes out clean)
Make the Milk Soak
Mix together evaporated milk, condensed milk, 1/3 cup of heavy whipping cream, and red food coloring. Then add sugar. Cover and put in fridge.
Take cake from oven. Let it cool for 30 minutes.
Poke holes using a skewer all over.
Flip onto plate or board to remove parchment paper. Flip back onto plate or wide bowl.
Pour milk mixture all over cake an hour or two before serving.
Make the Whipped Cream Topping
Put bowl and whisk into fridge for 15 minutes.
Put 2 ½ cups of heavy cream in freezer for 5 minutes.
Place cream and sugar into a mixing bowl and whisk on medium speed until soft peaks form.
Combine gelatin with water, stir, then heat until the gelatin is completely dissolved (microwave for about 20 seconds). Pour gelatin into the whipped cream before it cools.
Whisk the cream and dissolved gelatin on high speed until stiff peaks form, about 2 to 3 minutes.
Add 1 ½ teaspoon ube extract. Whisk for an additional 30 seconds.
Place whipped cream on top of cake. Smooth with an offset spatula.
Decorate with sprinkles, fruit, or whatever you want.