I'm finally back from one the best trips I've ever taken: a solo two-week adventure to Japan centered around visiting the legendary Tokyo Disneyland and DisneySea theme parks. There's a lot of ground to cover, so I'll try and be as brief and organized as I can.
Background
A couple of years ago, while in the midst of the COVID-19 pandemic, I started to fantasize about my next "big trip" once we were allowed to travel again. I realized that I had on my bucket list visiting Tokyo DisneySea, a place many Disney nerds call the best of all the Disney theme parks.
So I started planning a trip to DisneySea, and the other Japanese theme park Tokyo Disneyland.
I actually visited Tokyo Disneyland about 20 years ago. I was pretty disappointed by it back then, to be honest. It kind of felt like a cookie-cutter copy of the original Disneyland, without much added to the experience.
But I have heard from many sources that Tokyo Disneyland had vastly improved and evolved over the past couple of decades and now had its own special thing going on. So I was super curious about that.
I did a bunch of research into the best time to visit, based on peak visitor seasons, weather, and travel costs. I went down a deep hole of reading, strategizing, and securing transportation, accommodations and park reservations. I spent hours on the /TokyoDisneySea subreddit, watched too many YouTube videos on the parks, and bought the excellent parks guide put out by TDR Explorer.
So let's go to Disneyland!
TOKYO DISNEYLAND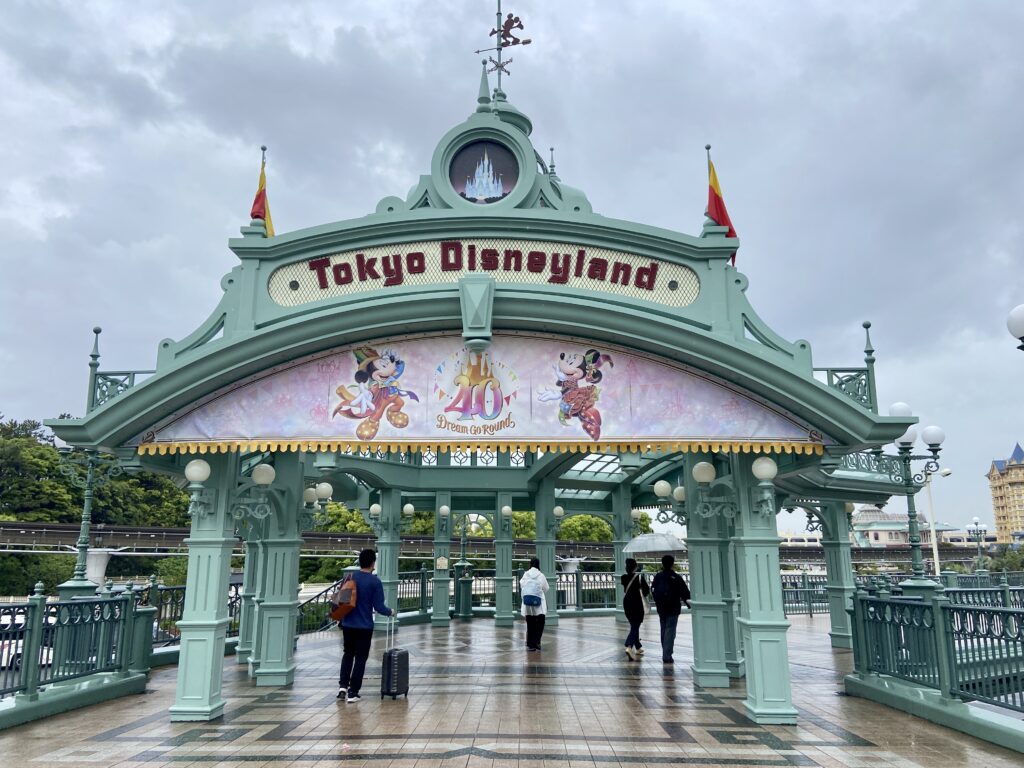 We'll start with Tokyo Disneyland, since that's the one I visited first on this trip, and it's the closest experience to what I already knew. Most people say you only need one day at Tokyo Disneyland, particularly if you are familiar with Disneyland or the Magic Kingdom in Florida. I decided on one full day, with the option to add a second day if I felt like I had stuff left to do.
Rope Drop!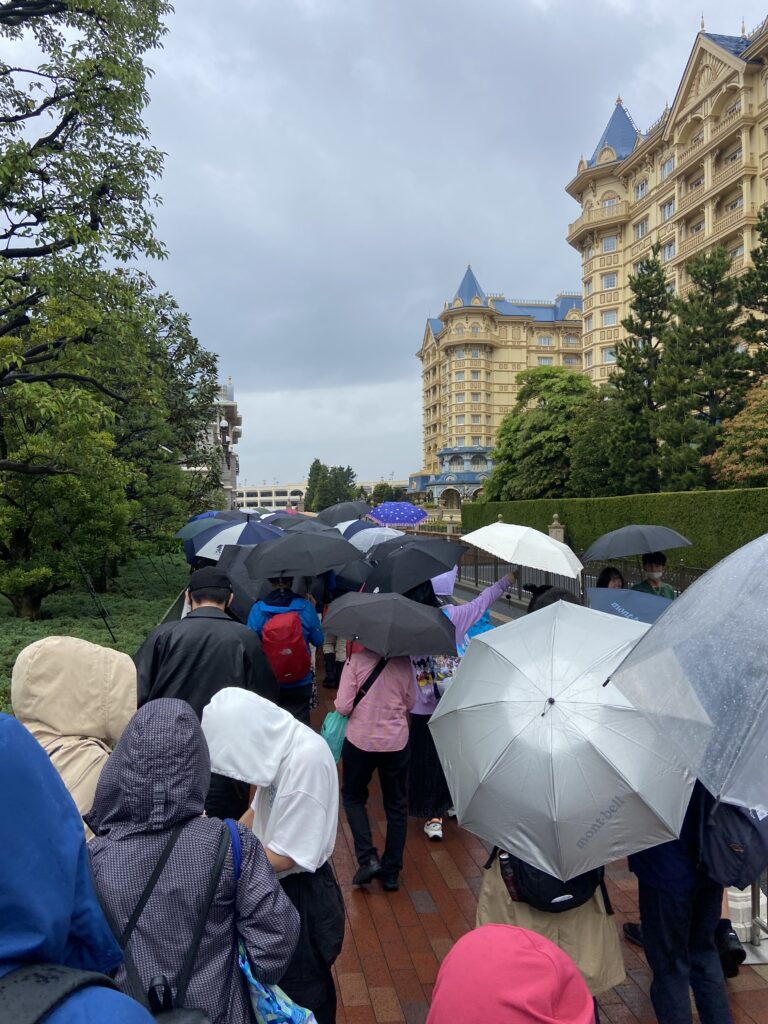 Many sources advise arriving at least an hour before rope drop (opening time) at the Tokyo parks, which is officially 9am. I arrived around 7:15am, and there were hundreds of people there ahead of me.
That said, this was the most pleasant rope drop I've ever experienced. I've never seen more orderly, patient, and respectful park guests in my life. Folks brought their own Disney-branded mats to sit on while they waited, munching on onigiri and sipping bottled tea. I had my phone, a bunch of podcasts and breakfast, so I was gold.
Right at 8:30am, the very friendly Disney security processed us into the park, and in no time we on Main Street. Or as they call it at Tokyo Disneyland, the "World Bazaar." Like at other Disney parks, there was a mad dash for a couple of E-ticket rides. In this case, it was The Enchanted Tale of Beauty and the Beast and Pooh's Hunny Hunt.
The Rides
They have a lot of the same rides as Disneyland in Tokyo, with some small variations. For example, they continue to have Splash Mountain, which Disneyland is converting into a Princess and the Frog ride.
The Tokyo specific attractions are:
The Enchanted Tale of Beauty and the Beast
Pooh's Hunny Hunt
The Happy Ride with Baymax
and Monsters Inc Ride and Go Seek.
I made a point of heading straight for Beauty and the Beast, which turned out to be my favorite ride in the park. It is kind of perfect: a classic love story, using the new trackless ride vehicles, with the incredible music of the film, with first class animatronics. Both times I rode it, I teared up at the end.
A close second is Pooh's Hunny Hunt. This is also a trackless ride that is so charming and silly I could ride it again and again. The Japanese really love Winnie the Pooh. You see lots of park guests rocking entire Pooh outfits and accessories. I was tempted to join them.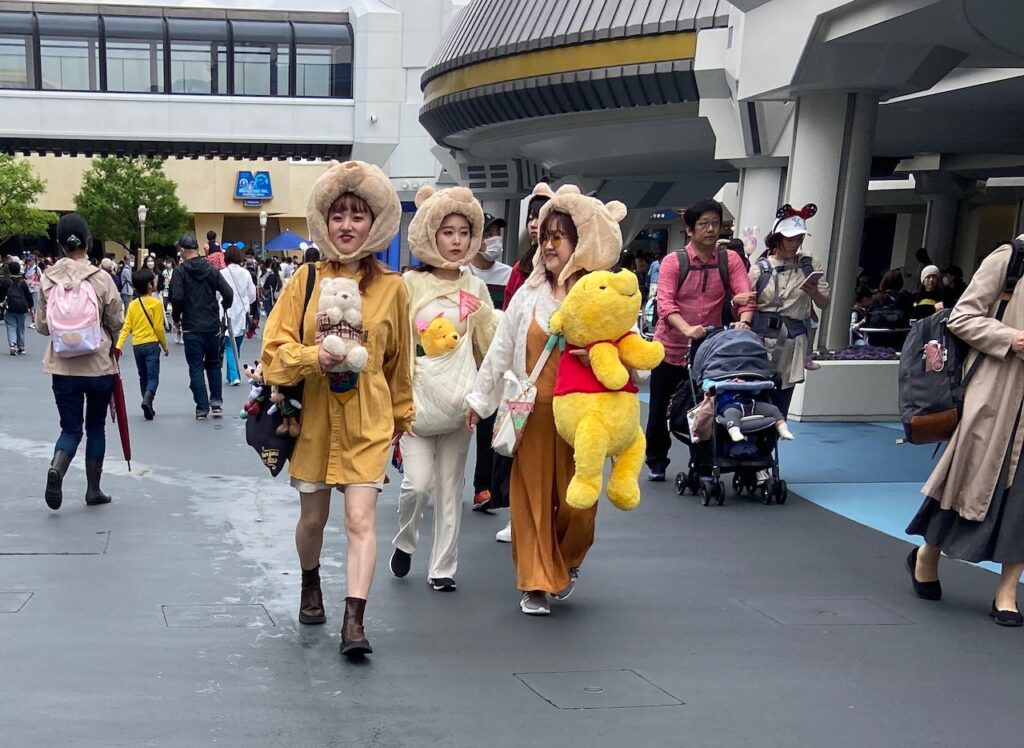 Happy Ride with Baymax is a puzzler. It's basically a version of the classic teacups ride, except themed around Baymax and combined with dance music. But damn is that music catchy, and boy do the guests and the cast members get into it! I can't say I love the ride, and certainly don't see why you would wait an hour or more to ride it, but I appreciate how much guests, young and old, as so into it.
I really wanted to love Monsters Inc Ride and Go Seek. It's similar to Toy Story Mania and Buzz Lightyear, except in this ride you are armed with a flashlight. It's unclear why you have a flashlight and the aiming of it is not as satisfying as the ray gun and sling shot of the other rides. It's fine, but I didn't love it.
The other very popular attractions on property at Mickey's House and Minnie's Studio, both of which feature a walkthrough of the character's living / work space that concludes with a photo opp with Mickey or Minnie. The lines for these two attractions are often an hour long.
I'm glad I did them both, but not sure I would do again. Unless it was closer to a 15 minute wait.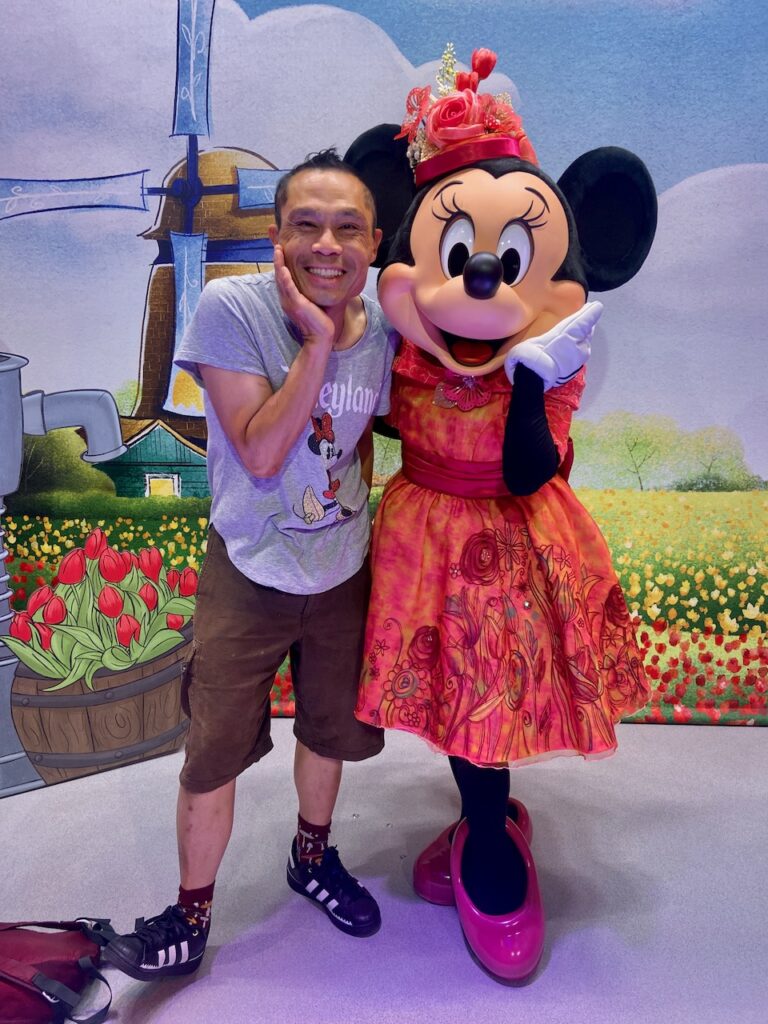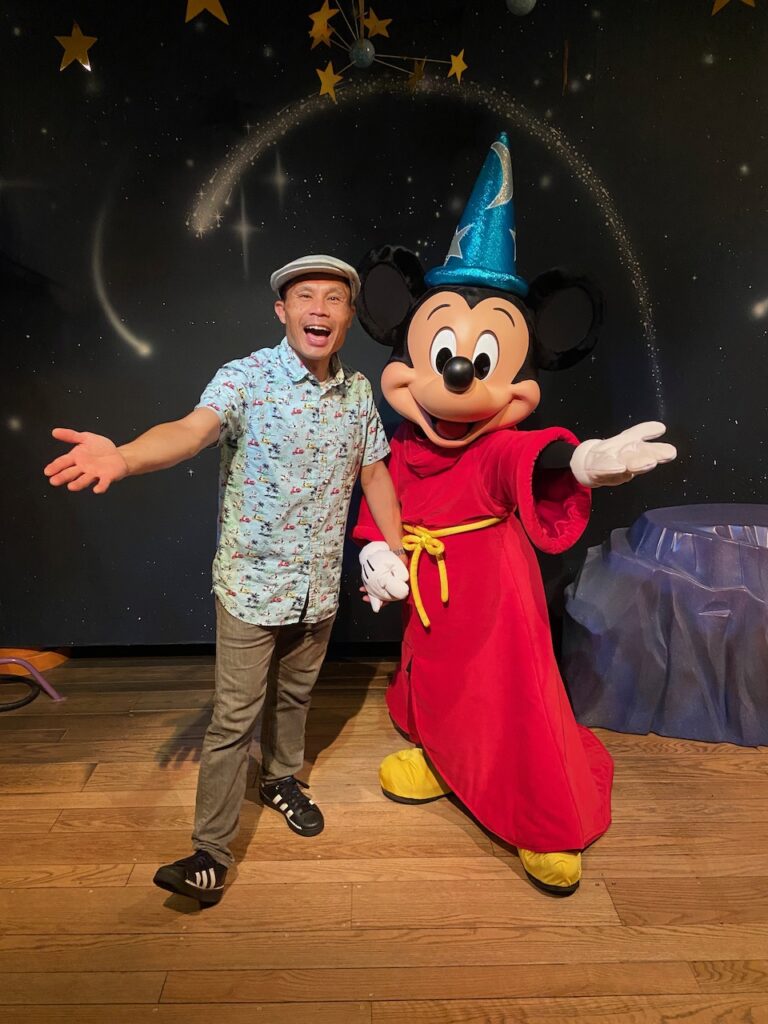 The other must see attraction is the parade. The Japanese do parades right, both as guests and as cast members. The guests respectfully set down their mats all around the parade route a couple of hours ahead of time. The cast members do a great job prepping people for the parade, engaging with youngsters and teaching people dance moves. And when the parade starts, everyone remains sitting, so everyone can see, even from the back of the crowd! As a short person I appreciated this so so much.
The parade I saw was just incredible. So many incredible costumes, floats, character, music and dancing. Cast members were really giving it their all. And the crowds loved it.
The Food!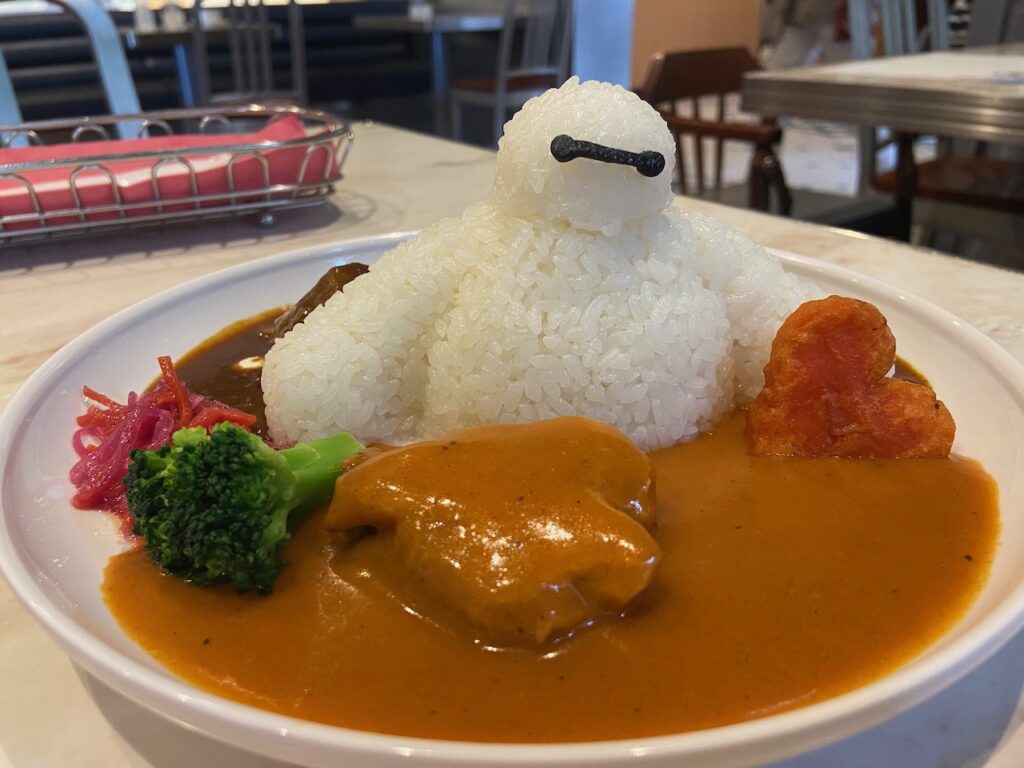 There is a lot of incredible food at Disneyland. Here's the best stuff I ate:
The Baymax curry plate from Center Street Coffeehouse
The Chicken and egg sando in Toontown
Tonkatsu curry plate from Hungry Bear restaurant
The Toy Story aliens mochi — three flavors!
In general, the quality of all the food and drinks were so much better at Tokyo Disneyland than any other Disney park I've been to. And quite a bit cheaper, perhaps because of the strength of the dollar to the yen at the time.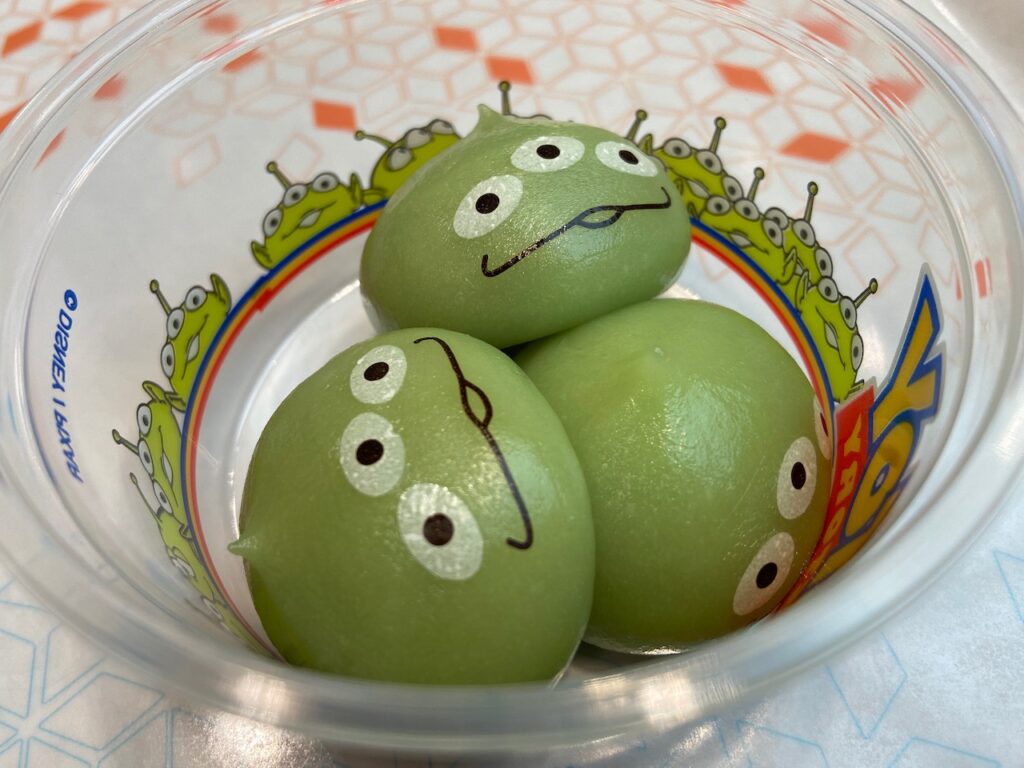 Okay now off to the new jam .. Tokyo DisneySea!
TOKYO DISNEYSEA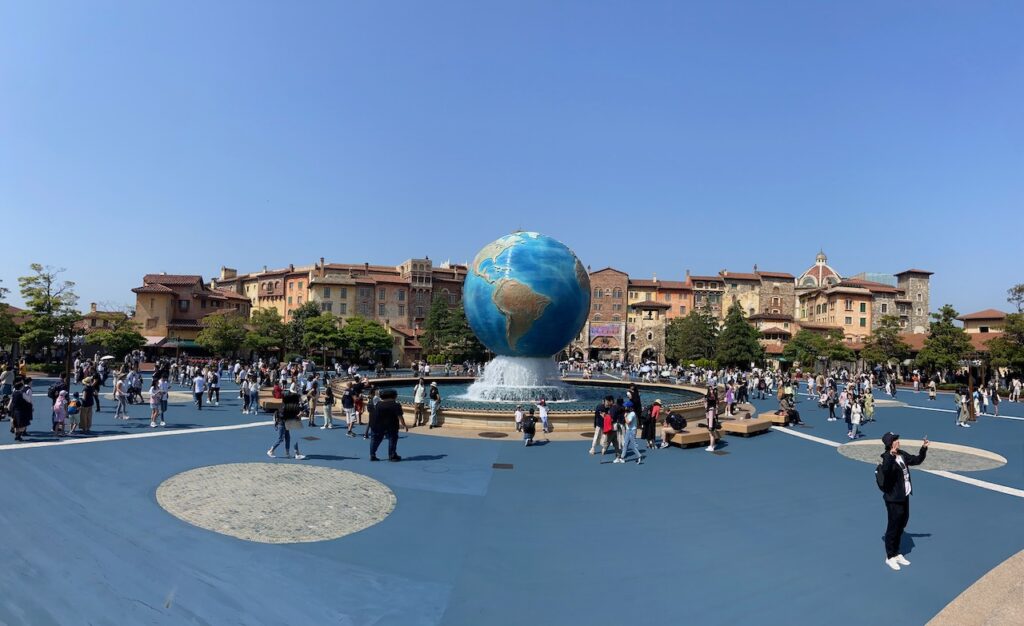 Tokyo DisneySea is a completely unique property of Japan, based around various nautical themes and places. The main lands are:
Mediterranean Harbor
The American Waterfront (including Cape Cod)
Port Discovery
The Arabian Coast
Mermaid Lagoon
Lost River Delta
and Mysterious Island — my favorite by far!
It's got kind of an EPCOT World Expo kind of feel, with some real world places interspersed among the fantastical ones (Cape Cod, New York, Venice, etc.).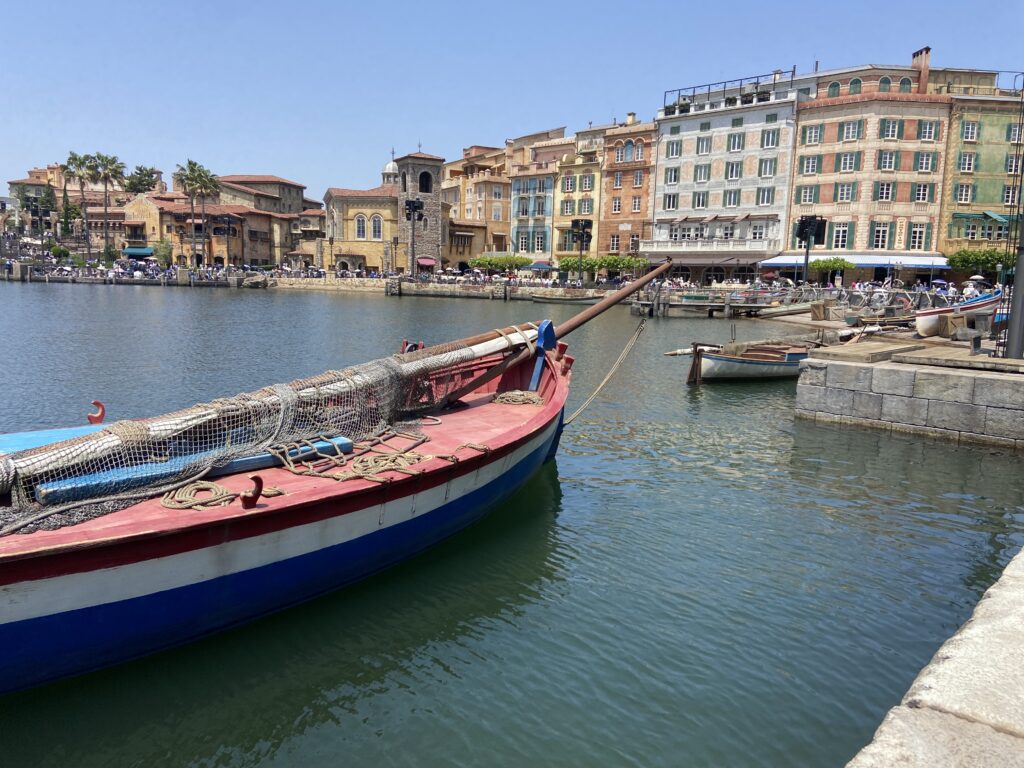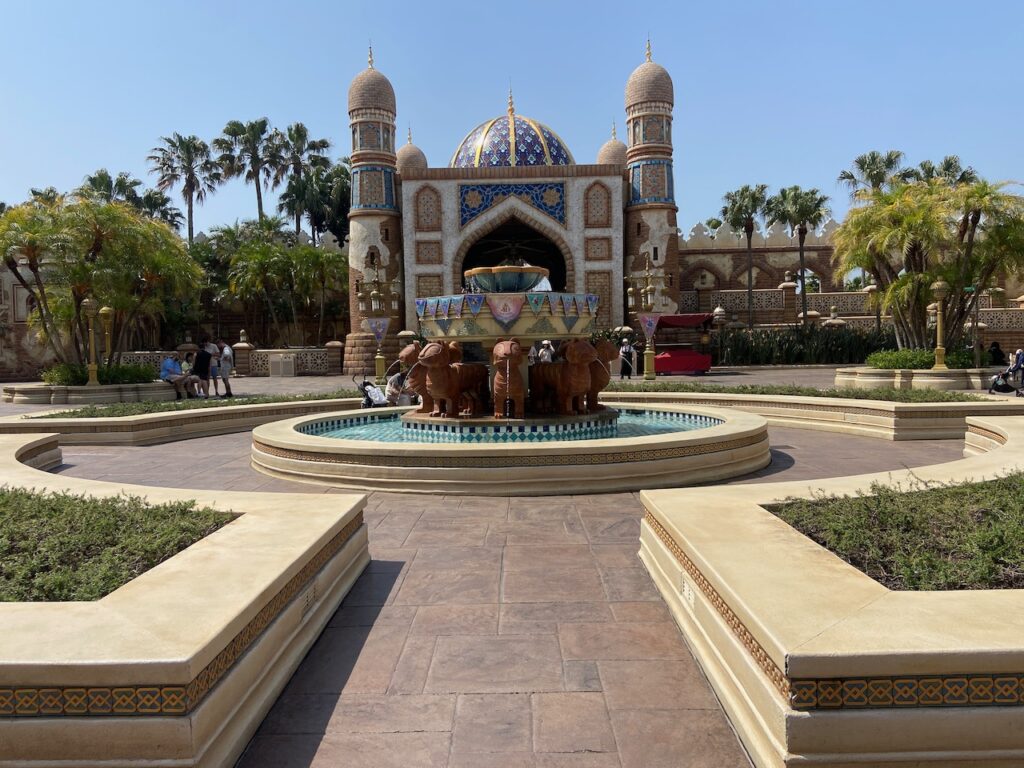 I can not overstate how incredible the theming is at DisneySea. The gorgeous architecture, the minute attention to detail, the incredible use of water as an element — everything just totally transports and entrances you. In particular, Mysterious Island is completely steampunk via Jules Verne and I couldn't get enough of it.

The Rides
Many of the rides at DisneySea are unique to the park:
Journey to the Center of the Earth
20,000 Leagues Under the Sea
Aquatopia
Nemo and Friends Searider
Raging Spirits
Sindbad's Storybook Voyage
I did all of these new rides (with the exception of Raging Spirits, which was closed) several times, because they were all so incredible. My clear favorite is Journey to the Center of the Earth, which is so original and so perfectly executed as a ride. Another banger is Sindbad, which is basically what would happen if you combined It's a Small World with Pirates of the Caribbean. Kawai!
20,000 Leagues Under the Sea is very clever, but is not quite as involving as JCE. I really liked Nemo and Friends, kind of a nautical Star Tours, except it made me pretty seasick. Aquatopia is a water version of Autopia, and like 100 times better.
A lot of the classics are here, but they are also better in some ways. In particular, this is the best version of Indiana Jones that I've been on, which is probably what the original was like on opening day when everything was working. Tower of Terror has a totally different backstory that is super fun, but the actual ride is just okay. I rode it twice just for the queue!
Other Attractions
I only saw a couple of the street shows, and they were just okay. There are two water-based shows that take place in the main lagoon, a daytime boat parade and a nighttime show. I kind of hated the night show, which was largely screen based and kind of made no sense. Also the way it's presented, it's kind of impossible to see unless you are right at the front.
The best show though was "Big Band Beat" in the American Harbor. This is a Disney tribute to the swing era of jazz and it's all the things to me — classic swing music, tap and jazz dance, all set in a huge and elegant theater. The crowd was super into it, and mostly clapped on the 2 and 4! Seeing Mickey Mouse do the intro drum solo to "Sing Sing Sing" made me tear up the two times I saw it!
Of course the biggest attraction at DisneySea is their original characters — Duffy and Friends. Duffy is HUGE in Japan. At the parks, I saw hundreds of guests fully decked out in Duffy gear, carrying one of the Duffy plushies around, and sporting appropriate head gear. (Sadly there was little love for my favorite, Cookie Ann, a dog that loves to bake!)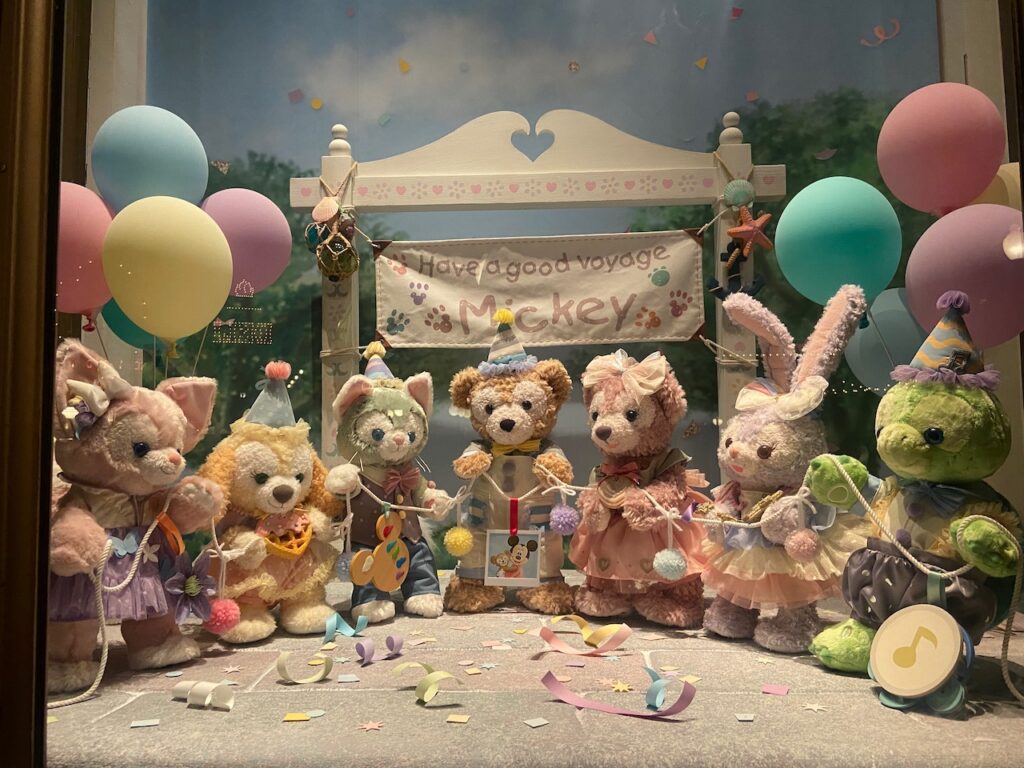 I stood in line for close to an hour to get to meet Duffy the Bear himself and get a picture with him. He is so dang cute, I have to admit. And for some reason he really wanted me to pat his butt. I mean, sure thing, Duffy. I got you.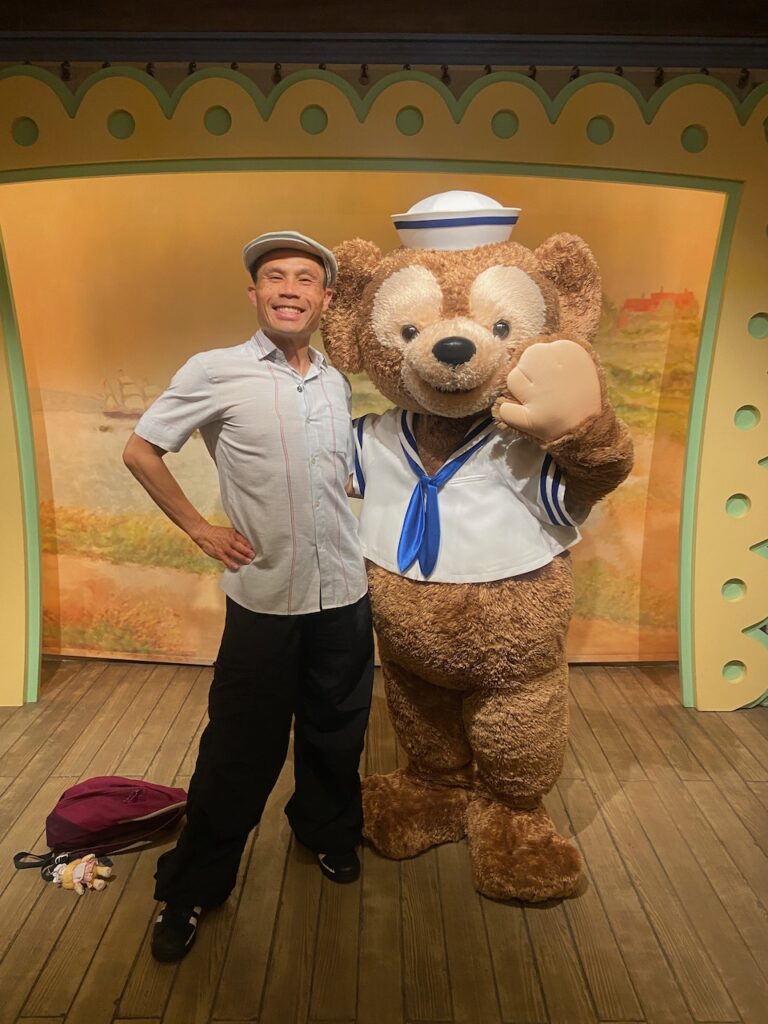 The Food!
There was so much incredible food at DisneySea! They have several nicer dining options that you can choose from, including Chinese, Japanese and Indian. I chose to go classic though: American cuisine in the Teddy Roosevelt Bar and a European style multicourse meal at Magellan's.
The highlight was Magellan's — one of the fanciest meals I've ever had in a Disney park, and pretty expensive. Magellan's is an incredibly ornate dining room in Mysterious Island, themed around the great European explorers. The central element is a gigantic globe around which all the of dining tables are arrayed.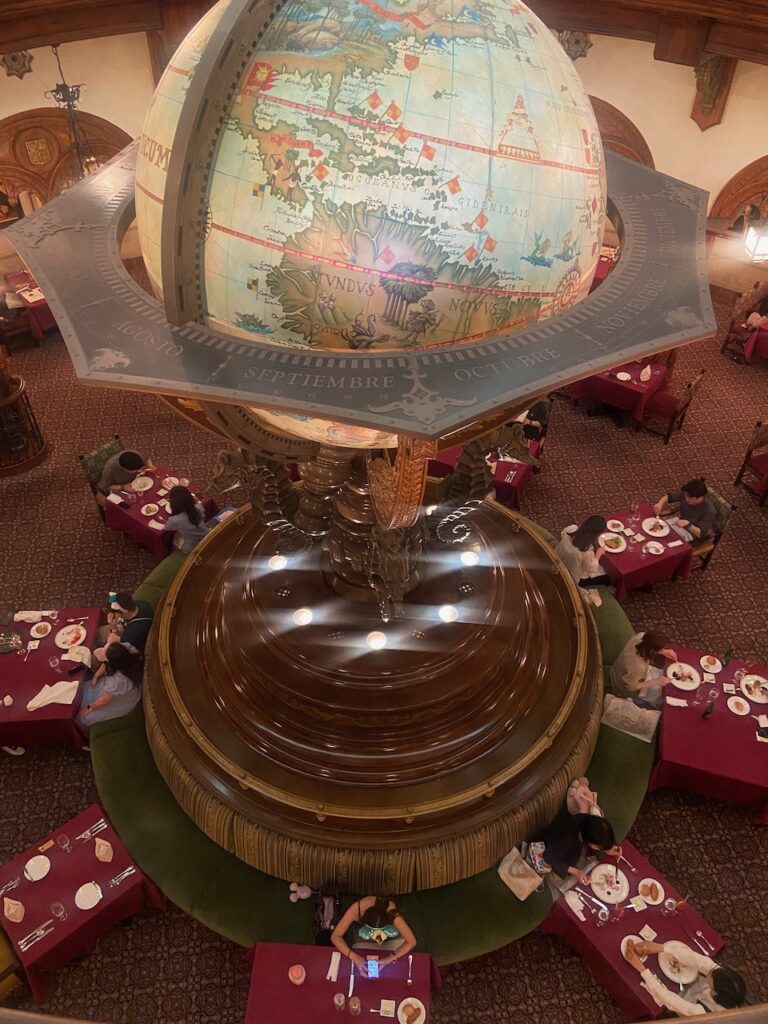 I ordered the set meal, which included a salad course, a fish course, a meat course and dessert, plus coffee. This came in at around $80 and was totally worth it. So many beautifully prepared dishes, elegantly plated and graciously served. I felt very pampered and full afterwards.
Other awesome foods:
The Mike Wozowski bun from Mama Biscotti Bakery
Soft serve sundae with soy sauce churro, boba, jellies, fruit, and more churro bits
The sandwich plate with shrimp sando, fried chicken and waffle from Teddy Roosevelt Bar
The boba cold brew from Mama Biscotti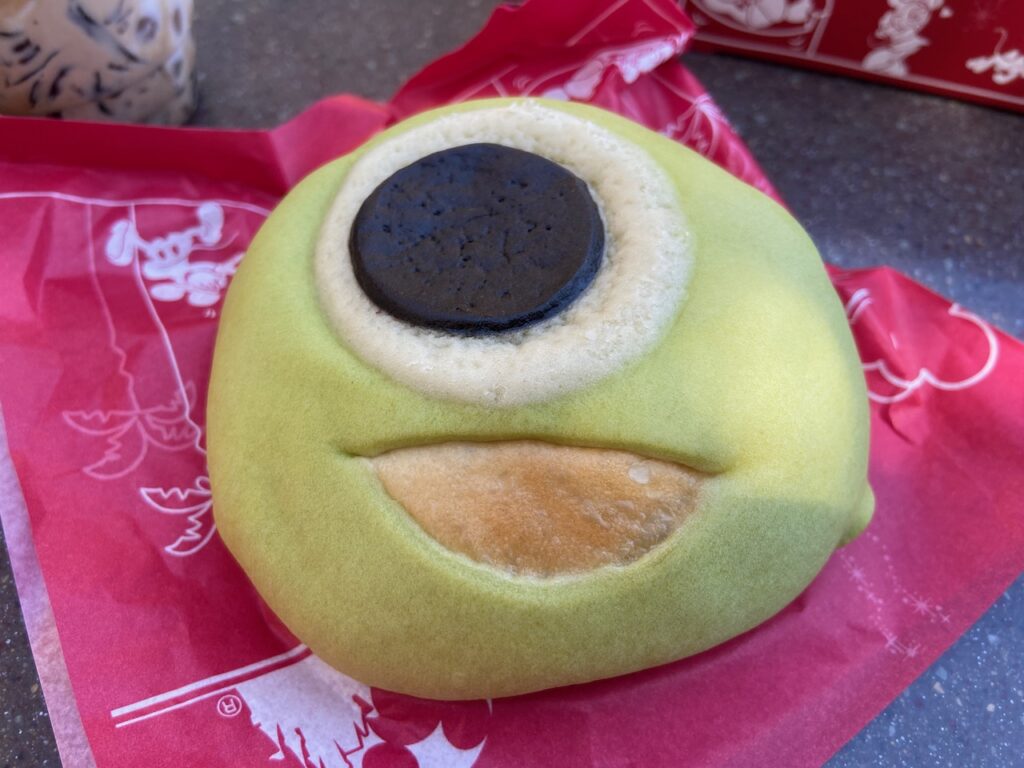 Final Thoughts
Overall , it was an incredible three and a half days at Tokyo Disneyland and DisneySea. After nearly three years of planning, I'm so glad that the experience lived up to the hype and expectation. One of my best Disney experiences ever. And I'm eager to come back!
BUDGET: Tokyo Disneyland and DisneySea was surprisingly affordable. Other than the cost of getting to Japan, this was the cheapest Disneyland vacation I've ever taken. The tickets to the park were under $65. My hotel was about $75 a night, and it was honestly pretty nice.
Many Japanese guests wear adorable outfits at the park, mostly around the "big six" Disney characters, Duffy and Friends, and some of the Pixar films. There's almost zero Star Wars or Marvel branding, which is kind of refreshing.
Lots of young people wear matching outfits to the park, particularly the girls. Lolita and goths are common. I love seeing the groups of kids in their school uniforms!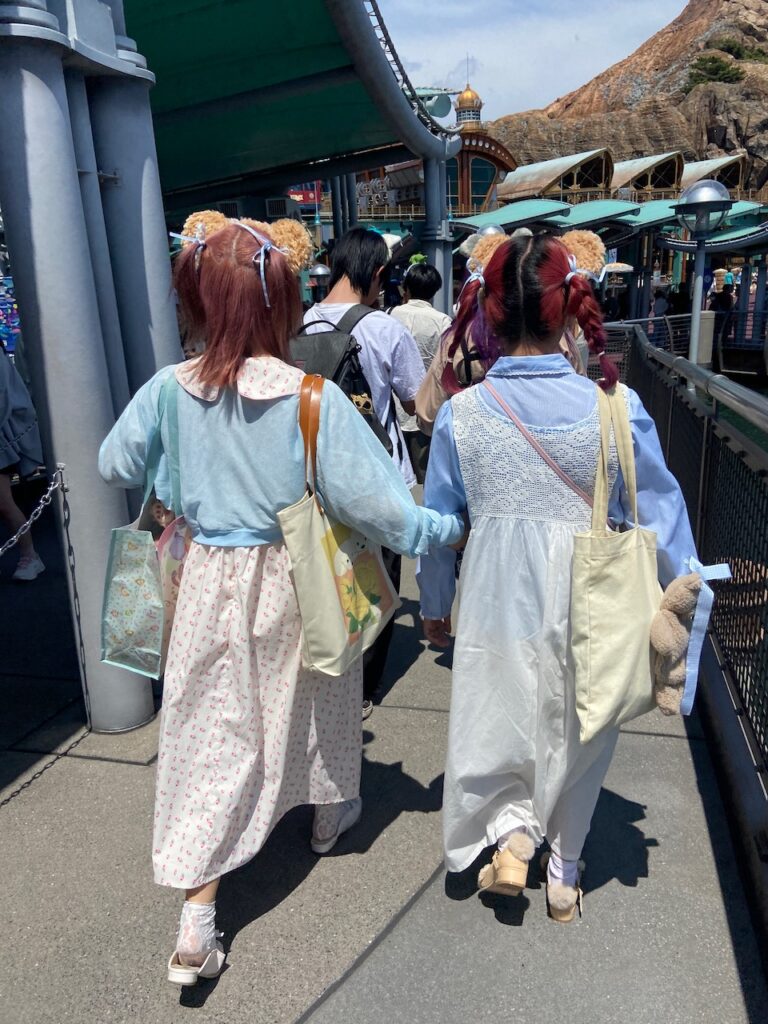 The Japanese are very into photo opportunities. Not selfies — like elaborately staged shoots that they do with their friends. DisneySea seems particularly designed around photo spots, including special spots for shooting your Duffy stuffies.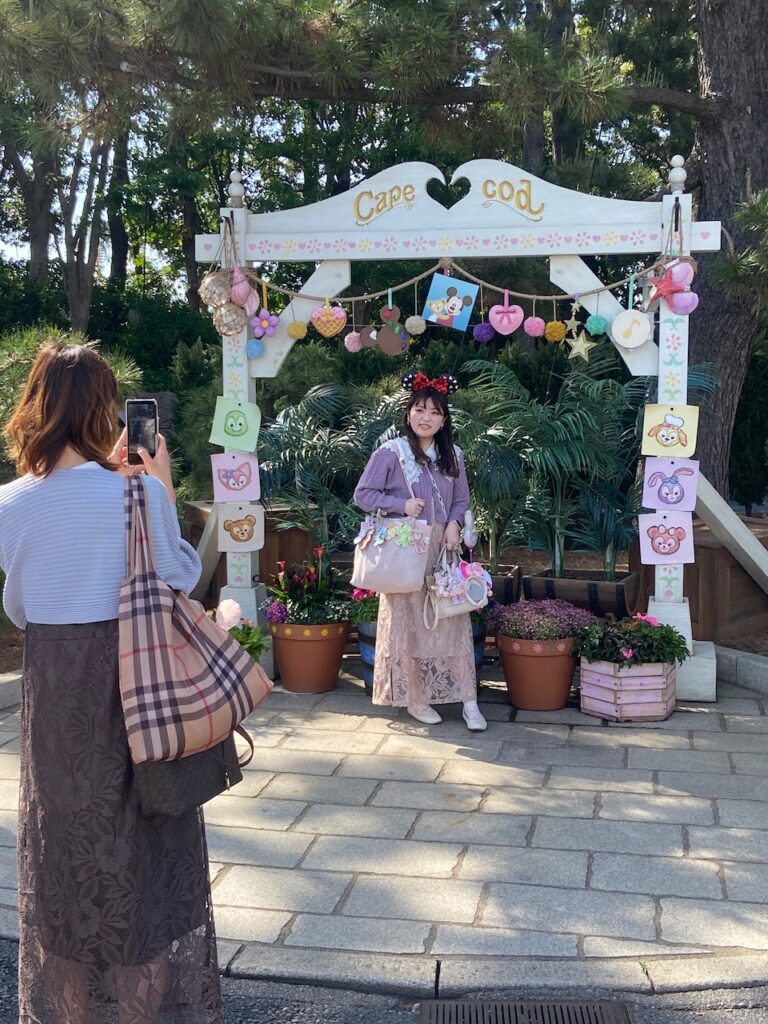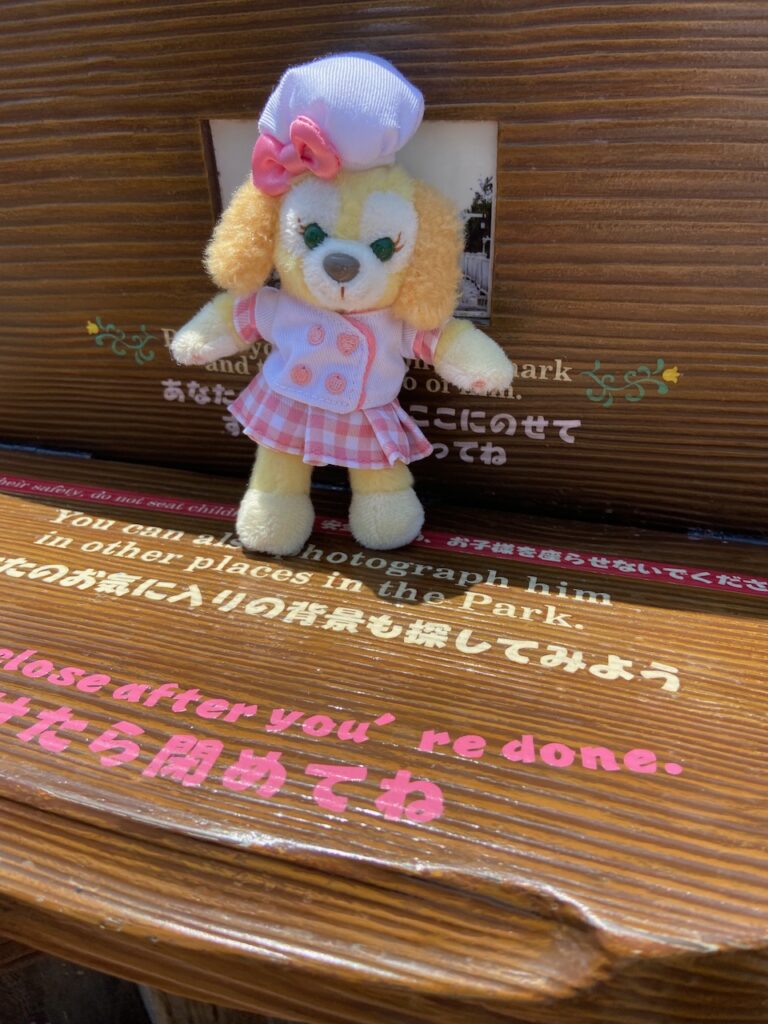 I loved how orderly all the lines were! No one was jumping the queue or trying to sneak into the Fast Pass lane or other shenanigans.