How much could I eat in Osaka in three days? I didn't know, but I was excited to find out!
Friends had told me that Osaka was unparalleled for its street food culture, which got me super excited to visit. I arranged a four night stay in the trendy Namba district, where I was surrounded by an overwhelming variety of food options.
Here are the highlights of what I tried:
Takoyaki
On a side street, I saw a bunch of Japanese young people lined up in the rain next to a food stall. I barely looked at the sign before jumping in the queue.
It turned out to be a takoyaki stand, churning out plates of fresh-from-the-grill octopus balls, coated in a dark sauce, mayo and fish scales. Everyone rushes into a nearby dining room to slurp them down while they are still piping hot. I'm not a huge fan of octopus, but these were really delicious — hot, gooey, with a variety of flavors coming through.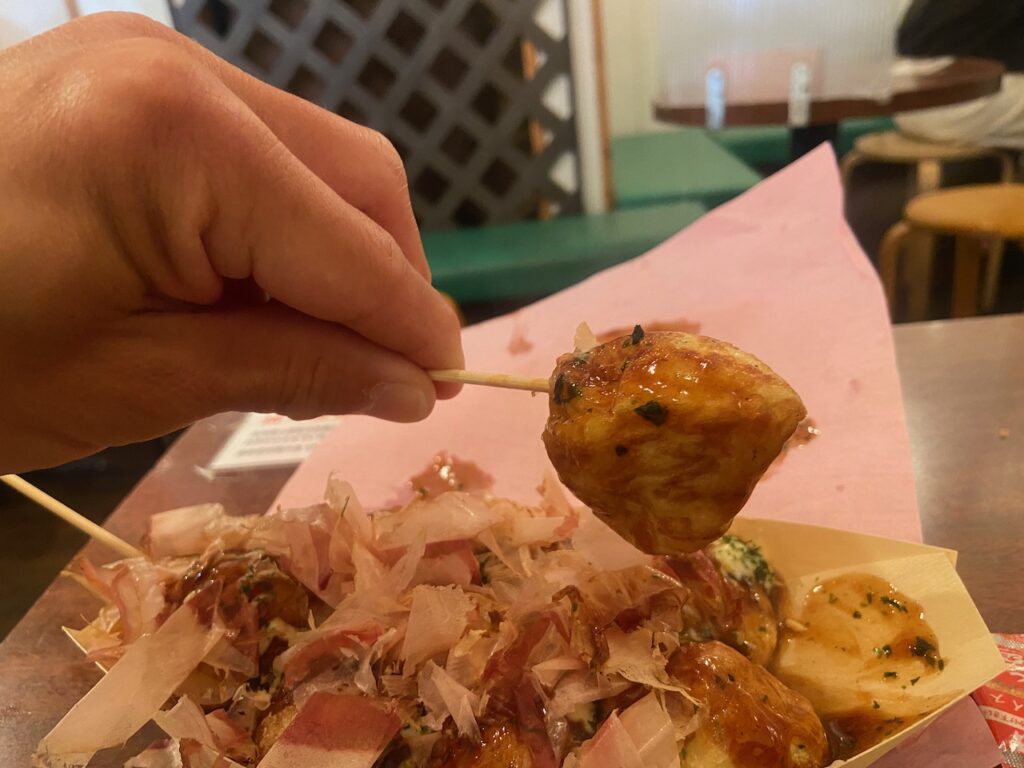 That said, I have been working my way through An Immense World, a book about the complex variety of senses that different animals possess. Reading about how octopuses experience and remember pain, and knowing how clever these animals are from my days at the California Academy of Sciences, I don't think I can eat octopus anymore.
Okonomiyaki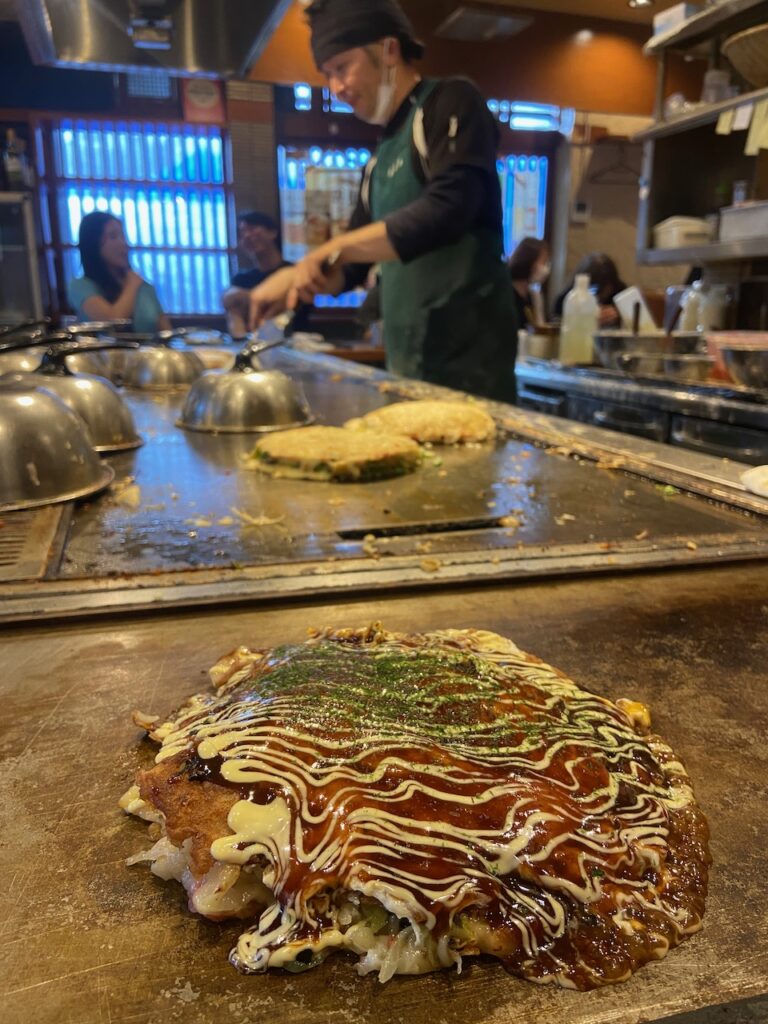 Okonomiyaki is one of my favorite Japanese dishes — a delicious savory pancake typically filled with some kind of seafood or meat.
I sought out 福太郎, one of the most famous local okonomiyaki places in Osaka, which had a long line when I arrived. Since I was traveling solo, it didn't take long for me to grab a seat. And what a seat! I was right in front of the main chef.
Getting to watch a master at work making these creations was so much fun. His ability to control multiple pancakes at once, know which ingredients go in which, and know which ones were done, was just incredible.
I enjoyed the okonomiyaki that I got. But I think I enjoyed the show even more.
Omurice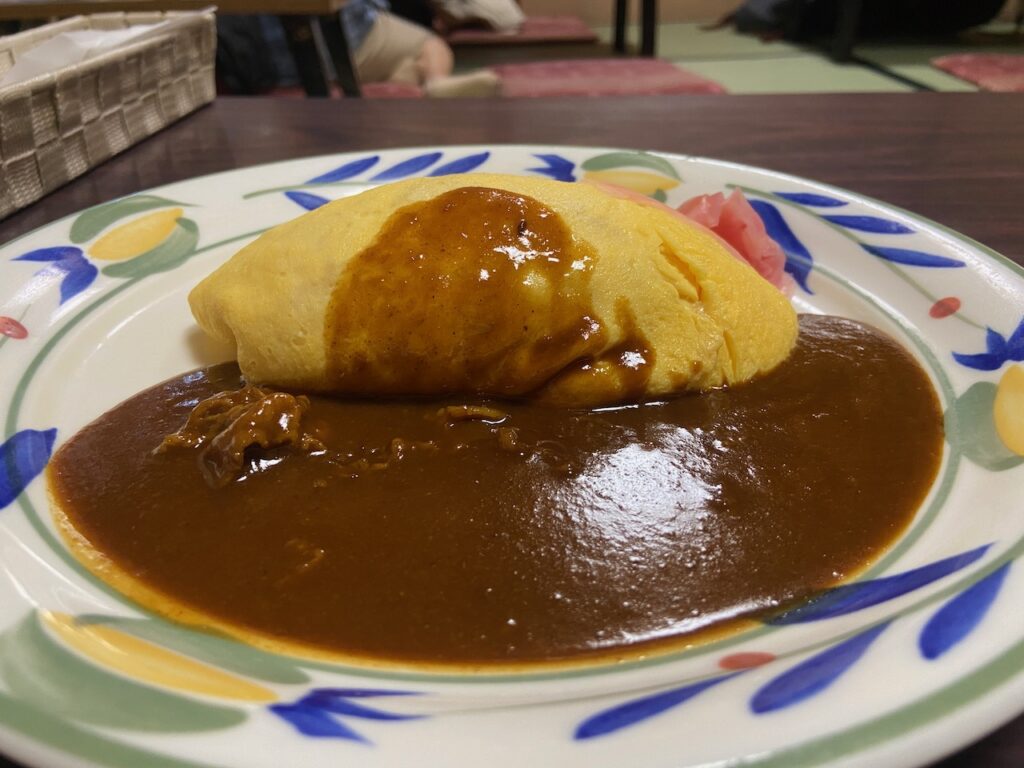 Omurice is another popular local dish you can find all over. It's basically just an omelette over rice, but done with the kind of care and precision that only the Japanese can muster. I found my way into Hokkyokusei – Shinsaibashi, one of the oldest, most traditional places in town to get omurice. Sitting on tatami mats, patrons can choose from a wide variety of omurice, from mushroom to steak. Really tasty, and made me want to try and make it!
Japanese Coffee Shops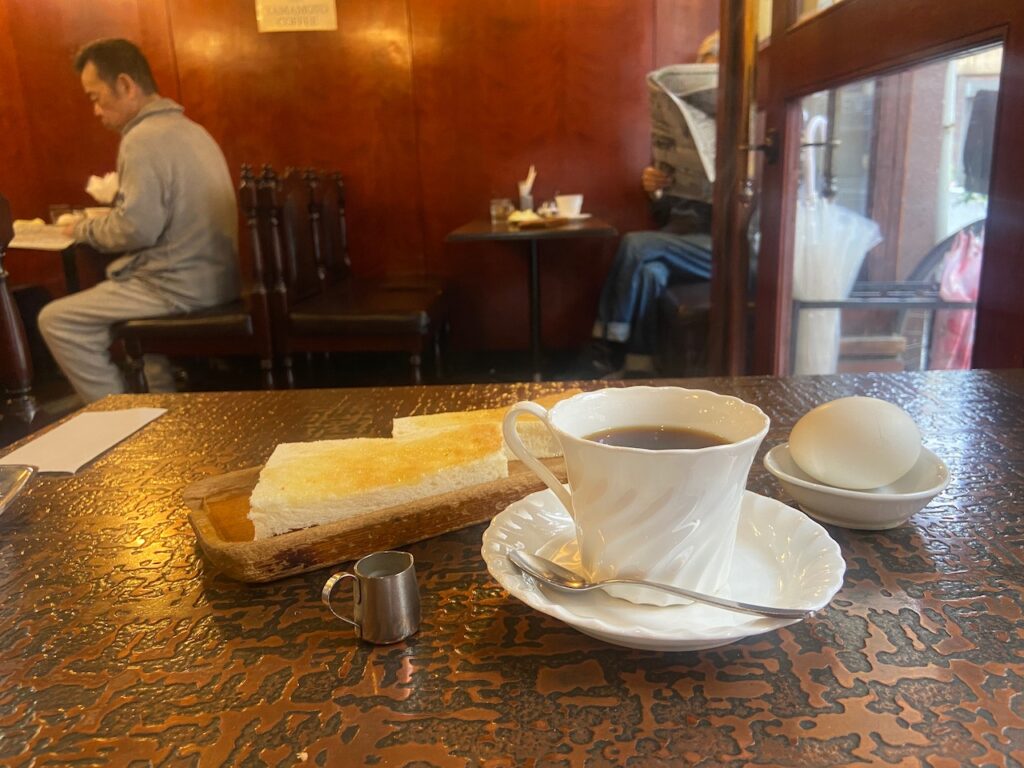 There were a bunch of lovely old Japanese coffee shops to choose from in Osaka. These are typically dark, small cafes with a handful of tables occupied by old men smoking while reading the paper and drinking coffee. Coffee is prepared either with the siphon method or pourover with great care by the barista. Often the only other thing on the menu is buttered toast and a boiled egg.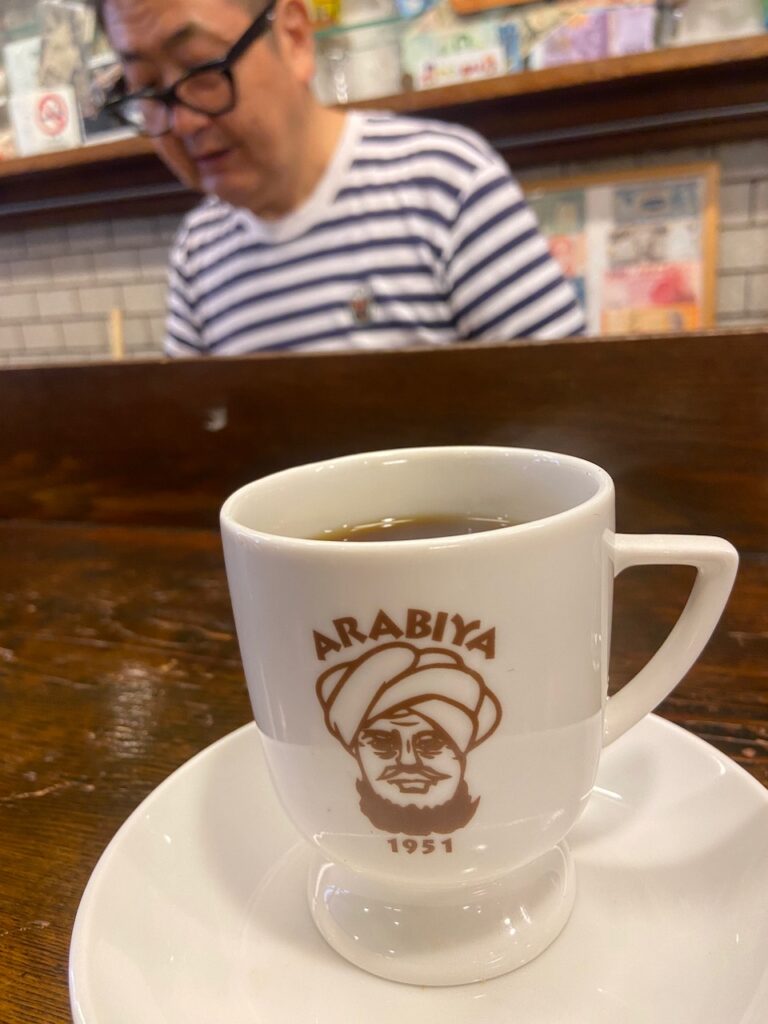 Hoshino Coffee is a more elevated version of the Japanese coffee shop. I really enjoyed their set breakfast, which had everything I could possible want in a hearty morning meal.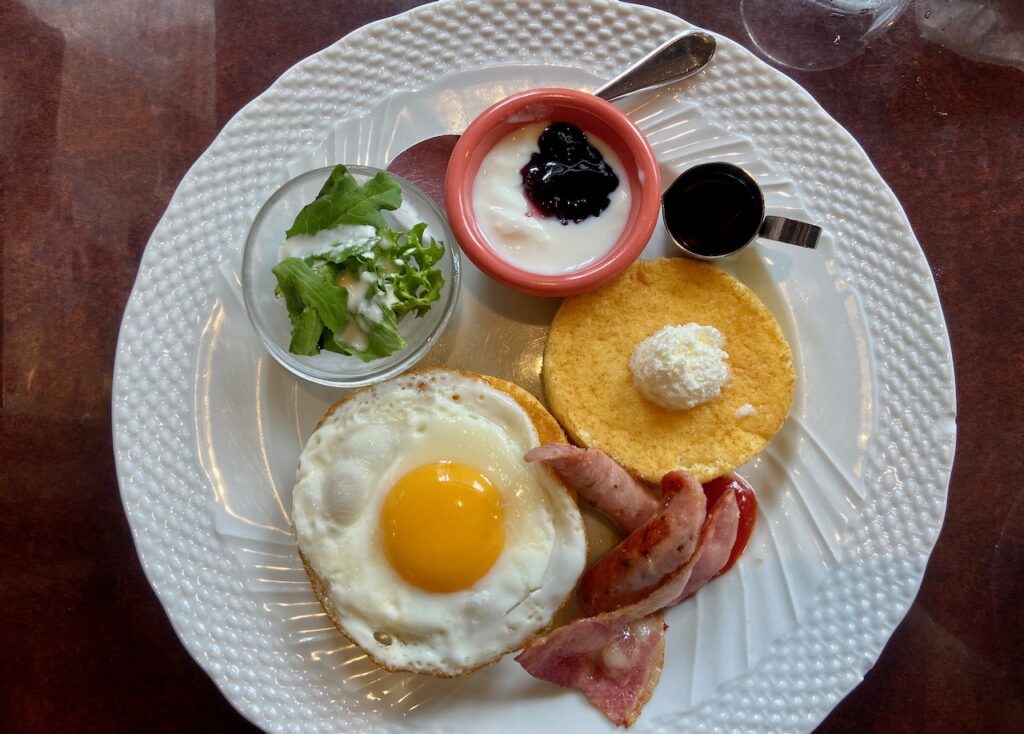 Starbucks Reserve
On the opposite end of the spectrum is Starbucks, which is plentiful here like everywhere else on the planet, it seems. I am not a fan, but I had to check out the Starbucks Reserve near my hotel, just to see what all the fuss was about.
This one was serving the "Oleata", a new variety of coffee drinks that include olive oil. I had the oat milk latte with olive oil, which I have to say was quite delicious. I mean oat milk is already fantastic in coffee, and the olive oil provided a nice smooth texture and a slightly fruity finish. Would have again!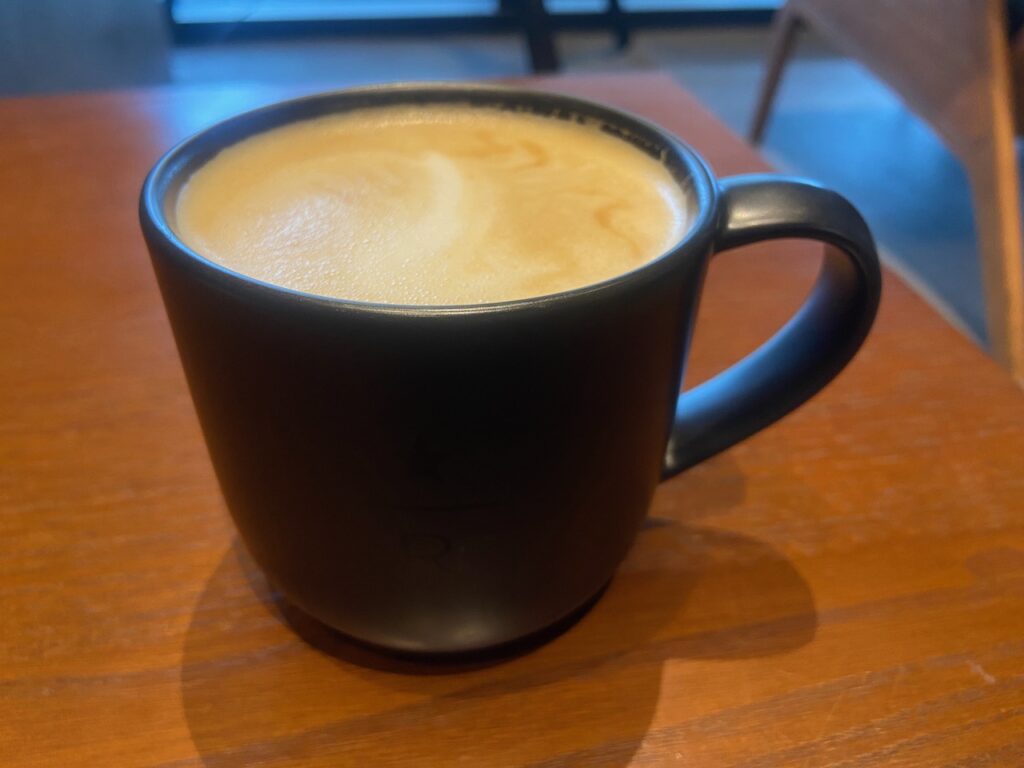 Strawberries on a Stick
Another local delicacy is strawberries. A friend advised me to try some of the local fruit, since the Japanese are really into fresh fruit.
I'm not a strawberry fan normally, but apparently the strawberries on a stick are particularly delicious. I found a strawberry stand and ordered one. Wow, so dang good. It's basically a warm strawberry encased in a hard sugar coating. When you bite into it, you get the crunch and sweetness of the sugar, then the warm juicy flesh of the strawberry. It's a lot going on in your mouth in a small package.
Cake in a Can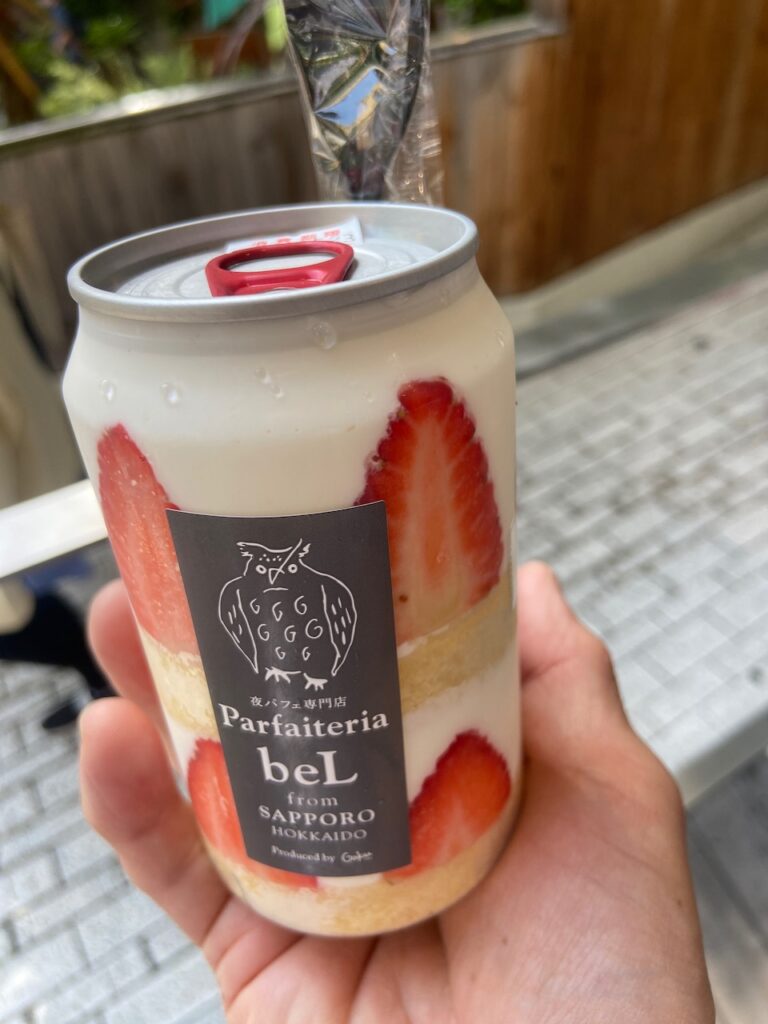 One of the weirdest things I ate was Cake in a Can. In the America-kura neighborhood there's a vending machine that sells a variety of cakes in a can. It's a spendy treat at around $8 a can. But there was no way I wasn't going to try one.
The strawberry shortcake in a can was so delicious and fun to eat. The strawberries tasted very fresh, the whipped cream was light and not very sweet, and the cake as moist. They had eight other varieties of cake!
Sakimoto Bakery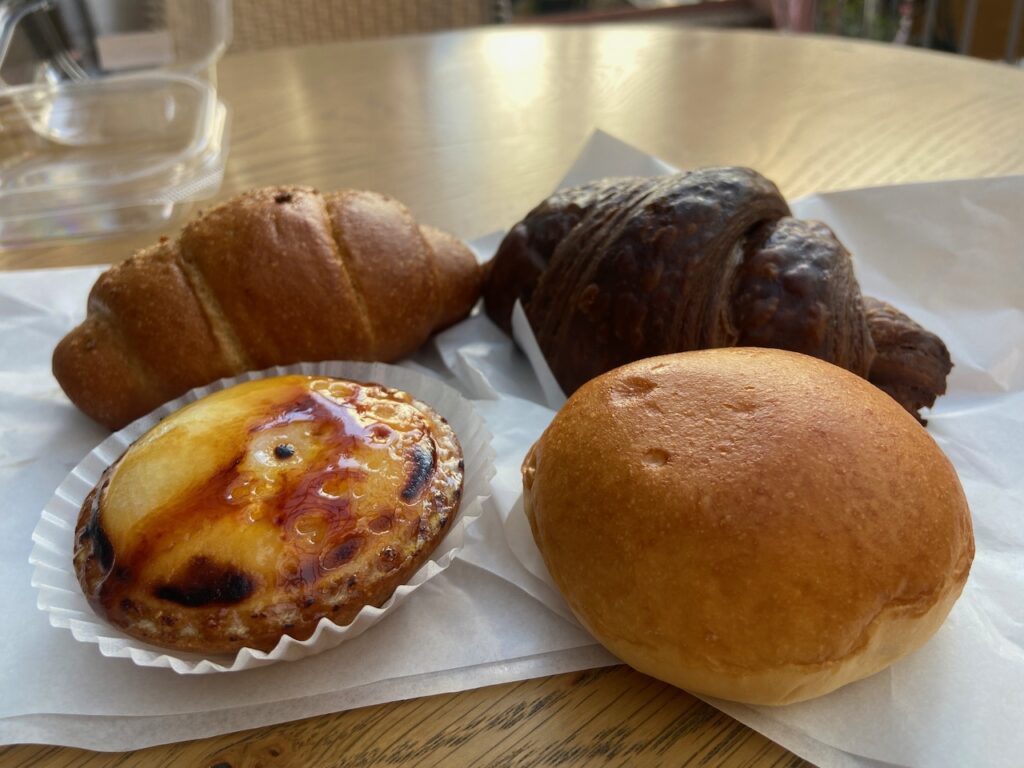 The Sakimoto Bakery in Osaka had some of the most beautiful and delicious pastries I had in Japan.
There's a lot more I tasted and experienced. This is just the highlights. Well worth the calories!