Yesterday was one of my favorite visits to a Disney theme park ever. After years of anticipation, and avoiding as many spoilers as possible, I finally got to visit Stars Wars Galaxy's Edge at Disneyland.
As a big scifi nerd and a Disney fanatic, the idea of a completely immersive experience where you got to walk through the rich universe of Star Wars just exploded my geeky brain. But part of me wondered if a theme park land could possibly live up to the hype?
I should never have doubted the power of Disney.
SPOILER NOTE: I share more general comments about the land and the experiences, but I tried to leave out detailed descriptions so you can experience them first-hand for yourself. But if you want to be completely surprised by everything, stop reading.
Galaxy's Edge: The Overall Design
From the first moment I entered Galaxy's Edge close to opening time of the park, till my last lingering visit late at night, I was totally sold on the experience. The Disney Imagineer's hit it out of the park in capturing the overall aesthetic and feel of the Star Wars extended universe.
You are plopped right into the middle of the planet of Batuu, and everything around you feels lived in and real. The land looks aged, well-used, and bearing the scars of a number of conflicts. Control panels, light fixtures, plantlife, even the garbage cans were all lovingly designed to feel like a Star Wars-type planet.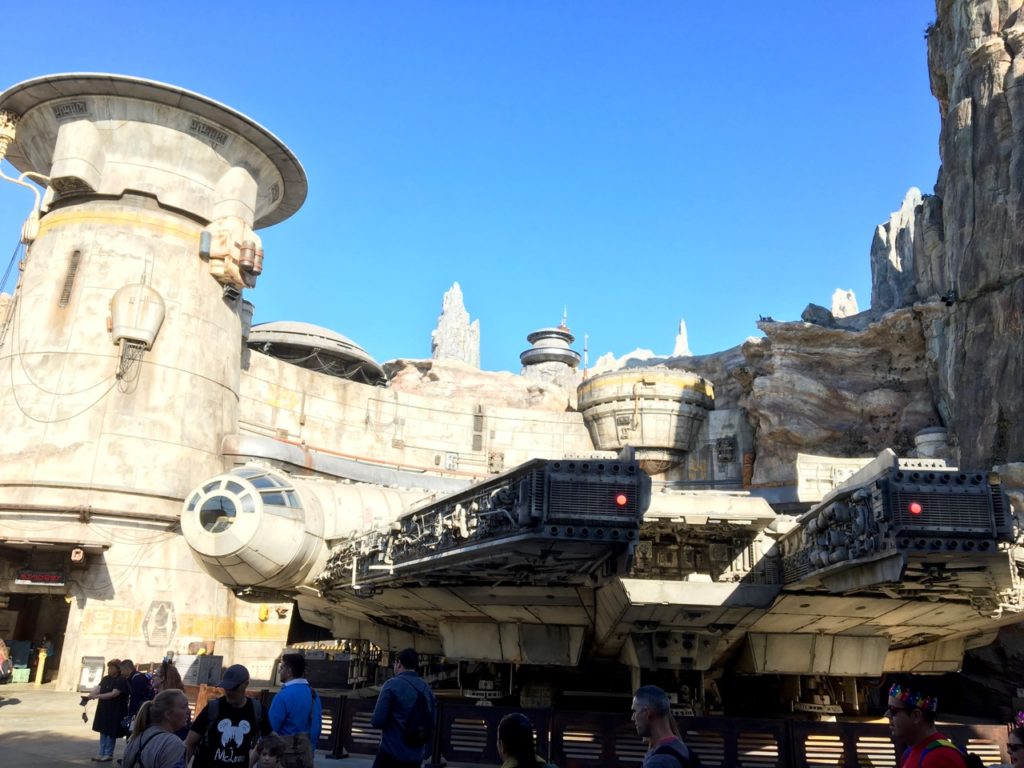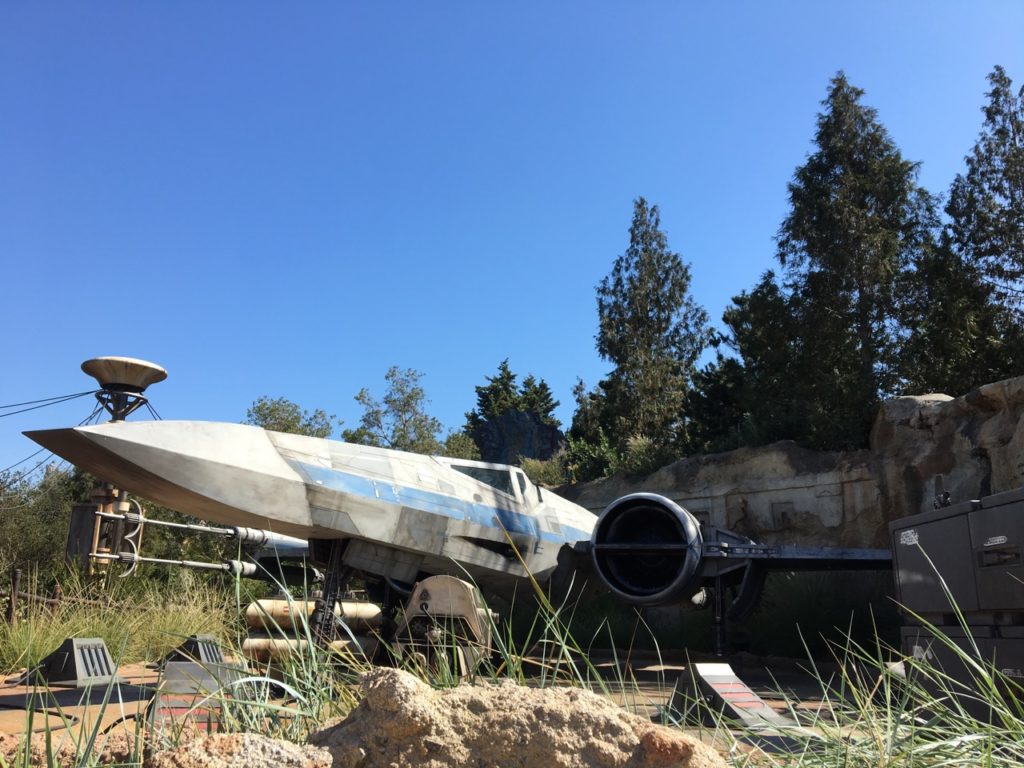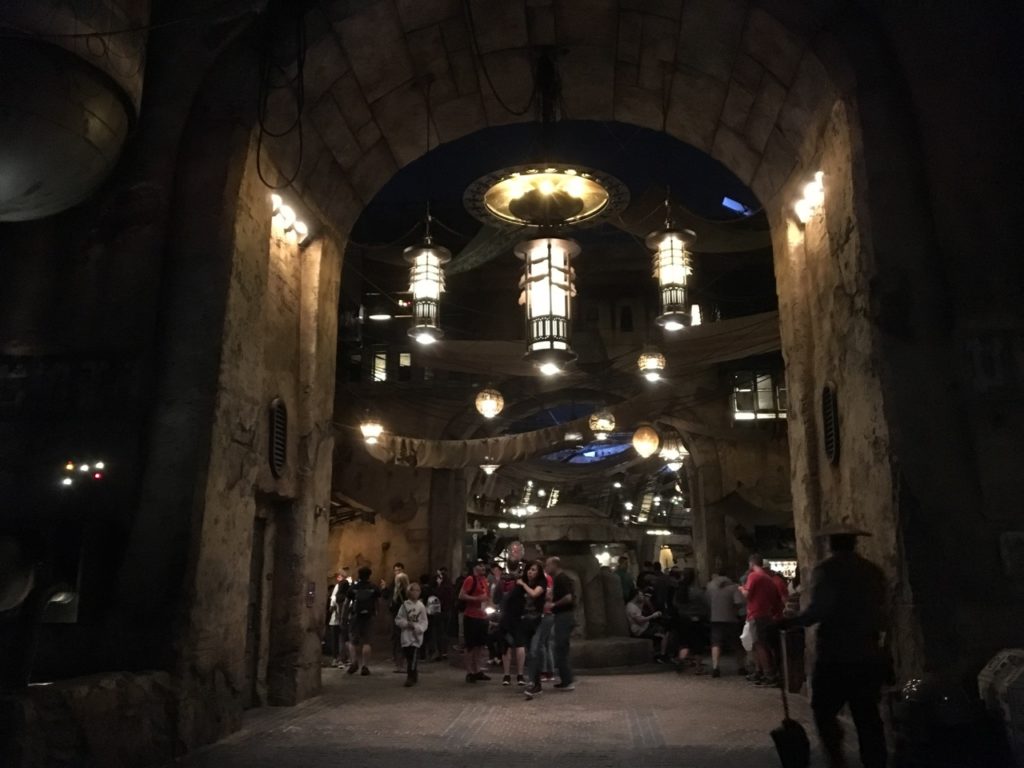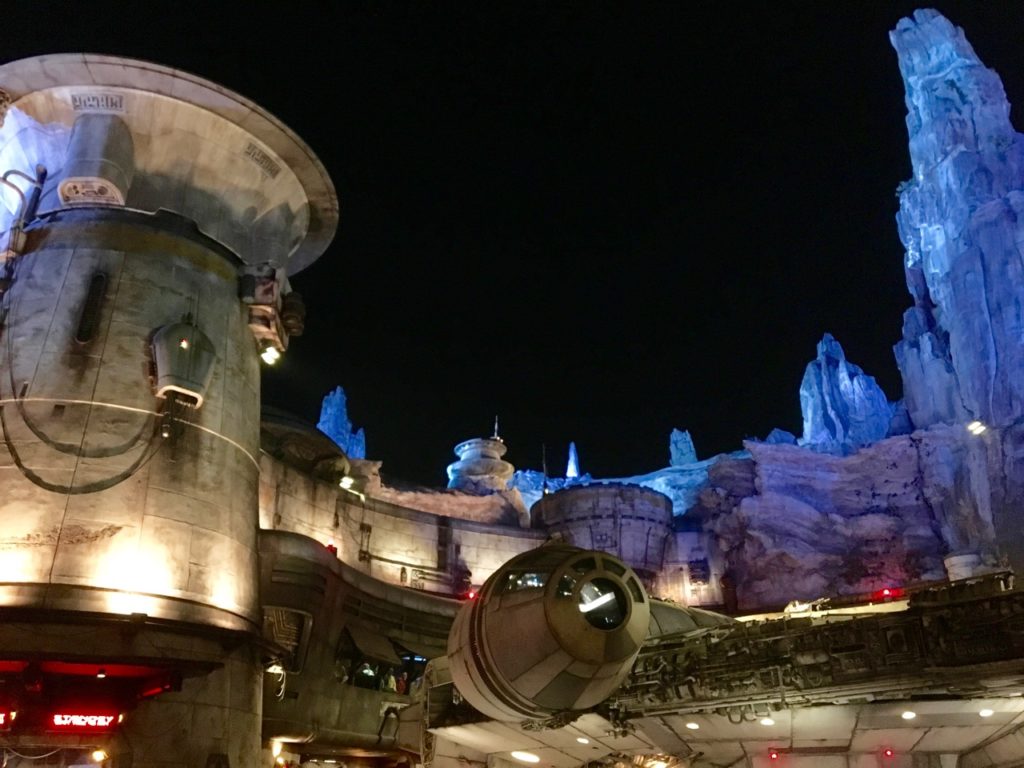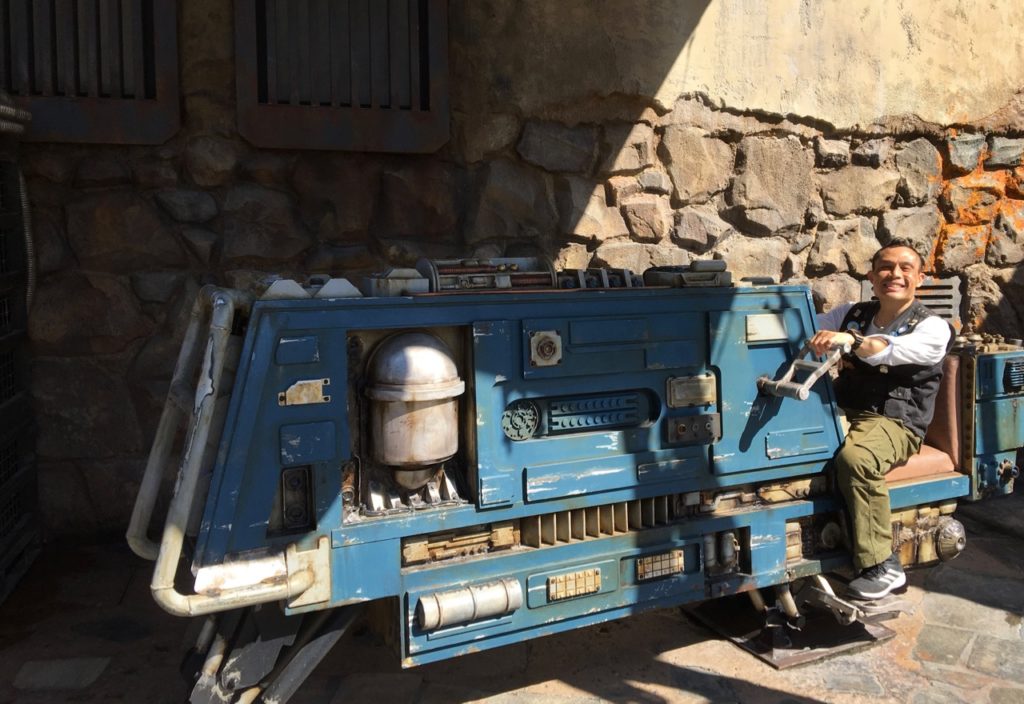 Oga's Cantina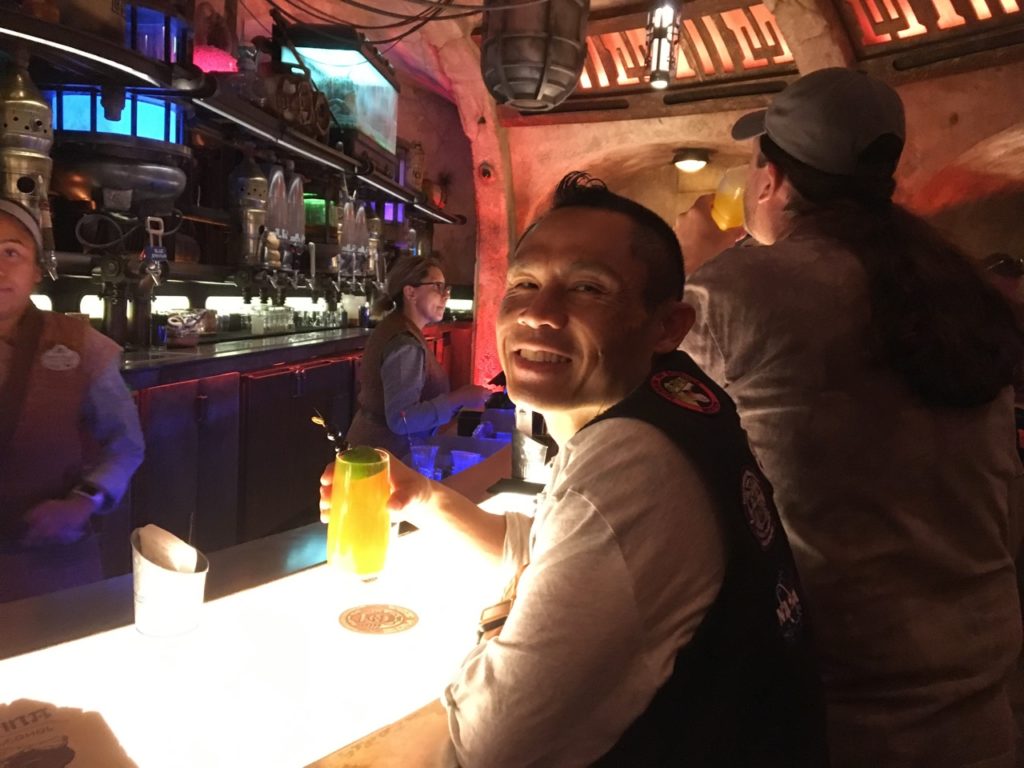 Day drinking, anyone? My first stop was a morning visit to Oga's Cantina. How long have I dreamed of visiting the cantina from Mos Eisley? Probably from the first time I saw it in 1977.
Being about to enter into a futuristic, dark, decrepit tavern and order a drink from the bar was so much fun. There were so many incredible details that I loved examining, long after I had finished my beverage. (The "Black Spire Brew" if you are curious.)
If I was to quibble, I would say the place could use more aliens. Perhaps they were worried that visitors after a couple of drinks might want to pick a fight with one? That said, I did enjoy the droid DJ. Here he is spinning a fun electro-swing tune.
Millennium Falcon: Smugglers Run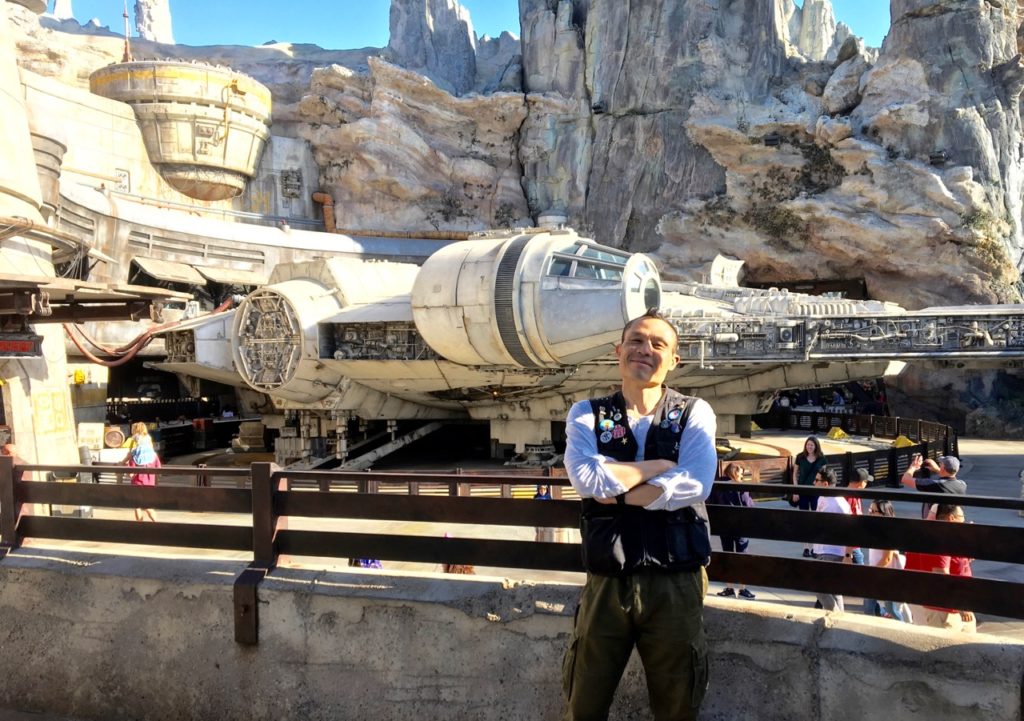 Guys, guys, I got to crew the Millennium Falcon!
Millennium Falcon: Smugglers Run is currently the only actual ride in Galaxy's Edge. So it really has to carry the experience.
Surprisingly, the lines to get to the ride were not insanely long, by Disney standards. And since I was just going Single Rider yesterday, I could just walk into the ride and be in the cockpit within 15 minutes.
This ride is notable for a few reasons: it's a team-based coop experience, where the actions of your crew affect the outcome of the game and your overall score. There are three roles on the crew — pilot, gunner, and engineer — and everyone has a role to play to aid the success of the mission.
I loved the experience. It's thrilling, funny, and totally engaging. I had just enough to do to keep me focused on my task, but I could also follow the overall storyline of the ride.
I rode it three times and enjoyed it more each time. Don't watch any of the videos showing the ride in action. Just go!
Other Favorite Bits
The character cast members walking around were just great at adding to the atmosphere. Rey and Chewie taking kids on little missions around the land was just so cute and clever.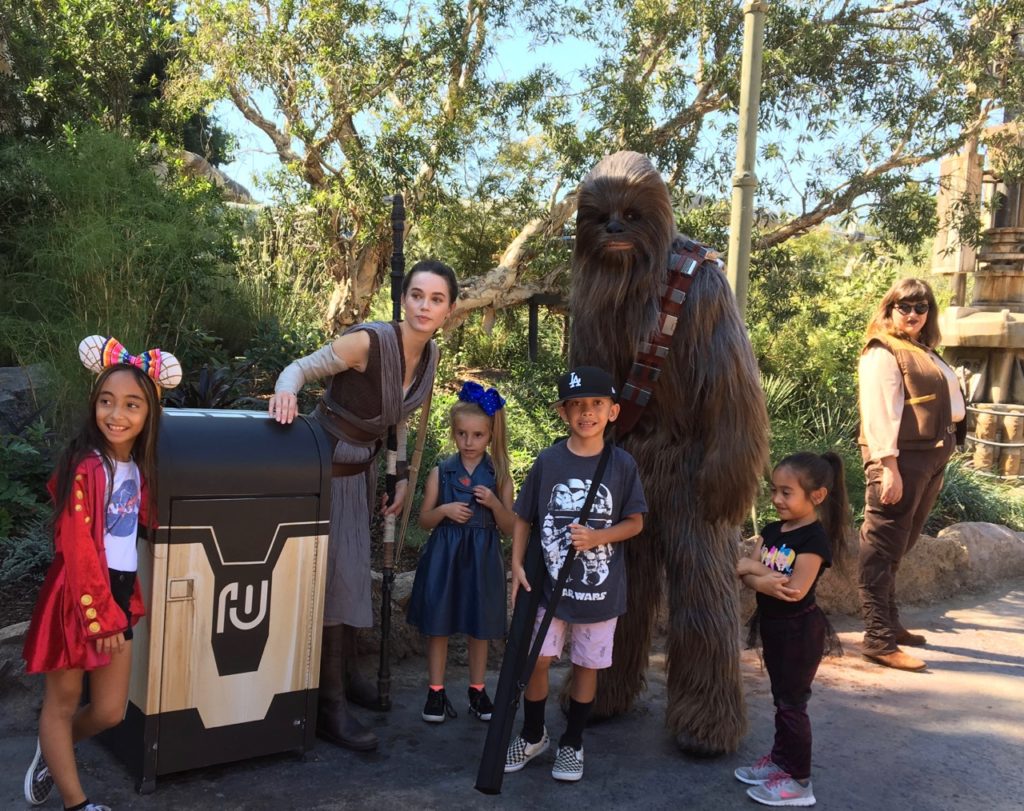 The stormtroopers marching around and hassling merchants were great. No sign of Kylo Ren when I was there. Perhaps it was his day off. I was also disappointed to not see any droids rolling around doing errands.
The merch was on-point, I am somewhat sad to report. I managed to avoid getting the $200 custom-made lightsaber and the $100 make-it-yourself, remote control astromech droid. Those shops were just beautifully designed and fun to visit, even if you aren't buying.
All the other toys and gifts were so cute and well-designed, it was hard to pass them up. I particularly like the more hand-crafted, "rustic" Star Wars toys in the small village shops. I did end up buying a $70 Resistance jacket because it was just too damn cool and not a bad price. I can't wait to wear it to work tomorrow.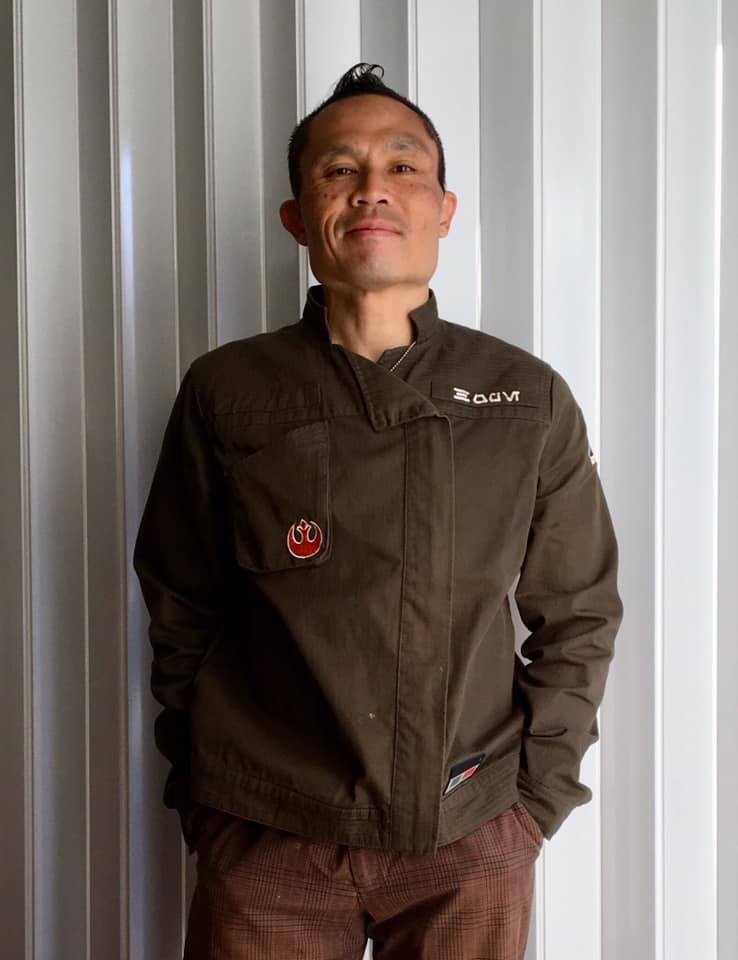 I encountered this little guy in one of the outpost shops. Kind of the Star Wars version of the bodega cat. Sadly he was not for sale.
Lingering Issues and Questions
I totally enjoyed myself, and got to fulfill lots of geek fantasies at Galaxy's Edge. That said, there were some lingering questions I have:
I'm not sure how I feel about the division between the "classic" Star Wars in Tomorrowland and the "current" Star Wars stuff in Galaxy's Edge. Tomorrowland still has Star Tours, the Jedi theater, the Star Wars museum and gift shop. I totally get it, but I think this will continue to be confusing for most regular visitors.
I don't know how I feel about the cast members in Galaxy's Edge interacting with you as residents of the planet Batuu, each with their own back-stories, and dropping in "Batuuese" phrases like "Bright Suns" for "hello." The cast members I met had widely varying levels of commitment to inhabiting their characters. It felt a little half-baked to me.
The Disney Play app seems like a cool way to get visitors to the land to interact with it and each other. But for me, I found the app too complicated. I felt like I was being offered too many tasks, quests, and pathways at once. I stopped using it after three attempts to integrate it into my visit.
These couple of concerns are so small compared to how happy I am with the overall Galaxy's Edge experience. I can't wait to return, particularly once the second ride, The Rise of the Resistance, opens in January.
May the spires keep you!