Disneyland is my happy place. There's just something about the park that just fills me with so much joy, more than I can describe. So I go as often as I can.
One thing I have never done until this weekend was visit Disneyland alone. Something about it has always intimidated me. Partly it's a fear of being judged as a "weirdo" going to the park alone. Partly it's" a worry that I would get frustrated or bored doing everything by myself — riding rides, eating, watching shows.
I realized it was a fear I needed to get over. So last Saturday I set a challenge for myself: I would do both Disneyland and California Adventure from "rope drop to fireworks," e.g. from opening to closing of the park.
I'm happy to report that it was one of the best trips to Disneyland ever. And I wanted to share some of my tips that made it such a fun day.
Tip #1: Make a Plan
Going alone means that you don't have other people to share the burden of planning and making decisions while you are there. So I wanted to have at least a rough plan to guide my day, so I knew where I needed to be and when.
Here was my rough plan for the day:
8:00am: Arrive at Disneyland for rope drop
Morning: Visit Galaxy's Edge, ride the Millennium Falcon ride, grab a drink at Oga's Cantina
Afternoon: Head to California Adventure for Guardians of the Galaxy, Incredicoaster and the Cars ride
Late Afternoon: Take a break at the Grand Californian Hotel
Late Afternoon: Head back to Disneyland. Ride Space Mountain, Indiana Jones, and Pirates of the Caribbean
Evening: Return to Galaxy's Edge, do some shopping
9:30pm: Watch the fireworks
10pm: Head home
I also wanted to make sure I had everything I thought I might need during the day. Here's what I packed:
Comfortable shoes
A small bag
My smartphone, charging cable and plug
Two extra batteries for the phone
My Kindle e-reader (we'll come back to this later)
Sunglasses
Tip #2: Pace Yourself
It takes a lot of energy to get through an entire day at Disneyland, particularly if you are by yourself. I made sure that didn't overcommit myself to stuff all day, so I could conserve energy..
Disneyland involves a lot of walking. I set a comfortable pace that I knew I could keep up all day, rather than racing from one experience to the next. It also allowed me to really savor the park and what was happening around me.
Tip #3: The Single Rider Line!
Many attractions offer a single rider option, which is often a much shorter wait time. I got to ride several of my favorite rides several times this way.
Current single rider options at Disneyland and California Adventure:
Goofy's Sky School
Grizzly River Run
Incredicoaster
Indiana Jones Adventure
Matterhorn Bobsleds
Millennium Falcon: Smugglers Run
Radiator Springs Racers
Space Mountain
Splash Mountain
Star Tours
Tip #4: Take Breaks
As you can see, I had a plan to visit the Grand Californian Hotel and take a break in the middle of the day.
The Californian is my go to spot for resting during your Disney trip. It's got a dark, inviting lobby with lots of plush chairs and sofas you can plop down on for however long you want. There are even a few plugs hidden around there for charging your devices.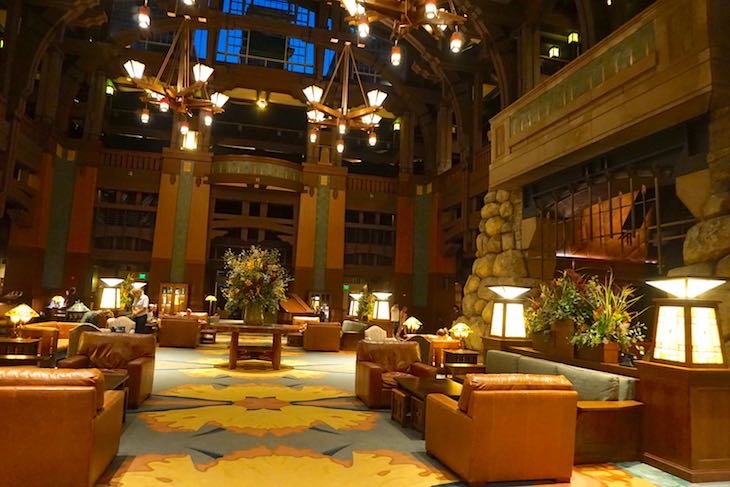 I took a good 25 minute power-nap while I was there, which was so rejuvenating. And my phone was back up to 100% when I woke up.
I also took advantage of benches to just sit and people watch at various times during the day. It's a really pleasant activity, just seeing what folks are wearing, guessing where they are from, and catching snippets of conversation.
Tip #5: Be Social (or Not)
I can get into a weird funk if I spend too much time in my own head without interacting with people. So I made a point to chat up Cast Members I encountered, who were always pleasant and happy to talk about whatever. If someone was particularly dressed up I would compliment them, which always led to short and fun conversation. And people on line for a ride are often game to chat about their day.
You should decide for yourself how much social interaction you think you might need during the day. You also might just make a point to call a friend at some point in the day and update them on how your trip is going.
Tip #6: Be Spontaneous
So I had mapped out a rough plan for the day. But I had very few things I HAD to do. Which meant that I could be free to be open to whatever I ran into during my visit.
Hanging out and watching costumed cast members interact with guests, particularly children, is always great fun. I caught a deliciously malevolent Wicked Queen near the castle interacting with guests. Rey and Chewbacca were running around Galaxy's Edge taking kids on little adventures, which was so so cute.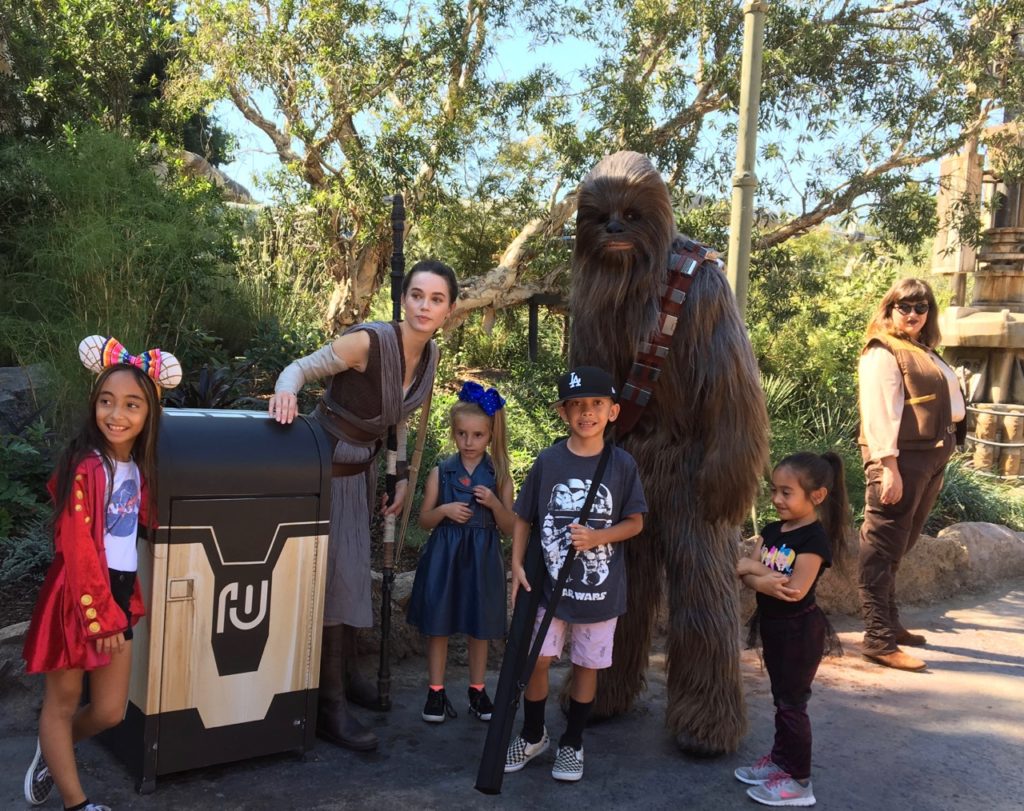 More seriously, I serendipitously ran into the "Retiring of the Flag" ceremony at the entrance to Main Street, which was surprisingly moving. Seeing all these veterans step forward and be recognized by the small crowd was such a special and unexpected part of my day.

Tip #7: Bring Something To Do
Although my day was pretty action-packed, there was definitely periods of downtime. Standing in line is of course part of the experience, but which can feel like it takes much longer if you are alone. And just in general I think it's important to have something to do that doesn't involve riding, consuming, or buying something.
So I brought a book.
Actually a lot of books. My magical Kindle e-reader, to be exact. I had several books in my queue I was eager to tackle, but Felicia Day's wonderful memoir You're Never Weird on the Internet was just perfect for the day.
Perhaps you are a knitter. Or a poet. Or a sketch artist. Disneyland can be a great place to put in some work and take advantage of the times on line.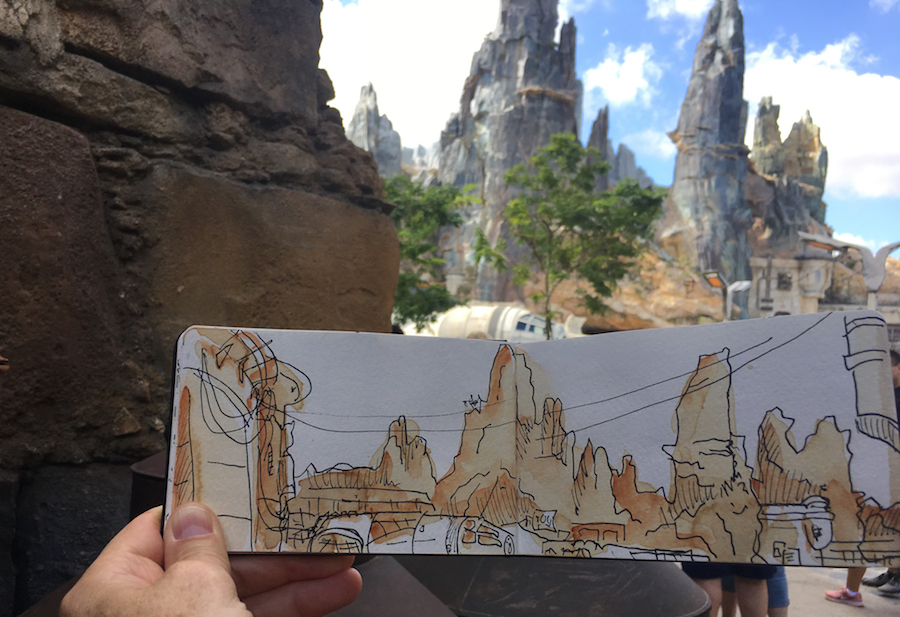 I should mention that Disney has a new Play app that has a number of fun activities you can do while in the park, from trivia quizzes to little quests. I wasn't really that into it when I was there, but that might be your thing.
One thing I didn't do was any social media-ing in the park. I wanted to be in the experience as much as I could, not following others' lives elsewhere, endlessly scrolling through my feed. In my opinion, people spend way too much of their lives doing this already. [Old guy rant]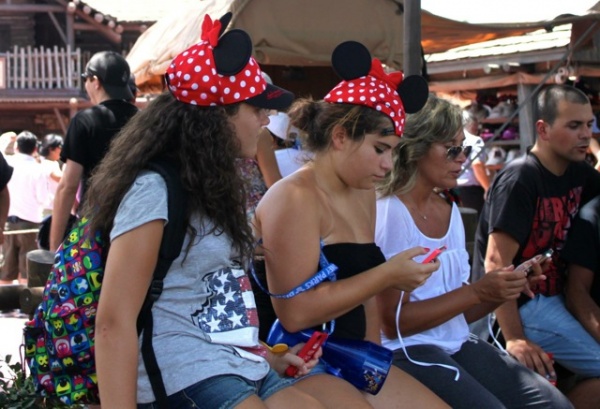 Tip #8: Splurge on Yourself
Lastly, and this perhaps should be first, be good to yourself. It's okay to treat yourself well, to do something special that brings you joy. You deserve it!
Buy a ridiculous set of Mickey ears and wear them proudly all day.
Get in line and take a picture with Goofy, along with all the youngsters if that is your thing.
Have one, fantastic sit-down meal at Cathay Circle or Carnation Cafe. And get that special, decadent dessert that is calling to you, and eat it all by yourself.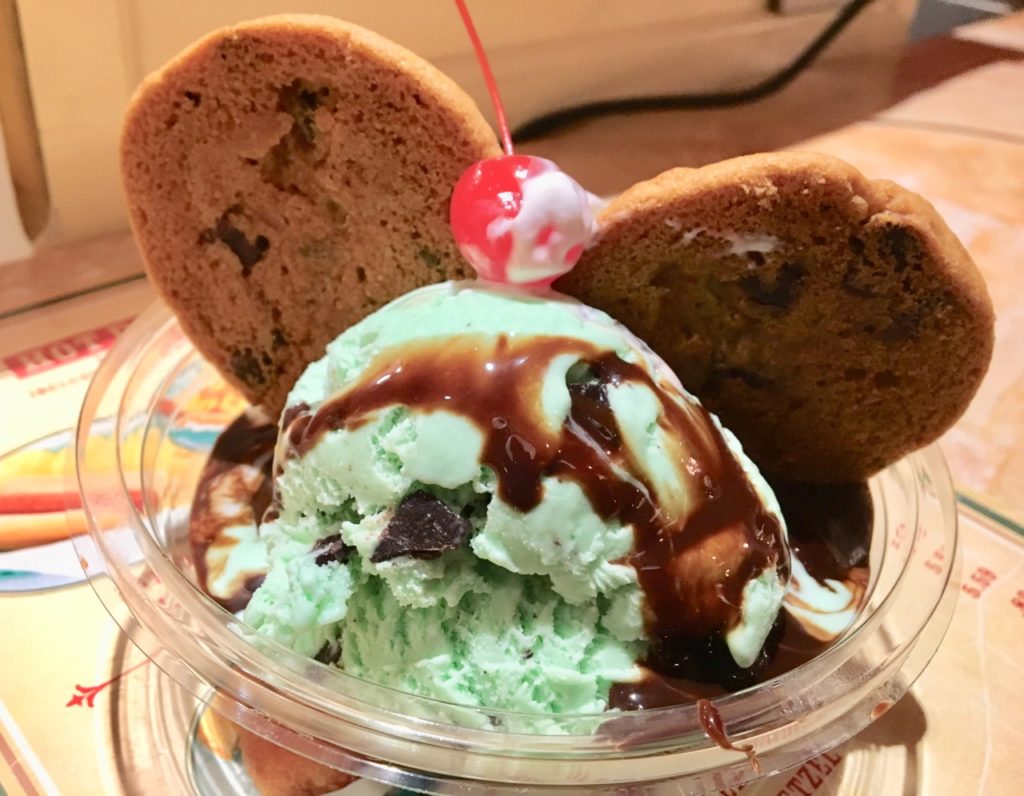 For me, my splurge was getting this dope Resistance jacket at Galaxy's Edge. I knew it would be a great momento from my fantastic solo day in the park.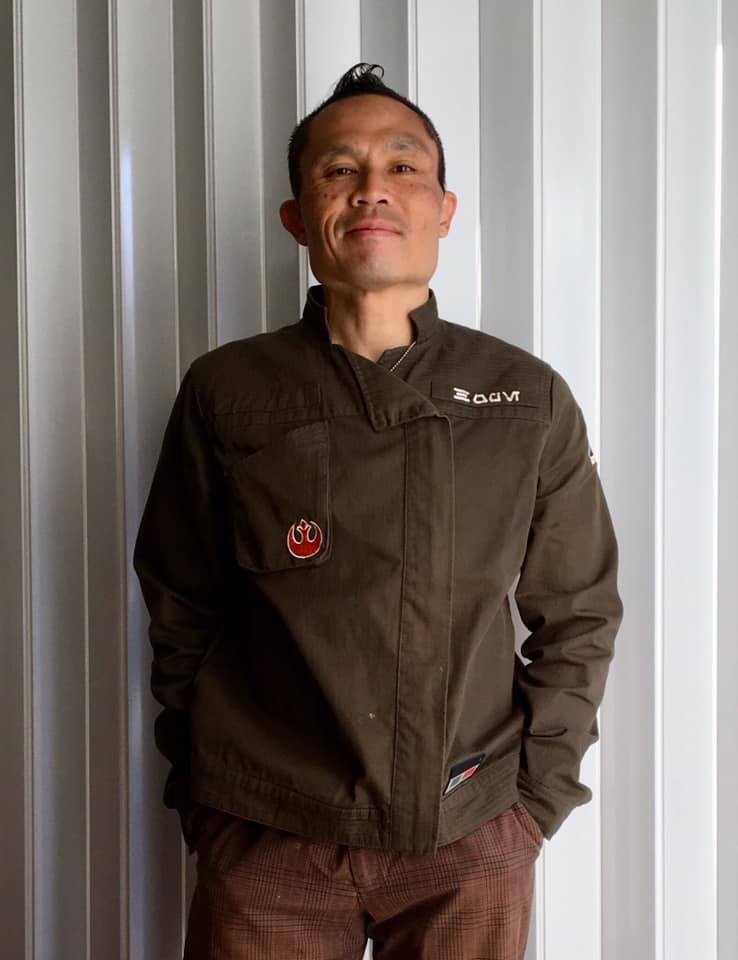 ---
At 9:30pm, I was squatting in front of "It's a Small World" to catch the fireworks extravaganza, along with hundreds of other park guests. Rather than feeling sad for myself that I didn't have someone to share the experience with, I was grateful to having this communal experience with people from all over the world huddled around me in anticipation. And when the first rockets exploded over Disneyland, we all "ooh"ed and "ahh"ed together. It was magnificent.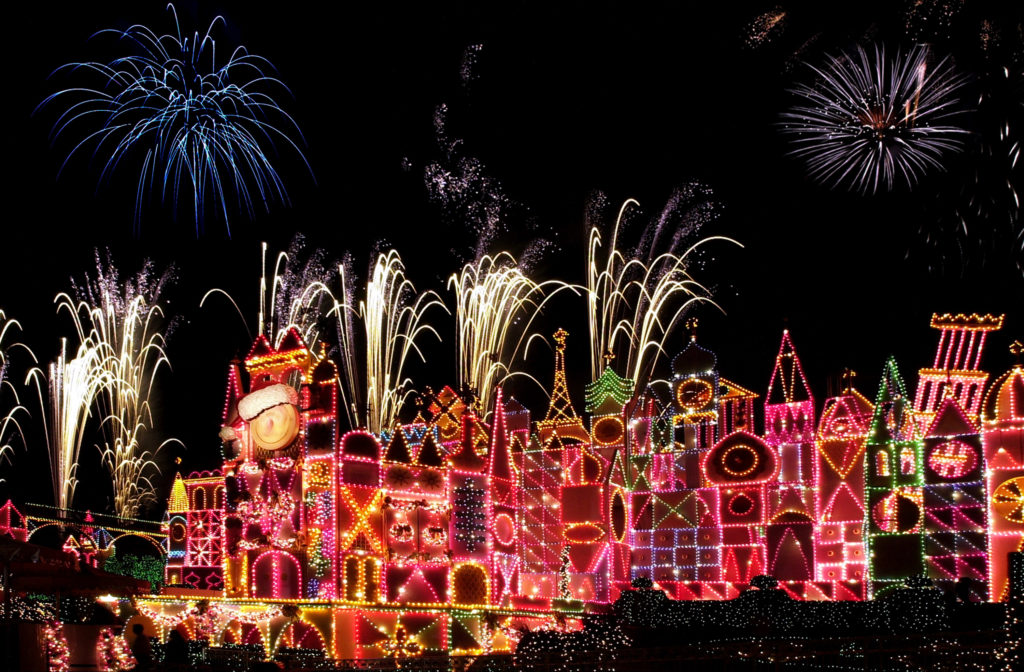 So I made it, without too much fuss, from rope drop to fireworks. With just a little planning, you can too!
Anything other tips that I missed, solo Disney adventurers? Let me know in the comments.